2001 Hall of Fame Inductee
Walt Disney, Walt Disney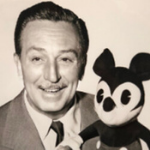 LIMA is pleased to add Walt Disney, a true entertainment and licensing pioneer, to the list of distinguished inductees in the LIMA Murray Altchuler Licensing Hall of Fame.
Since 2001 marks the 100th Anniversary of Mr. Disney's birth, the timing is perfect to honor this visionary who brought his imagination, integrity and artistry to character licensing. In the 1930s, Walt Disney turned the phenomenal popularity of Mickey Mouse into one of the greatest success stories in licensing history. That, of course, was followed over the next six decades by numerous innovative licensing programs based on an abundance of lovable characters.
Walt Disney made it possible for his characters to brighten every home and touch every life with a tangible magic that went beyond the movie or television screen. Because of this special relationship with his audience, Mr. Disney regularly turned down licensing proposals that were inappropriate or not authentic. For him, a product had to be of high quality and true to the character portrayed – a philosophy that is at the heart of sound character licensing.
Walt Disney's legacy lives on in the creative and innovative toys and apparel created by The Walt Disney Company licensees. These licensees, in partnership with The Walt Disney Company, still honor the standards established by Mr. Disney, making "Disney" one of the most recognized brand names in the world.