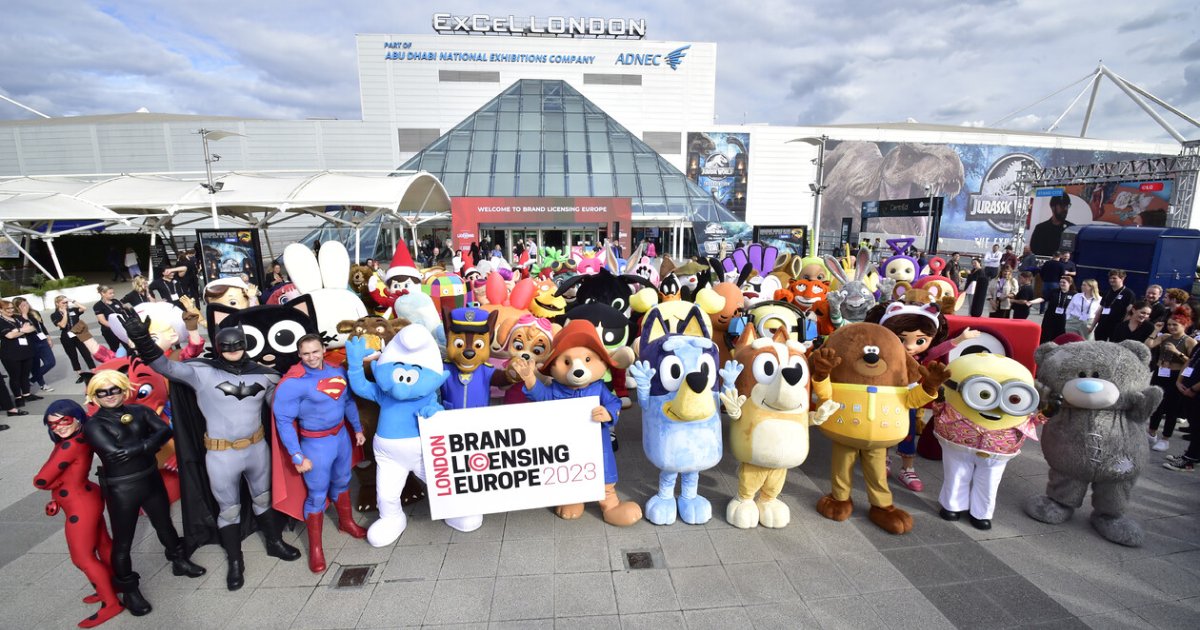 21 Unmissable Things to See and Do at Brand Licensing Europe
PLEASE NOTE NEW SHOW TIMES: Should the planned train and London Underground strikes go ahead on Wednesday 4 & Friday 6 October, there could be some disruption to journeys to BLE. As a result, the BLE team has updated the show hours to allow extra time to host or attend meetings. The official meetings platform has also been updated to reflect these changes:
· Wednesday, 4 October: 9 am-6 pmOptional additional hour between 5-6pm for meetings
· Thursday, 5 October: 8 am-7 pmOptional additional hours between 8-9am and 5-7pm for meetings
· Friday, 6 October: 9 am-3 pmEarlier close to allow attendees and exhibitors maximum time for their onward journeys due to expected travel disruption
29 September 2023 — Five days and 120 hours to go until Brand Licensing Europe 2023 opens its doors, so we're celebrating with a list of 21 wonderful things not to be missed at BLE. 
This year's event runs from Wednesday 4 – Friday 6 September at ExCeL, London. Attendees can still register for a free ticket at www.brandlicensing.eu and immediately start requesting meetings with over 260 exhibiting companies, including 60 first timers bringing a whole host of brands never seen at the show. 
"BLE is a three-day whirlwind of meetings, content, spontaneous hellos, networking and showfloor shopping. It's exhilarating and rewarding and the place to be if you're in the business of brands, or hoping to learn more about it," said BLE event director Ella Haynes.
"This show is where future releases are teased, licensing deals are made, and retailers and manufacturers come to collaborate with leading brands to transform their product range. This year won't disappoint; we've picked out 21 highlights to help you get excited for next week, and make sure you don't miss anything from your visit!"
Passing GO: Bringing the World's Biggest Board Game to Life – Wednesday, 4 October, 12:30 (C101)

 

– Hasbro and The Path Entertainment Group spill the beans on how they turned the world's favourite family board game into an LBE smash hit.

 
The Green Pavilion (D120)

 

– the BLE sustainability-focused pavilion is back in partnership with Products of Change, and packed with exhibitors and product showcases to help drive your sustainability strategy forward.

 

260+ exhibitors and thousands of brands –including over 70 companies appearing for the first time, which can only mean one thing – loads more brands for visitors to do business with! View the final

 

exhibitor list

 

and

 

brand directory

 

to see the full range of IP available for license across entertainment, sports, gaming, art, food & beverage, heritage, publishing, TV, celebrity, music and so much more.  
There will be

 

thousands upon thousands of brands

 

that are actively looking for licensing partners – brands like Marvel, Harry Potter, Star Wars, The Lord of the Rings, Nadiya Hussain, Sarah & Duck, Gigantosaurus, Ed Hardy, Beryl Cook, International Space Archives, Moomin, The Little Prince, Farah, Kellogg's Corn Flakes, Febreze, The Smurfs, Frida Kahlo, Bentley Motors, and English Heritage to name a few.
Get your meetings booked in now

 

and don't forget you are welcome to use the Matchmaking Lounge (D121).

 
The Elizabeth line– warmly welcomed by everyone visiting ExCeL, the 'Lizzie' line will bring you to BLE quicker and in 21st

 

century comfort and style.

 

Please note that some stations in central London may not be open on 4th

 

and 6th

 

October should the planned London Underground strikes go ahead. Plan your journey

 

here.

 
The BLE Location Based Experiences trail

 

–

 

there is so much to experience across the show floor this year on the BLE LBE trail – don't miss

 

Peppa Pig's Afternoon Bus Tour, a retro gaming activation 'The Arcade', Mattel's Tiger Shark Hot Wheels Monster Truck' and more
Day 2 keynote: Thea Green MBE, founder of Nails.INC, Thursday 5 October, 12:30 (C101)– the beauty industry and health and beauty licensing are growing markets, with the latter valued at $12.34 bn in 2022, up 7% year on year and accounting for 4% of the entire global licensing industry. Thea Green has been innovative across both sectors for years – her keynote will be an inspirational watch for brands, retailers and manufacturers.
The Retail Lounge (A101)

 

– an exclusive lounge for retailers to meet, relax and recharge as well as talk to the BLE's head of retail Laura Freedman-Dagg about taking part in next year's popular Retail Mentoring Programme. Applications are already open.

 

https://www.brandlicensing.eu/en/learn-brand-licensing/retail-mentoring-programme.html
Kelvyn Gardner License This! Competition (C101) –meet this year's finalists AND winner ahead of the Day One Keynote at 12:30pm on Wednesday 4 October.

 
NEW! Ignite Brand pitches

 

–

 

(License Global Theatre)

Five up-and-coming unlicensed brands ready to make their mark in the licensing industry will take to the stage in a thrilling, fast-paced session of live speed-pitches at 16:15 on Wednesday 4 October. Watch out for

 

Bibi's World,

 

CwaZyLeigh

 

CreaTions

 

with

 

CwaZyBean

 

Aliens, Nine Mile Babies, Travel Sentry with Travel Sentry Red Diamond and Wendy Morrison Design.

 
What's new –well 70 of our exhibitors for starters, including Rebellion Studios, Afro Unicorn, Sarah & Duck (don't miss the daily puppeteer displays),

 

Boofle

, Guinness World Records, Ceremony of Roses and many more. 

 
NEW! Licensee Pavilion (C171)

 

– packed with brilliant licensees including Play Management Company, Smash Industries Global Limited, Best of Both Worlds, KONIX Interactive, E Plus M, Park Agencies Ltd.

 
NEW! Advice Centre (C230)

 

full of supportive suppliers offering free guidance., including

 

Redpoints and

 

Axencis

 

who specialise in counterfeit solutions, IP

 

tokenisation

 

with NFT verification to remotely sign license agreements from

 

iLicensing

 

Works and PWC.

 
Sports Zone

 

(head for E235, the Sports Bar)–

 

don't miss this year's array of sport brands, including AC Milan, Sport

 

Lisboa

 

e Benfica, FC Barcelona, UEFA Club Competitions,

 

Fondazione Milano Cortina 2026,

 

FC Porto, Tour de France, RFEF, G2 Esports, Federation Francaise Football,

 

Federacao

 

Portuguesa de Futebol, FC Internazionale Milano, TOPPS Europe, Manchester City FC and Fanatics.

 
Brands & Lifestyle zone

 

– Van Gogh Museum, Castrol, Kodak, Lewis Capaldi, Motorhead, Arm & Hammer, Yale, blur, Playmobil, Volvo, The Met and RSPB are just some of the amazing brands to discover in our Brands & Lifestyle zone. Make sure to look at the Brand Directory or take a look at which brands are represented by agents – some have over 100 available for license!

 
Cafes and Bars

 

– there are four bars on the showfloor this year and they will be hosting – among other things –

 

Show Welcome Drinks

 

from 5-7pm on Wednesday 4

 

AND

 

Thursday 5 October, in the Terminator Skynet Bar. Everybody's welcome! 

 
Content, content, content – License Global Theatre (C101)

 

– this year's educational programme goes way beyond our daily keynotes to touch on sector-specific trends and insights into fashion, gaming,

 

animé

, animation, food & beverage, sports and more. Arrive early to claim a seat – access is first-come-first served and free to attend. Check out the agenda

 

here.

 
License Global, BLE & Products of Change present Day of Purpose. This year, BLE is partnering withDiversity Org, which

 

educates low-income students on how to obtain corporate and high-income careers and helps them obtain internships. BLE will bring 60 school students to the show this year, where they will enjoy a show tour, career exposure panel and networking workshop. 20 students will be attending from UAL – University of the Arts London – where they are studying fashion management / buying / merchandising and are likely to be future retail buyers. 

 
The Brands Untapped 100 second edition (E174)

 

will be released at the show with foreword from BLE event director Ella Haynes! Plus, co-founder Billy Langsworthy will be hosting a special licensed footwear collab display, featuring The Met x Dr Martens, Minecraft x Crocs, Transformers x Sketchers, Sesame Street x Vans, Playboy x KOI and many more.

 
Ain't

 

no party, like an LI party… Licensing International's industry party is back – Soho Nights takes place from 7.30 till late on Wednesday 5th

 

October at 100 Wardour Street in Central London. Tickets can be purchased online from LI's

 

website.  

 
The BLE Character Parade– everybody's favourite, the parade will start at D101 then snake its way through the show toward the Pyramid entrance at the West of ExCeL.

 

Make sure to get a selfie with your favourite characters and tag #BLE2023.
Free orientation sessions and show tours (C101)– New to BLE and/or licensing? Join the BLE team for free orientation sessions and show tours to help get the most from your visit. 09:15 Wednesday and Thursday from the License Global Theatre.
For media informationCharlie Le Rougetel
07736 330676
charlie@bigtop-pr.co.uk
About Brand Licensing EuropeLaunched in 1998, Brand Licensing Europe is the only pan-European annual event dedicated to licensing and brand extension. The London event features over 2,500 brands and more than 7,500 licensees, manufacturers, retailers, distributors, and licensing agents. Brand Licensing Europe is a part of the Global Licensing Group at Informa Markets, the licensing industry's leading trade show organiser and media partner. Its mission is to provide licensing opportunities around the world by bringing brands and products together.
About Global Licensing Group  The Global Licensing Group at Informa Markets is the licensing industry's leading tradeshow organizer and media partner. Its mission is to provide licensing opportunities around the world by bringing brands and products together. The following events and information products are produced for the licensing industry by the Global Licensing Group at Informa Markets: Licensing Expo, Brand Licensing Europe, , Licensing Expo Shanghai, Brand & Licensing Innovation Summit License Global magazine, licenseglobal.com and License Global Daily E-News. Global Licensing Group events are sponsored by Licensing International.  
About Licensing International  
Licensing International is the leading trade organization for the $340+ billion global brand licensing industry. Licensing International's mission is to foster the growth and expansion of brand licensing around the world, raise the level of professionalism for licensing practitioners, and create greater awareness of the benefits of licensing to the business community at large. Founded in 1985, more than 1,500 Licensing International member companies in over 40 countries enjoy access to an array of benefits, including extensive educational programming and worldwide networking events. Visit www.LicensingInternational.org for more information.