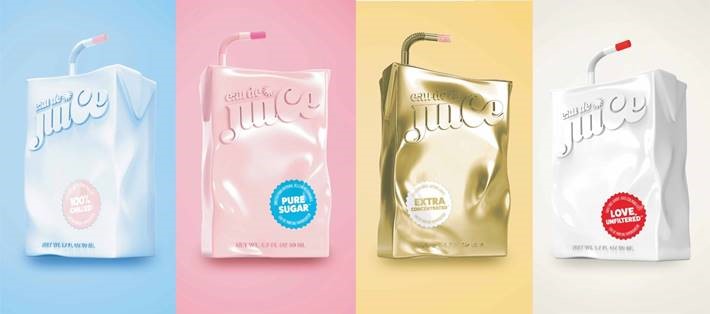 Luxe Launches Cosmopolitan Fragrance in UK
London, UK  — LUXE Brands, the prominent beauty company behind Ariana Grande's award-winning fragrance franchise, and Cosmopolitan, the UK's leading media brand for young women, announce the launch of its Eau de Juice fragrance in the UK. Originally launched in the US last year, this highly successful, four-scent fragrance collection just won the prestigious Packaging of the Year award in the 2020 Fragrance Foundation Awards, a tribute to its unique pop art-inspired juice box packaging. Eau de Juice will debut in the UK in time for Christmas and is sure to pop on top of all the wish lists.
"We're so excited to bring Eau de Juice to the UK market," says Claire Hodgson, Editor-in-Chief of Cosmopolitan UK. "With four bespoke scents, the fragrance offers our highly engaged audience a new opportunity to experience the Cosmopolitan brand."
In a deal brokered by IMG and available exclusively at The Fragrance Shop, the collection is masterfully crafted by renowned perfumers at Firmenich with fresh, modern fragrance blends that are savvy and complex. Each scent within the collection is titled to match a mood: Extra Concentrated, 100% Chilled, Love, Unfiltered and Pure Sugar.
Eau de Juice is a brand experience powered by ground-breaking innovation at all touch points. Beyond the "juice" itself, Cosmopolitan's ethos is captured through the unique patent pending, pop-art inspired, award-winning packaging. This design for Eau de Juice features four juice boxes in four Instagrammable shades, from metallic gold to glossy white to soft-touch blue and millennial pink.
"As an entrepreneurial company, LUXE Brands prides itself on engaging in strategic and innovative partnerships to connect with consumers around the world in the beauty category," says LUXE Brands CEO, Tony Bajaj of the collaboration. "Our latest venture in business with Hearst Magazines expands our footprint within the industry; we couldn't be more excited to have the legacy and heritage of Cosmopolitan behind us." 
"Our vision was to create a brand narrative that is aspirational yet relatable, with a wink of humorous sensibility," notes Chief Marketing Officer of LUXE Brands, Noreen Dodge. "The concept, fragrances and packaging bring this collection to life for our consumer."
The Collection: 
Extra Concentrated – Firmenich Perfumer: Ilias Ermenidis
Fragrance Notes
Top: apple, champagne accord
Heart: praline
Base: white patchouli, golden amber 
Pure Sugar – Firmenich Perfumer: Clément Gavarry 
Fragrance Notes
Top: wild strawberry, pink grapefruit
Heart: plum blossom, pink pepper
Base: jasmine sambac, pralin
100% Chilled – Firmenich Perfumer: Honorine Blanc 
Fragrance notes
Top: red berries, bergamot
Heart: orange blossom, coconut water
Base: cashmere woods, musk, sandalwood 
Love, Unfiltered – Perfumer: Clément Gavarry 
Fragrance Notes
Top: red berries, mandarin
Heart: wild freesia, star jasmine petals
Base:  blonde woods, amber 
The Eau de Juice collection will be available October 30th exclusively at The Fragrance Shop.  Each 1.7oz/50ml will retail for £30.00*.
ABOUT LUXE BRANDS 
LUXE Brands, Inc. is a global, prestige beauty company dedicated to developing world-class beauty brands that inspire consumers around the world. The company's innovative approach to design, marketing and building brands with a digital first ethos has earned numerous awards around the world. LUXE Brands was awarded Fragrance of the Year in 2019 on behalf of Cloud By Ariana Grande, and more recently Packaging of the Year on behalf of Eau de Juice by Cosmopolitan in 2020. The full portfolio includes Ariana Grande, Nicki Minaj, Cosmopolitan and Jennifer Lopez.
ABOUT COSMOPOLITAN UK
Cosmopolitan is the UK's leading media brand for young women. It engages its audience in every aspect of their lives via multiple platforms including the magazine, which is the UK's best-selling women's glossy, digital platforms such as Snapchat Discover, campaigns and large-scale consumer events like the Cosmopolitan Influencer Awards. Cosmopolitan aims to empower and champion young women everywhere and has built a reputation for its fearless, award-winning investigative journalism. 
ABOUT IMG
IMG is a global leader in sports, fashion, events and media. The company manages some of the world's greatest athletes and fashion icons; owns and operates hundreds of live events annually; and is a leading independent producer and distributor of sports and entertainment media. IMG also specializes in licensing, sports training and league development. IMG is a subsidiary of Endeavor, a global entertainment, sports and content company.