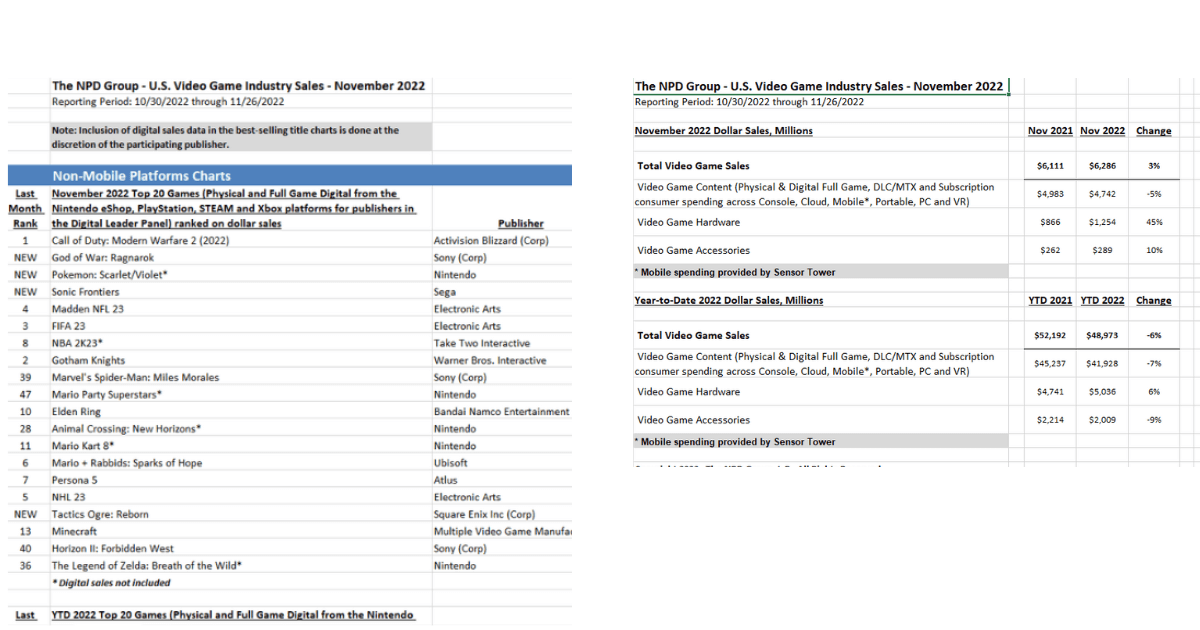 November Video Games Sales
The NPD Group's total video game sales number reflects total content spend on video games, including full-game, DLC/MTX and subscription consumer spending across console, cloud, mobile, portable, PC, and VR platforms.  
The NPD Group – U.S. Games Industry Sales – November 2022 (notes provided by NPD's VG industry analyst, Mat Piscatella)  
U.S. consumer spending on video game content, hardware and accessories reached $6.3 billion in November 2022, an increase of 3% when compared to a year ago. Performance was driven primarily by 45% growth in video game hardware dollar sales compared to November of 2021, led by PlayStation 5. Other market areas experiencing spending growth in November compared to a year ago included non-mobile subscription content, accessories, and digital premium downloads on consoles. November's strong performance brings year-to-date spending to $49.0 billion, a 6% decline when compared to the same period in 2021.
Call of Duty: Modern Warfare II repeated as the month's best-selling title in dollar sales while also becoming the best-seller for 2022 year to date. Call of Duty: Modern Warfare II was followed on the chart by three November new releases: God of War: Ragnarok, Pokémon Scarlet/Violet, and Sonic Frontiers.
Strong hardware performance in the month of November (45% increase vs. year ago to $1.3 billion) was due primarily to a significant increase in PlayStation 5 volume when compared to a year ago.  PlayStation 5 was November's best-selling hardware platform in both unit and dollar sales, while Nintendo Switch ranked 2nd across both measures. PlayStation 5 remains the best-selling hardware platform of 2022 in year-to-date dollar sales, while Nintendo Switch leads in units.
Accessories spending increased 10% in November when compared to a year ago, reaching $289 million. Double-digit percentage growth in both gamepad and headset/headphone spending drove the segment's performance. The PlayStation 5 DualSense Wireless Controller Galactic Purple was the best-selling accessory of November in dollar sales.
Mobile Spotlight (notes Provided by Sensor Tower's Dennis Yeh) 
Casino games experienced a continued renaissance in November, with the subgenre taking over the top spot by spend for the first time since September of 2020. Casino, Action, and Tabletop games were the only genres to see year-over-year growth (YoY) in spend while RPGs and Shooters continue to struggle.  Thanksgiving and Black Friday did not bring a reprieve as spend during the week was down 5% YoY and 1% from 2020. Barring a meteoric (or catastrophic) final few weeks of 2022, annual U.S. mobile gaming spend should decease 1-2% from 2021.
November's top 10 mobile games by U.S. consumer spending were: Candy Crush Saga, Roblox, Royal Match, Coin Master, Clash of Clans, Evony, Pokémon Go, Township, Jackpot Party – Casino Slots, and Bingo Blitz.