A New ALVINNN!!! And The Chipmunks Book Series Has Arrived in Italy!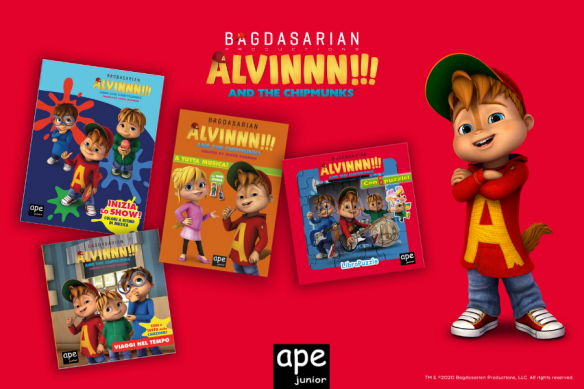 Brand owner Bagdasarian Productions and Maurizio Distefano Licensing, which manages licensing in Italy for the popular children's brand and CGI animated series ALVINNN!!! and the Chipmunks, created by Janice Karman, have announced the availability at Italian bookstores and mass-market retailers of a new ALVINNN!!! and the Chipmunks series of books.
There are five books in the series, which is published by Salani Editore and marketed by Ape Junior. They include: A tutto musica! (All music!), Viaggi nel tempo (Time travel), Libro Puzzle (Puzzle book), Il mondo di Alvin (The World of Alvin) and Inizia lo spettacolo! Colori a ritmo di musica (Let the show begin! Colours to the rhythm of music). All the books feature The Chipmunks (Alvin, Simon and Theodore) and The Chipettes (Brittany, Jeanette and Eleanor).
Salani is one of Italy's leading publishing houses. Its strengths are high quality, creativity and originality, along with a focus on young readers. The aim of the ALVINNN!!! collection is to entertain children through games, puzzles, and stories about everyday life and, obviously in Alvin's case, through music. The books are available now in bookstores, in large-scale distribution and of course online, on the Salani Editore website.
The hit CGI animation show, ALVINNN!!! and the Chipmunks, created by Janice Karman, reflects the trials and tribulations of a single parent, David Seville, trying to raise six hyperactive Chipmunks. Like most parents, Dave's patience is regularly pushed to the limit, forcing him to end many sentences with the iconic exclamation, "ALVINNN!!!"  The series takes viewers on a roller-coaster ride of music, laughter, and stories geared to entertain the Chipmunks' four generations of fans.  Episodes from the hit series are broadcast daily on both K2 and Nick Junior.
Maurizio Distefano says: "ALVINNN!!! And the Chipmunks is currently enjoying considerable success among licensees and this beautifully designed, colourful and varied range of books from a leading name in publishing is a worthy addition to a strong line-up. We are thrilled to be able to announce the arrival of this exciting and entertaining series.
About Maurizio Distefano The evolution of Licensing
Maurizio Distefano, an internationally accredited professional with over 20 years of experience in the sector, is President of the licensing agency and management consultancy that takes his name. The innovative and exclusive proposal of the agency is based on a holistic approach which allows it to analyse and respond to the particular business development needs of each individual licensee. Maurizio Distefano, together with his business partner Michela Marchese Patti, selects animated series, movies and brands for successful licensing projects.
The properties launched and distributed by MDL are:
Cartoons: ALVINNN!!! and the Chipmunks, Masha and the Bear, Bing, ZAFARI, Gigantosaurus, Kit'n'Kate, Monchhichi,  Angry Birds.
Brands: Asterix, Cup of Therapy, May Gibbs, Hamsta, Camomilla, Baileys, Guinness.
Fashion: MDL is Master Agent Worldwide for PREMOLI+DI BELLA, Filippo Laterza and Stefano Cavalleri.
Music: AC/DC, David Bowie, KISS, Pink Floyd, The Police, Woodstock, John Lennon, Lennon & Mc Cartney Lyrics, Genesis, Janis Joplin, Miles Davis.