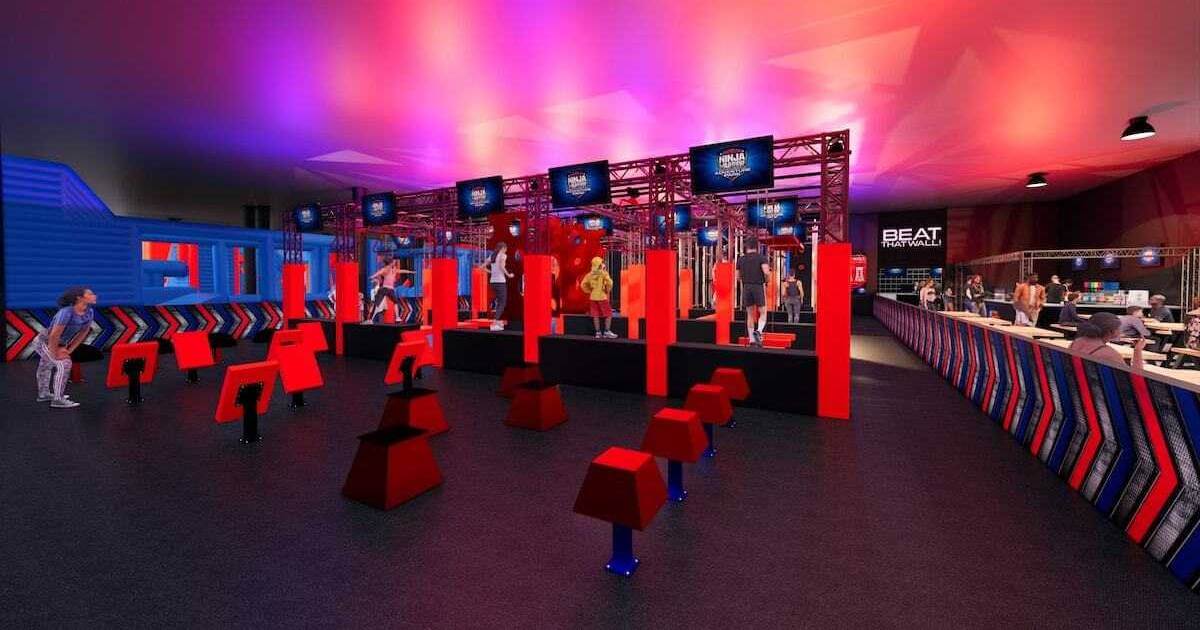 American Ninja Warrior Adventure Park to Open in the U.S.
UNIVERSAL CITY, CA – From Air Park USA, a groundbreaking new obstacle course based on the hit NBC show, American Ninja Warrior, challenges participants of all ages and abilities to test their own ninja skills and is coming to Santa Ana, Calif. Inspired by the popular TV show, the 17,000 sq. ft. park is set to open at MainPlace Mall early July. This one-of-a-kind adventure park experience includes truss obstacles such as Monkey Swings, Spider Walls, Tilting Logs, Floating Bridges, and of course the famous Warped Wall. In addition to the truss obstacles, there will also be a 10,000-sq.-ft. inflatable obstacle course. The revolutionary adventure park will combine fitness and fun, providing participants an opportunity to master their inner ninja.
Designed first and foremost with optimal safety in mind, each American Ninja Warrior course is graded for difficulty. Air Park USA will take this experience to the next level in family entertainment, offering the ability for participants to compete against each other and themselves to achieve their best times. Participants will be able to level up and achieve goals they set through repeat visits to the adventure park. The venue will offer birthday party packages, corporate events and community fundraising opportunities.
Adrian Griffin, CEO of American Ninja Warrior Adventure Parks, a division of Air Park USA, said: "We are bringing the hit television show to main street USA. You won't have to be a top-level athlete to participate, which allows fans of all ages to engage in the fun!"
Michael Silver, President, Global Business Development for Universal Parks & Resorts, said: "The incredible obstacles that have inspired such awe and admiration on American Ninja Warrior for the past 13 years will soon be available to its millions of fans. Anyone who has dreamed of surmounting Mount Midoriyama will now be able to do so. While the obstacles will be scaled down from the television course, the experience will be just as thrilling. We thank Air Park USA for enabling fans to become American Ninja Warriors."
"Bringing the first American Ninja Warrior Adventure Park in the U.S. to MainPlace Mall shakes up the traditional shopping experience with a dose of adrenalin," said Centennial Vice President of Property Management Jonathan Maher.  "Adding this exciting new top-of-the-line entertainment venue is a perfect example of a leasing strategy focused on creative first-to-market concepts that connect with the community in new and meaningful ways."
Seltzer Licensing Group is the licensing agency for NBC TV and the American Ninja Warrior brand and is responsible for identifying and securing this fun adventure park partner.
About American Ninja Warrior Adventure Parks
American Ninja Warrior Adventure Parks are fun and inclusive entertainment venues that enable children, teens and adults to challenge themselves and each other through a series of courses and obstacles. Each of the different features and courses within the American Ninja Warrior Adventure Park are inspired by the hit NBC TV show and created in collaboration with Air Park USA. For information and bookings please visit www.americanninjawarrioradventurepark.com
About American Ninja Warrior
Season 14 of American Ninja Warrior returns with some of the most elite athletes in the country competing on the world's most difficult obstacle courses. Hosts Matt Iseman, Akbar Gbajabiamila and Zuri Hall are back to call the early-round action in San Antonio and Los Angeles, with the National Finals in Las Vegas. The new season will mark the return of the lowered age requirement, which opens the door to a new era of competitors as young as 15 years old. Each season, the obstacle courses continue to evolve and become even more challenging for competitors of all ages, while the sport itself simultaneously grows rapidly across the country with kids embracing it in record numbers. A top prize of $1 million will go to the winner that can conquer all four stages at the National Finals in Las Vegas. To get there, competitors will need to make it through the qualifying rounds and semifinals.
About Universal Live Entertainment
Universal Live Entertainment partners with best-in-class entertainment companies to bring today's most popular stories, characters and adventures to life in a city near you. From larger-than-life touring shows to immersive, walk-through exhibitions and family entertainment centers, Universal's world-class entertainment brands are delivered across the globe for families, friends and people of all ages to enjoy. Productions include Jurassic World Live Tour, Jurassic World: The Exhibition, A Minions Perspective, DreamWorks Animation: The Exhibition, Kung Fu Panda: The Exhibition, The Office Experience, film to live orchestra concerts and more.
Universal Live Entertainment is a division of Universal Parks & Resorts, a unit of Comcast NBCUniversal. With theme park destinations in California, Florida, Japan, Singapore, and Beijing, Universal Parks & Resorts offers guests around the globe today's most relevant and popular entertainment experiences. Universal theme parks are known for immersive experiences that feature some of the world's most thrilling and technologically advanced film- and television-based attractions. Comcast NBCUniversal wholly owns Universal Studios Hollywood, Universal Orlando Resort, and Universal Studios Japan. In addition, the company has a license agreement with Universal Studios Singapore at Resorts World Sentosa and Universal Beijing Resort – an all-new, widely anticipated theme park destination! 
About MainPlace Mall
Conveniently located off the I-5, SR-55 and SR-22 freeways, MainPlace Mall is a three-story super-regional shopping center in Santa Ana, California, just minutes from the Anaheim Convention Center. The center is owned and operated by Centennial, a national owner of major shopping, dining, entertainment and mixed-use destinations. For more information, visit the center's website at www.ShopMainPlaceMall.com
About Seltzer Licensing Group
Seltzer Licensing Group is a full-service global brand licensing agency founded in 1998 and based in New York City, NY and El Segunda, CA.   The Seltzer teams focused on helping companies grow utilizing a licensing and partnership strategy.   Seltzer Licensing Group currently represents many global brands including many NBC TV shows,The Scotts Miracle-Gro Company, American Red Cross, and Unilever and many others.   For more information visit: www.SeltzerLicensing.com
For more information on the launch of American Ninja Warrior Adventure Parks, please contact Adam Ritchie at (617) 819-4237 / ninja@aritchbrand.com.