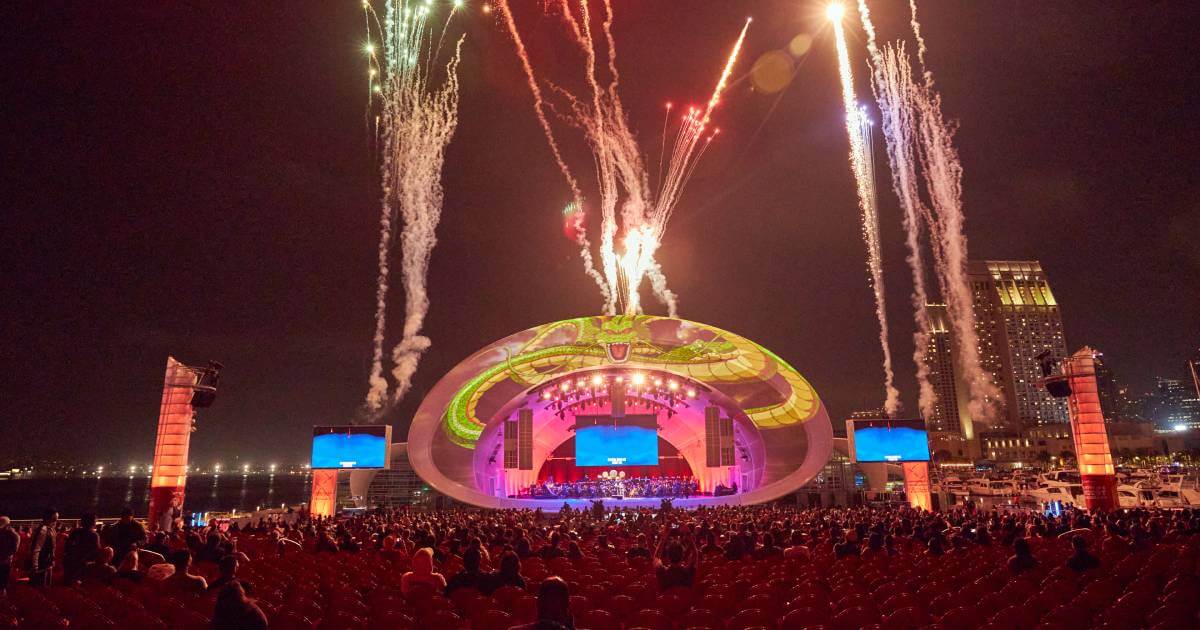 Anime Takes Center Stage with LBE
It seems like every film, TV, and video game property under the sun is playing a role in location-based entertainment (LBE), and now it appears anime is also poised to take the stage.
Both anime and LBE have long been hallmarks of Japanese pop culture, but they are increasingly gaining attention in other markets across theme parks, pop-up stores, symphonies, and live shows. And while in many ways anime is only following a path previously blazed by other properties, this increased focus on LBE follows consolidation within the anime industry. Sony Entertainment recently purchased Crunchyroll, after having previously acquired Funimation, creating an anime streaming service with more than five million subscribers.
With anime's popularity growing globally, it makes sense that licensees are looking to take advantage with LBE offerings. Overlook Events, for one, is scheduled to release the Dragon Ball Symphonic Adventure Experience at Microsoft Theater in Los Angeles on Jan. 21, 2023. The experience, which premiered in Paris in 2018, features a 60-piece orchestra playing the property's music paired with scenes from the series.
At the same, a U.S. tour selling merchandise based on Viz Media's anime series One Piece kicked off at Anime Expo in Los Angeles in July. That was in advance of the One Piece: Red film that was released in Japan on August 6 and is due in the U.S. this fall. And that follows an earlier Tokyo One Piece Tower theme park in Japan that opened in 2015, but closed during the pandemic in July 2020.
Other parks have launched or are in development. A theme park based on Tokyo TV's Naruto and its spin-off Baruto opened in Awaji, Japan in 2019 and the series' characters also made appearances in Epic Rights' Fortnite game. And Studio Ghibli will launch a $295-million theme park in Nagoya, Japan on November 1 dedicated to films like My Neighbor Totoro and Spirited Away, and others.
For its part, Crunchyroll—which in combined with Funimation has more than 100 licensees and access to properties like Dragon Ball Z, Attack on Titan, and My Hero Academia—is "in various stages of discussions" with potential licensees about LBE, said Anna Songco Adamian, VP of consumer products at Crunchyroll.
Under consideration are LBE efforts ranging from pop-up cosplay cafes and restaurants to symphonies to dedicated sections within theme parks and live shows, Songco Adamian said. The first launches will likely be pop-ups in 2023 that may focus on more than one property, she said, noting that the combined company has 40,0000 episodes.
"Anime is reaching a phase where it is almost like traditional western studios for consumer products," Songco Adamian said. "It's not Disney yet because it is still growing. But in terms of the companies and demand, it's almost there because of the roster of titles."
The deployment of anime-focused LBE efforts will likely be a market-by-market decision. In addition to the U.S., where there are anime conventions and Crunchyroll had its own expo earlier this month (August 5-7), the genre is extremely popular in France, Germany, Italy, and Spain, but less so in the U.K. and other European countries, said Max Arguile, founder of the agency Reemsborko, which represents anime properties for licensing including Dragonball Z, One Punch Man, Junji Ito, and JoJo's Bizarre Adventure.
Indeed, the overall global anime market, not including LBE, is forecast to post a 9.7% annual increase in revenue through 2030, when it hits $56.3 billion, according to Grandview Research. The increased revenue will be tied to wider distribution of content, the addition of technologies like blockchain and artificial intelligence, as well as rising merchandise sales including collectibles, key chains, t-shirts, and other products, Grandview reported.
"The question is how mainstream and scalable is anime?" said Uncanny Brands president Matthew Hoffman, whose company has licenses for Dragonball Z and Pokémon waffle and grilled cheese makers. "It isn't multi-generational [though] there is a big group of hardcore fans, but they don't reach the mainstream the way other properties do. There definitely is enough interest and support [for LBE] among fans. It won't be as big as other properties in the short term, but over time it will get there."
Photo Credit: Brooklyn Allan Photo