Are Meal Kits Having a Long-Term Growth Spurt?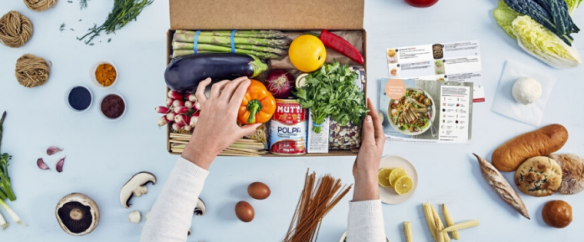 Out of crisis comes opportunity. But does that opportunity have long-term potential?
That's the question that remains unanswered during COVID-19. To be sure, face masks have become top-selling licensed and non-licensed fashion accessories.
But will consumers' taste for meal kits from companies such as Blue Apron, Hello Fresh, Marley Spoon, Purple Carrot and others linger as pandemic-related restrictions ease and they return more frequently to stores.  Meal kit sales doubled from a year earlier in the month ended April 11 to $100 million, according to Nielsen.
Looking for opportunities as the crisis decimated their main business, even some restaurants got into the business. 
Subscriber Increases
The recent popularity for the moment, at least, reversed a period of slower growth for a decade-old industry that was increasingly seeming like a fad. For example, Blue Apron reported a seven percent increase in subscribers to 376,000 in Q1 ended April 28. But that was down from a peak of about a million three years earlier. The number of Marley Spoon's "active" customers – those that have placed an order in the past three months – jumped 26% to 240,000 in Q1 ended March 31. But other once-high-profile brands such as Chef'd and Kettlebell have closed, while a third, Home Chef, was purchased by Kroger.
Licensing Appetite
The renewed growth appears to have whetted the remaining meal kit brands' appetite for licensing. Many of the suppliers already have in-bound licensing deals — Blue Apron with WW (formerly Weight Watchers) and Marley Spoon with Martha Stewart. But companies also are considering outbound agreements that might apply their brand to food products. One agent reported having recent discussions with a "major" meal kit supplier. The Joester Loria Group met with several companies, including Hello Fresh, within the last year, but didn't reach an agreement, says JLG's James Slifer.
Niche Opportunities
"There are some niche opportunities in extending meal kit brands such as marinades, sauces, spices, cookware, and food storage," says Slifer. "In order to be successful in extending a meal kit brand into consumer product line, the brand owner should conduct consumer research, develop a strategy that will deliver unique and differentiating product, cross marketing between core and licensed product, and more importantly support their licensees with marketing in driving traffic to supporting retailers from their website, email blast, social media, influencers, etc."
Yet meal kit companies already incur high marketing and production costs, both of which increased during the past three months. But that hasn't stopped Blue Apron from striking deals. This week it announced an agreement with chef and restauranteur Tim Hollingsworth (LA-based Otium and C.J. Boyd's) for five "inspired by" recipes that will be available June 29-July 29.
"I am skeptical of the size of the opportunity," says Broad Street Licensing Group's Bill Cross, whose firm represents several restaurant brands for food licensing. "The challenge is one of pricing: these meal kits are already very expensive. Consumers have basically thrown in the towel on food costs during the pandemic, but there is some concern this is changing as people go back to shopping in stores."
Not surprisingly, Blue Apron remains optimistic. With pandemic restrictions lifted, there may be a "long-term" impact on restaurants' ability to operate at pre-COVID-19 levels, CEO Linda Findley Kozlowski said recently. This leads Blue Apron to believe it can retain "some portion of the uplift in demand we have recently experienced," Kozlowski said.