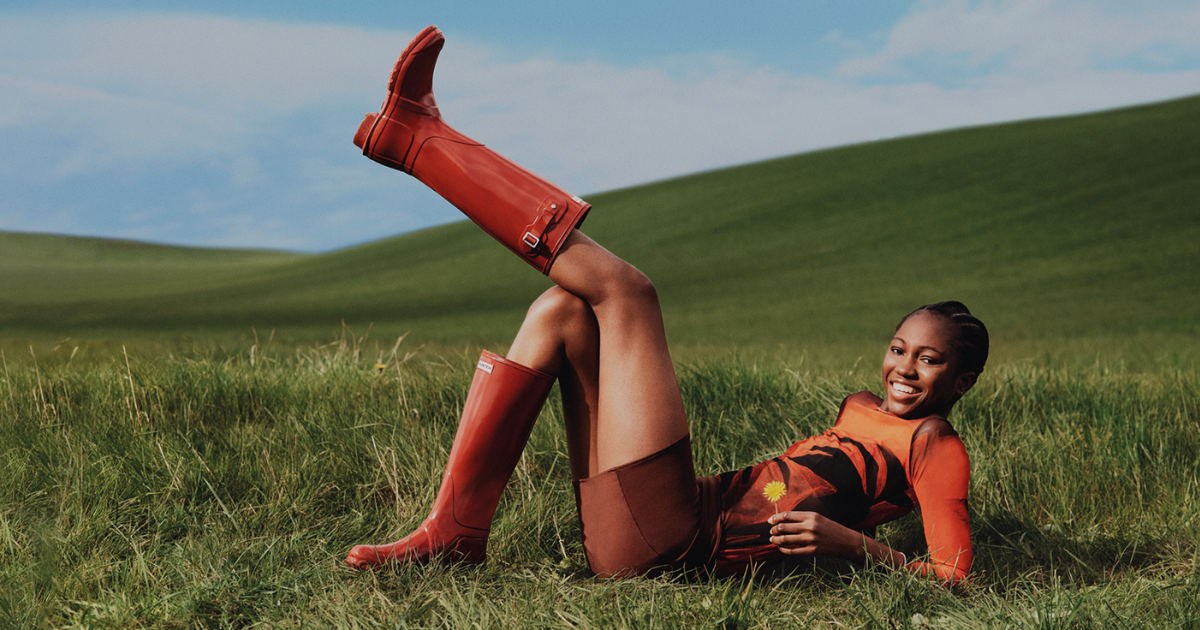 Authentic Brands Group Acquires Intellectual Property of Iconic Global Brand Hunter
Authentic appoints The Batra Group and Marc Fisher Footwear as the brand's core partners in key regions
New York, NY — Authentic Brands Group (Authentic) announced the acquisition of the intellectual property of Hunter. The progressive British heritage brand famous for its iconic Original Wellington boot, Hunter is the ultimate outdoor lifestyle brand that uniquely combines purpose and style.
With a 160-plus-year heritage, the Hunter brand has evolved from a rubber boot to a lifestyle brand, offering an expansive footwear collection, outerwear, bags and accessories designed for outdoor performance in both rural and urban environments. With seasonal introductions of fresh new styles and colorways inspired by the brand's strong DNA, Hunter has cemented its position as the "welly of choice" among outdoor enthusiasts, celebrities and fashion trendsetters alike.
"We are excited to finalize the acquisition of Hunter, an original footwear and outerwear pioneer," said Jamie Salter, Founder, Chairman and CEO of Authentic. "At the intersection of fashion and outdoor, Hunter introduces another elevated global brand to Authentic's diverse Lifestyle portfolio. We are also pleased to expand our relationships with two long-standing Authentic partners, Batra Group and Marc Fisher, each of whom has a proven track record of unparalleled expertise in product development across a range of categories and an established network of prominent retailers. We will look forward to working with them and our greater partner network to continue growing the Hunter brand."
The Batra Group (Batra) is a highly diversified global organization based in the UK with expertise in product development, design, sourcing and distribution. Through this new partnership with Authentic, Batra will become the core licensee in the UK and continental Europe. Batra will be responsible for designing and developing Hunter footwear, apparel and accessories and operating Hunter's branded retail stores, wholesale distribution and e-commerce in those territories.
Authentic has also signed an agreement with trusted US-based partner Marc Fisher Footwear, a leading full-service fashion footwear company. Marc Fisher will be the core footwear partner for Hunter in the US, taking on the brand's footwear design, wholesale and e-commerce operations in the territory.
The addition of Hunter drives Authentic's strategy of diversifying its portfolio with brands that originate from outside of the US. In keeping with its brand-building approach, Authentic will tap its global network of category experts and best-in-class operating partners to accelerate the worldwide expansion of Hunter in the US and Canada, Latin America, Europe, the Middle East and Africa, as well as key markets across Asia the Pacific region. Additional brand partners are expected to be announced in the coming months.
About Authentic Brands Group
Authentic Brands Group (Authentic) is a global brand development, marketing and entertainment platform, which owns a portfolio of more than 40 iconic and world-renowned Lifestyle, Entertainment and Media brands. Headquartered in New York City, with offices around the world, Authentic connects strong brands with best-in-class partners and a global network of operators, distributors and retailers to build long-term value in the marketplace. Its brands generate more than $25 billion in global annual retail sales and have an expansive retail footprint in 150 countries, including 10,800-plus freestanding stores and shop-in-shops and 380,000 points of sale.
Authentic is committed to transforming brands by delivering powerful storytelling, compelling content, innovative business models and immersive experiences. It creates and activates original marketing strategies to drive the success of its brands across all consumer touchpoints, platforms and emerging media. Authentic's brand portfolio includes Marilyn Monroe®, Elvis Presley®, Muhammad Ali®, Shaquille O'Neal®, David Beckham®, Dr. J®, Greg Norman®, Neil Lane®, Thalia®, Sports Illustrated®, Reebok®, Brooks Brothers®, Barneys New York®, Judith Leiber®, Ted Baker®, Hunter®, Vince®, Hervé Léger®, Hickey Freeman®, Frye®, Nautica®, Juicy Couture®, Vince Camuto®, Lucky Brand®, Aéropostale®, Forever 21®, Nine West®, Eddie Bauer®, Spyder®, Volcom®, Shark®, Tretorn®, Prince®, Airwalk®, Izod®, Jones New York®, Van Heusen®, Hart Schaffner Marx®, Arrow® and Thomasville®.