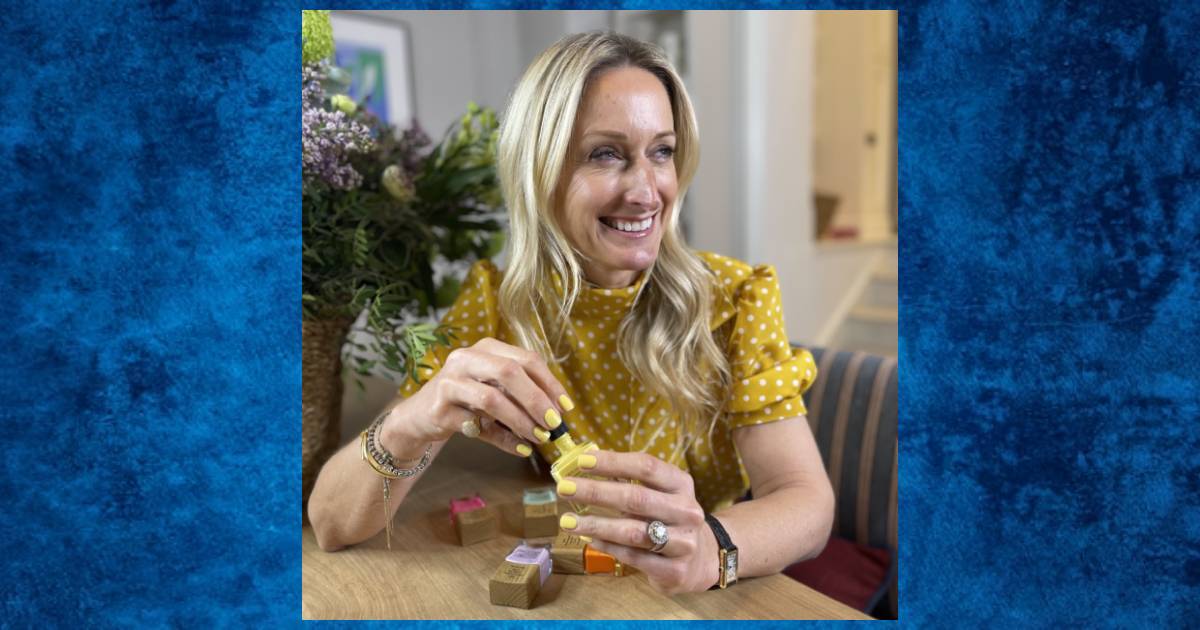 Brand Licensing Europe Confirms Nails.INC founder Thea Green MBE as Day Two Keynote
Brand Licensing Europe (BLE) has announced Nails.INC founder Thea Green MBE as the event's day two keynote.
Green launched Nails.INC in 1999 and it is now the UK's leading and multi-award-winning, British beauty brand, turning over $137 million in 2021.
Renowned for its first-to-market attitude, Nails.INC was the first ever US style nail bar to open in the UK and introduced the idea of experiential retail to many. Nails.INC has also nurtured inspired licensing collaborations with everyone from Victoria Beckham in 2014 to Marks & Spencer's iconic Percy Pig, Velveeta, Magnum ice creams, Alexa Chung, Diet Coke, The Summer I Turned Pretty and – most recently – Fruit Loops.
At BLE, Green – will join License Global's Ben Roberts for a fireside chat covering:
Trends driving the unstoppable growth of the health and beauty industry
How to successfully deliver retailtainment and brand engagement instore
Nails.INC's growth plans at home and abroad
Tips for surviving the rollercoaster that is retail, including the role of brand partnerships as a differentiator and tool for attracting new customers
How to select the best/right licensing partners and how a great partnership can exceed the sum of its parts
"It's such a privilege to speak at BLE – this will be our first year attending as a brand and I'm so looking forward to being a part of this event," said Thea Green MBE. "Nails.INC have really embraced collaborations in recent years as we're finding that it's such a great way to entice and engage new and existing customers. Our collabs have gone from the crazy Velveeta cheese-scented polish and stickers, to the number 1 toy brand Squishmallows, to our more recent Froot Loops scented neons."
Green will take to the stage in the License Global Theatre at 12pm on Thursday 5 October. BLE takes place 4-6 October at ExCeL, London and visitors can register for free at www.brandlicensing.eu.
"Valued at $427 billion, the global beauty industry is huge and on an unstoppable growth trajectory. The 'lipstick effect' is a well-known economic predictor, and it appears this has helped the beauty industry to be pandemic proof and cost-of-living immune," said BLE event director Ella Haynes.
"Health and beauty licensing is also a growing market. Licensing International valued it at $12.34bn in 2022, up 7% year on year and accounting for 4% of the entire global licensing industry. Thea Green has been innovative across both sectors for years – her keynote will be an inspirational watch for brands, retailers and manufacturers."
The BLE 2023 agenda – now complete with speakers and participants – is available to view online. All sessions are free to attend and focus on the trends defining brand licensing, extensions and collaborations with sector specific sessions covering gaming, Location Based Experiences, fashion, food & beverage, anime and animation. Seating is allocated on a first come first served basis, so arrive early to avoid disappointment.
License Global Theatre
Wednesday 4 October 2023
9.15-9.45am:  Brand Licensing Europe Orientation Session & Licensing 101
This session is a must-attend for new attendees flying solo or previous attendees eager to see what is new this year. You'll also get key information and into the basics of licensing.
Anna Knight, SVP Licensing, Global Licensing Group, Informa Markets
Susan Bolsover, MD & Founder, Lightbulb Licensing
9.45-10.00am: Brand Licensing Europe Tour
Join members of the BLE team to tour the show floor, discover the must-attend activations and know where to go or who to ask for help or advice. The tour is open to anyone visiting the show for the first time or those who need a refresher.
10.00-10.30am: State of the Nation: The Licensing Landscape of 2024
License Global takes a deep dive into the latest trends, spotlights the strategies brands, agents and licensees are adopting for 2024 and the collaborations defining the future of licensing.
Ben Roberts, EMEA Content Director, License Global
11.00-11.30am: Building Trust to Enhance and Drive Value in Brand Licensing Partnerships
Panel conversation with PwC to discuss how organisations can drive greater value in their brand licensing partnerships. This will provide insights on how to build trust in licensing arrangements and strategies for enhancing value and strengthening relationships between brand owners and licensees.
James Tweddle, Licensing Governance and Compliance, PwC
Craig Fitzpatrick, Reputation Due Diligence, PwC
11.45-12.15pm: Couture Culture: How to Curate Impactful Fashion Collaborations  
SECTION 1: IMPS – The Smurfs
An introduction to IMPS – The Smurfs, what makes it unique and how its history enables 'outside the box' fashion collabs
Examples from two recent collabs with Emporio Armani and Puma
Fabienne, Chief Commercial Officer Consumer Products & Family Entertainment – Board Member, IMPS – The Smurfs
Marie Van Buggenhout, Senior Licensing Manager Softlines, FMCG, Retail & Promotions, IMPS – The Smurfs
SECTION 2: COMING SOON
Moderator: Ian Hart, Senior Digital Editor, License Global
12.30-1.15pm:   KEYNOTE: Passing GO: Bringing the World's #1 Board Game to Life.
Hasbro and The Path Entertainment Group explore the creative pursuit, potential, and problem-solving required to turn MONOPOLY into one of the most talked-about activations on the experience market today.
David Hutchinson, CEO, The Path Entertainment Group
Matt Proulx, Vice President, LBE, Hasbro
2.00-2.30pm:     Location Based Experiences Trends
LBE is a $3.29 billion market and is expected to grow 30% to 2030. The experience economy is of growing importance to licensors and brand owners to create experiences for fans and customers to engage with their brands in new and exciting ways. Find out the key trends impacting LBE in this session from a brand, operator and media perspective.
Ella Baskerville, Business Development Director, Blooloop
Ngaio Harding-Hill, Head of Attractions & Live Experiences, Aardman
Danielle Tanton, Head of Licensing, The Path Entertainment Group & Vice President, Themed Entertainment Association Europe & Middle East Division
2:45-3:15pm: Milano Cortina 2026 Licensing: Once in a Lifetime
During the session Fondazione Milano Cortina 2026 will introduce the next Olympic and Paralympic Winter Games hosted in Italy starting from February 2026 and will present the unique and exclusive Licensing opportunities to join the Games and to be an active part of the whole project.
Moris F. Calasso, Licensing Manager, Milano Cortina 2026
3.30-4.00pm: What's the State of Play in Sports Licensing?
A look at the sports licensing landscape and what led to sports becoming the third largest licensing category. The global licensed sports merchandise market is expected to reach USD49 billion by 2030. This session will explore what new opportunities this presents and the trends to be aware of.
Chelsea Schep, Senior Director, Licensing, IMG
Younes Layati, Senior Director, Licensing, Fanatics
Erwin Del Castillo, Head, Consumer Products, G2Esports
4.15-5pm: Ignite Brand Pitches
Open to all signed Brand Licensing Europe exhibitors, the new Ignite Brand Pitches session will spotlight five unlicensed brands looking to break into the licensing industry. Join this fast-paced session to hear them speed-pitch live.
Moderator: Steve Manners, Head of Marketing & UK MD, Licensing International
——————————————————————————————————————–
 Thursday 5 October 2023
9.15-9.45am:   Brand Licensing Europe Orientation Session & Licensing 101
Anna Knight, SVP Licensing, Global Licensing Group, Informa Markets
Steve Manners, Head of Marketing & UK MD, Licensing International
10.00-10.30am: Why Gaming is Taking Over the World
License Global spotlights the entertainment medium that has now captured the imagination of over 3 billion people. We break down the platform's power, the potential for collaboration, the success stories dominating the market, the immersion of digital storytelling and how brands can engage the global fandom at play.
Panelists include:
Chelsea Faso, Commercial & Licensing Manager, XBOX & Halo Brands
Dave Tovey, Associate Vice President, Brand Management, Head of Digital Media Representation (Tinderbox) Beanstalk
Federico San Martin, Director of Minecraft Consumer Products, Microsoft
Owen Rees, Group Head of Licensing, Games Workshop
Moderator: Ben Roberts, EMEA Content Director, License Global
10.30-12.00pm: Crunchyroll: Amplifying Anime's Global Impact
LOCATION: PLATINUM SUITE (please note this is located on the main Boulevard of ExCeL). This session does not take place in the License Global Theatre 
Crunchyroll, a leader in Anime streaming and distribution, is inviting you to an insightful journey into the world of the cultural phenomenon that is Japanese Anime and the remarkable impact it has achieved globally.
Featuring speakers from Crunchyroll's Consumer Products Team
11.00-11.45am: Story board: Why Europe is an Exciting Market of Animation, IP and Storytelling.
From Lithuania to the Ukraine and beyond, the European region is emerging as a new hub for smash hit intellectual animation properties.
Panelists include: 
Simona Krasauskien, CEO, Nelly Jelly (Lithuania)
Marjan Aleksovski, Co-Founder & CEO, Bibi's World (North Macedonia)
Fredrik Kiøsterud, CEO, Qvisten (Norway)
Moderator: Ben Roberts, EMEA Content Director, License Global
12.00-12.45pm: KEYNOTE: Thea Green Talks Beauty, Retail and Experiential
Engagement
Thea Green, Founder of Nails. INC joins Ben Roberts, EMEA Content Director from License Global for a fireside chat with audience Q&A.
2.00-2.45pm: LBE: How to Master the Experience Economy.
Location-based Experiences have created a new layer of engagement for fans and families worldwide, but how can brands navigate the market, find the right format to maintain authenticity and work with best-in-class partners?

Panelists include:
Alex Sanson, Senior Brand Manager, Magic Light Pictures
Matt Wild, Director, Wild Creations
Gary Pope, CEO and co-Founder, Kids Industries
Moderator: Ben Roberts, EMEA Content Director, License Global
3.00-3.30pm: Navigating the Food Aisle
Three of Europe's biggest licensing agents will dive into some of the most successful food and beverage deals, partnerships and collaborations in the past 12 months.
Speakers include:
Richard Pink, MD, Pink Key Consulting (Pringles, Tony the Tiger)
Katie Hall, Director of Brand Management & Sheelagh Li, Associate VP, Beanstalk (Baileys, TGI Friday's)
Teri Niadna, Managing Director, Brandgenuity
Moderator: Ian Hart, Senior Digital Editor, License Global
3.45-4.15pm: Partners, Promotion, and Protection
As a customer-centric company, Amazon works hard to earn and maintain customer trust. That trust includes making sure customers know that when they shop on Amazon, they are choosing from authentic and safe products. This panel provides insight on how to eliminate licensee disruptions, promote your brand and licensees, and protect against infringement & counterfeits on Amazon stores.
Trent Fairbrother, Brand Protection Strategic Partnership Manager, Amazon
——————————————————————————————————————–
Friday 6 October 2023
BLE & License Global's Day of Purpose 
From social responsibility to sustainability and brand ethics, day three of Brand Licensing Europe – in partnership with Products of Change & Diversity.Org – is a platform for change and a catalyst for good.
9.15-9.45am: Products of Change Session
Session will be confirmed shortly.
10.00-2.15pm: Diversity Bridge in Partnership with Diversity.Org
Diversity Bridge connects students from underrepresented communities to career opportunities, empowering them to rise to their potential and find success. Working alongside Diversity Org and members of the licensing community, we will welcome 60 students to BLE to take part in this programme educating them on the potential of brand licensing as a sector and a career choice.
The full programme will be released shortly.
About Brand Licensing Europe
Launched in 1998, Brand Licensing Europe is the only pan-European annual event dedicated to licensing and brand extension. The London event features over 2,500 brands and more than 7,500 licensees, manufacturers, retailers, distributors, and licensing agents. Brand Licensing Europe is a part of the Global Licensing Group at Informa Markets, the licensing industry's leading trade show organiser and media partner. Its mission is to provide licensing opportunities around the world by bringing brands and products together.
About Global Licensing Group
The Global Licensing Group at Informa Markets is the licensing industry's leading tradeshow organizer and media partner. Its mission is to provide licensing opportunities around the world by bringing brands and products together. The following events and information products are produced for the licensing industry by the Global Licensing Group at Informa Markets: Licensing Expo, Brand Licensing Europe, , Licensing Expo Shanghai, Brand & Licensing Innovation Summit License Global magazine, licenseglobal.com and License Global Daily E-News. Global Licensing Group events are sponsored by Licensing International.
About Licensing International  
Licensing International is the leading trade organization for the $340+ billion global brand licensing industry. Licensing International's mission is to foster the growth and expansion of brand licensing around the world, raise the level of professionalism for licensing practitioners, and create greater awareness of the benefits of licensing to the business community at large. Founded in 1985, more than 1,500 Licensing International member companies in over 40 countries enjoy access to an array of benefits, including extensive educational programming and worldwide networking events. Visit www.LicensingInternational.org for more information.
About Nails.INC
Nails.INC is the UK's leading nail brand, founded in 1999 by Thea Green MBE. The brand is renowned for first-to-market product innovation, prestige colour quality and immaculate glossy manicures. What started with a cult NailKale base coat has grown to bestselling award-winning products such as 45 Second Speedy Gloss and Plant Power: the cleanest, vegan and 21 free, 73% plant-based polish.  We take colour seriously here and understand how to capture a story in a bottle. Your nails deserve a treat too, which is why our bestselling treatments and self-care sets are designed to rejuvenate and revive.