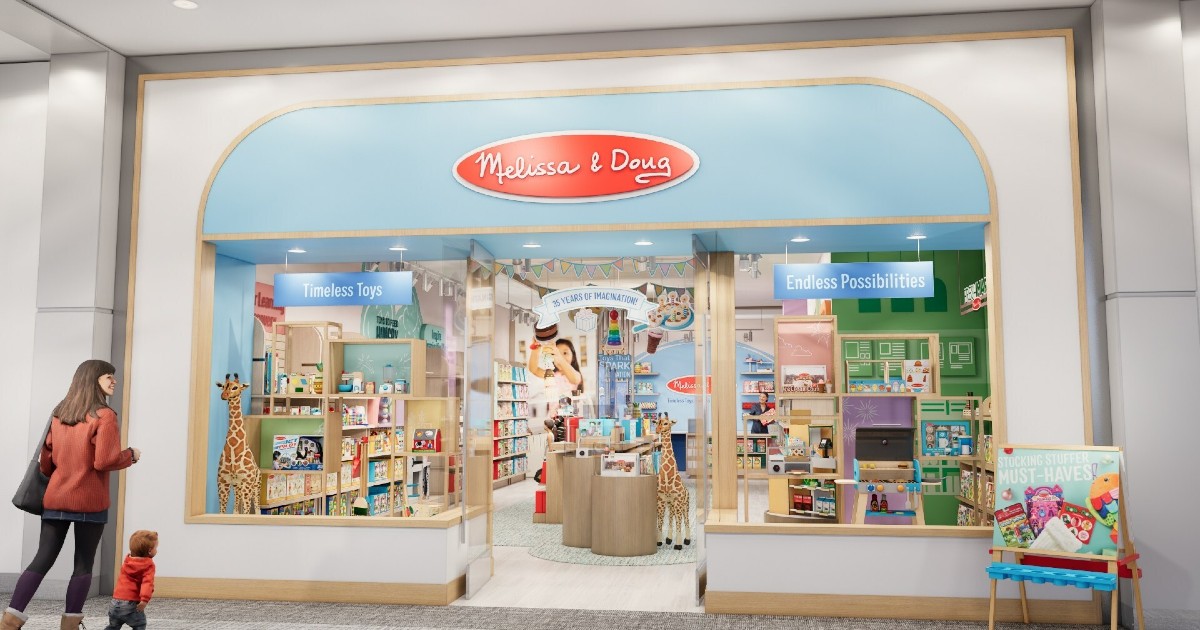 Branded Supplier Stores Go Big
Whether it's through traditional brick-and-mortar efforts or pop-up shops, suppliers are increasingly building a new foundation for their business at retail. And while suppliers having their own stores isn't new, the speed with which these efforts are now taking root is certainly increasing.
Much of this trend is focused on creating an experience that transcends the traditional product-driven retail business, with the brand itself becoming as much a part of the strategy as sales-per-square-foot.
Toymaker Melissa & Doug, for example, is opening its first brick-and-mortar store in The Westchester Mall in White Plains, NY on October 6. That store will expand a business that features playsets, puzzles, and other products that has typically been driven by sales through specialty toy chains and mass merchants.
Licensed apparel and homegoods supplier Bioworld opened a Heroes & Villains pop-up store (September 22–24) inside retailer Factory Xtreme in Los Angeles, CA. The pop-up featured an exclusive Star Wars collection, including items spotlighting the Sabine Wren and Chopper characters from the recent Ahsoka series.
"Brick and mortar isn't dead and you have to engage with fans wherever they are, whether it's brick and mortar, virtual, online, or social media," said Jason Mayes, Senior Director of Marketing and Intellectual Property at Biowold. "It isn't as much about selling as it is building the brand, and that is a big part of it."
Toy retailer Hamley's is expanding the size of its Build-a-Bear in-store shop to improve customer traffic flow and give the brand better exposure while adding an experiential element. The experience will also be available on a smaller scale at Hamley's travel-oriented locations.
And Toys "R" Us, which has been installed at 471 Macy's locations, has recently gained praise from suppliers. After shuttering its U.S. operations in 2018, the brand was purchased by brand management firm WHP Global. Now, WHP Global operates the online store while Macy's makes the buying and merchandising decisions. Basic Fun sells Lite Brite, Tonka, and Care Bears products through the Toys "R" Us in-store locations.
"I am a big believer in the concept," said Basic Fun CEO Jay Foreman. "Macy's is an iconic retailer and by adding a real toy department, you provide a reason for children to come to a department store whereas it was a much more daunting prospect before. The connection makes sense, but it is going to take a little bit of time to figure out what is working about their merchandise mix, seasonality, and how to set the department up correctly."
These standalone stores, pop-ups, and in-store shops are flourishing across a number of categories, including fashion. In London's West End, for example, four fashion brands are opening flagship stores this fall. Fashion retailer Bimba Y Lola is adding a 4,000-square-foot store, while the Italian fashion brand Paul & Shark is returning to High Street. Designer footwear retailer Hoff is also debuting in the U.K. with a flagship location that opens this month and footwear brand UGG is moving to a new location with a larger, 2,600-square-foot flagship on Regent Street.
And while supplier-owned stores must tread lightly with their merchandise mix to avoid competing with retail customers, these branded locations are showing few signs of diminishing in importance, licensing executives said.
"If you don't have one, you may be missing a part of the market. As each year goes by, brands that want to be meaningful cannot miss that," said Mayes. "We all have had to evolve in how we merchandise and brand at brick-and-mortar retail. It has become a branding experience."