Brick-And-Mortar Retail Experiences Revival at NRF's Big Show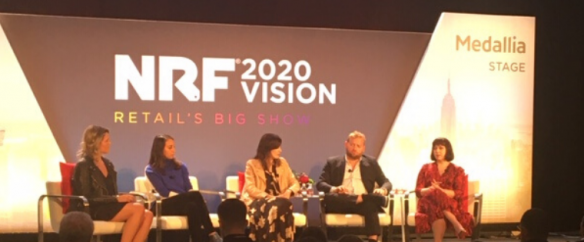 Sustainability, experience and personalization…
These three things are the key to reviving brick-and-mortar retail according to industry analysts and executives at the National Retail Federation Big Show in New York this week.
To be sure, brick-and-mortar stores continue to struggle – 757 closures have already been announced this year and more than 9,000 locations were closed in 2019 – but there is optimism that the industry may be turning a corner as retailers bring in more experiences and personalization and meet consumer demand for products made using sustainable methods and materials.
"There has to be a seamless integration of mobile, online and in-store, and when consumers come to stores, they want to touch and feel the products they saw online, so creating experiences is going to critical for brick-and-mortar retailers to remain competitive," said Joanne Martin, VP Industry Strategy and Market Development at JDA Software and former DSW executive.
Retail as an Experience
Going forward the emphasis will be not on selling products, but on "retailtainment."
"Storytelling is crucial," said Winston Fisher, CEO of 200,000-sq.-ft. experiential retail concept Area15 that will open in Las Vegas this April. "Storytelling must be experienced in real life" and can't be authentically replicated online. "For malls to remain competitive, a big box anchor is no longer the answer."
Another example is Showfields, which opened last year as a 14,000-sq.-ft-. facility in New York to provide store space for consumers to "experience" direct-to-consumer brands in an offline setting, Founder Tal Zvi Nathanel said.
Meanwhile, established players also are taking a new tack.
Viacom Nickelodeon Consumer Products (VNCP), which has closed its retail stores in London, the Middle East and Honduras, launched direct-to-consumer online shops for SpongeBob SquarePants and MTV late last year and plans to add another one or two brands by February, all with internally-developed and licensed merchandise that is different from products sold at physical locations, Senior Vice President Andrea Fasulo told us.
VNCP also opened a series of Slime City and SpongeBob SquarePants pop-ups last year as a means for gathering trend data that can be shared with retailers. And Viacom is weighing re-launching standalone stores – it also had them in the late 1990s – but with more emphasis on experience than retail.
"The earlier stores were a moment in time and retail keeps shifting. With that we have to keep re-evaluating and take that learning and see if there is a business," Fasulo told us. "We want to create something that is a destination where retail is part of it. Today's attraction in retail is experience, and we want to make that a brand experience."
As an example Fasulo cited WarnerMedia's plans for a 20,000-sq.-ft. Wizarding World of Harry Potter store in New York set to open this summer.
Macy's also is seeking to better integrate its experiential activations — B8Ta, Story and The Market @ Macys — after finding overlap in products and concept between the latter two, Parinda Muley, VP Innovation and Product Development, told us. As a result, The Market @ Macys at the Herald Square flagship in New York late last year was converted to a SoGifted pop-up that runs through month's end featuring emerging brands like Tommy X and Ettitude. It has a format distinct from Story, which features sponsored themes. The Market @ Macy's is in a dozen stores, while Story is in 36.
"The front ends" of The Market @ Macys and Story were "too similar and a little bit confusing,so there is going to be entirely new branding around The Market," said Muley. "It is all about how does it play with Story in a better way and how are we going to source and curate different types of products."
Retailers Get Personal
Photo booths, in-home installation and tutorials and all-inclusive apparel collections are bringing personalization to retail and to the home.
Among the examples seen at the show:
Former Apple, Target and J.C. Penney Executive Ron Johnson's concierge-like start-up Enjoy is taking personalization into the home with a service as it expands from the U.S. to the U.K. through partnerships with AT&T, speaker maker Sonos, British mobile operator EE and others, Enjoy has an online mobile store where customers can shop for devices and receive same-day delivery. They also can have an Enjoy technician deliver the item and help with a free set-up. And a technician can return to set up and install
Lego plans to increasingly add personal touches to its more than 600 stores. It will to expand the Mini Figure Factory — an in-store service that allows consumers to create customized figures — beyond the current six locations, said Martin Urrutia Islas, Head of Retail Innovation. And it will expand use of its Lego Mosaic Maker, a photo booth-sized machine that converts the user's image into a mosaic rendition interpreted in shaded Lego bricks that is packaged with a set to build it.
"Personalization is what it is all about now because that is what gets people into the stores and it helps raise awareness of our brand" that can help spur Lego product sales at other retailers, Urruita Islas said.
In the growing all-inclusive apparel market, direct-to-consumer women's swimwear supplier Summersalt, which took 1.5 million fittings from 10,000 women to design its size 0-22 line, expanded distribution in December to Nordstrom with 15 pieces and is moving into sleep and travelwear with a similar approach.
Sustainable Retail
Sustainability is becoming a requirement of the retail business as consumers increasingly include this factor in their buying decisions.
Macy's has a group within the company dedicated to setting sustainability standards both for the stores and its suppliers stretching from materials to the factory floor.
And licensors are increasingly building requirements into their agreements, says Marissa Pagnani McGowan, VP of Corporate Responsibility at PVH Corp. PVH, which owns the Tommy Hilfiger and Calvin Klein brands, is gradually building a sustainability program for licensees carrying requirements that are being implemented as agreements are up for renewal.  Among these are that apparel contain at least 50% cotton produced as part of the Better Cotton Initiative, which is designed to reduce water and chemical use in manufacturing and protect working conditions.
PVH is working with its largest licensee, G-III Apparel, on a program that would be fully implemented for core brands and licensees by 2025. The requirements also will extend to labels being made from recycled materials.
"Our licensing group doesn't want to make claims about capabilities or products as a brand unless it permeates across the entire licensing platform," McGowan said.