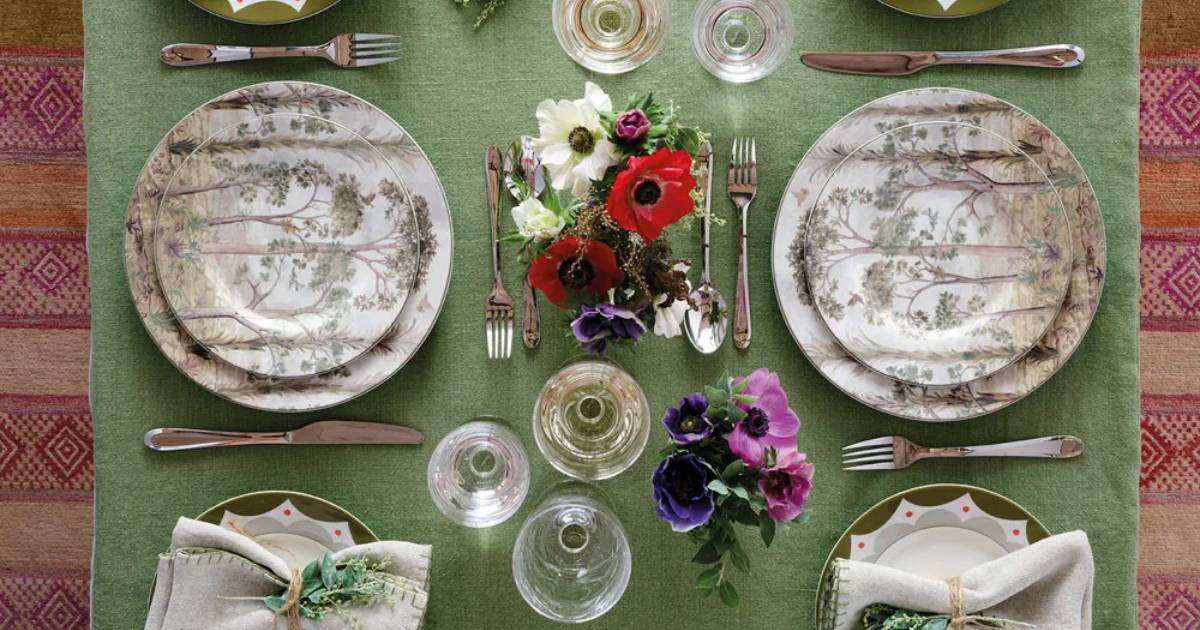 Bringing Value to the Table
With retailers working through excess inventory, "value" has become the watchword of the tabletop category across virtually every level of pricing and product.
That much was evident at the New York Tabletop Show last week as licensed suppliers continued the move from single-pattern place settings to a mix-and-match strategy. Additionally, packaging shrank to 12-piece sets from 16 to maintain quality but meet the value being sought by retailers and consumers.
In the case of Gibson Homewares, that meant extending its Martha Stewart bowls, dinner and salad plates, glasses, and mugs across a range of colors, patterns, and prices, including an "everyday" collection and adding emphasis on colored glassware. For Portmeirion Group, the focus was on licensing patterns from British interior designer Kit Kemp and deploying them across Spode brand cutlery, glassware, silver-plated frames, dinner plates, and mugs with prices starting at $59.
"There is a lot of cost negotiating [with factories] to make sure we are getting the best value," said Carolyn LeFavour, SVP of Sales at Gibson. "In the past, it was expected to be at a certain price, now it's something lower than that. If there is a price increase [for retailers], you are not getting the business."
One strategy, LeFavour said, is to change the composition of the sets. Removing dessert plates or mugs, for example, can hit a lower price-point without compromising the quality of the product.
In preserving value, licensees are also partnering to create displays that may include textiles in addition to tabletop. Gibson has done so in working with Sur La Table and Martha Stewart textile licensee Town & Country. At Portmeirion, textiles were added to interior designer Sophie Conran's licensed line of tabletop products in Canada and the U.K., with potential for the U.S., said Bill Robedee, North American President and Global Sales Director at Portmeirion. The Conran license has been extended to three different lines, including glass and flatware.
"We're rounding out the lifestyle at the table," Robedee said. "We have done textiles in the U.K. and Canada with Sophie, but less so in the U.S, because it is a very volatile market for textiles."
Suppliers are also adapting to changes in distribution, materials, and seasonal displays at retail.
In the case of distribution, DIY chains like Home Depot and Lowe's have added cookware and some tabletop items to the mix. Lowe's has been carrying Gibson's licensed Kenmore five- and seven-quart slow cookers, for example, in an effort to appeal to those consumers that also are buying the Sears appliance brand. And while seasonal products were once limited to specific dates like Valentine's Day, Halloween, and Easter, they're now being stretched across spring, summer, and fall seasons, suppliers said.
"There are a lot more seasonal goods," said David Zrike, CEO of Zrike Brands, which introduced ceramic figures under The Rudolph Co.'s Rudolph the Red-Nosed Reindeer brand at the Tabletop Show. "Retailers have always carried the category, but they are increasingly seeing a real boom during the seasonal time periods."
And when it comes to materials, advances in technology are making it easier to achieve the desired aesthetic for the desired price. Ceramic was once the material of choice for plates, but melamine—a hard resin—is growing in popularity due to its use for entertaining both indoors and outdoors, especially during the pandemic, suppliers said. To meet the demand, suppliers have added weight to once lighter melamine plates to increase appeal and are focusing on packaging that highlights the product.
"We have some part of the box open so consumers can see and touch it," a supplier executive said. "That way, they can see melamine plates aren't just picnicware anymore."