Buffalo Built: Spotlight Signs Buffalo Games for Boo the World's Cutest Dog™ Puzzles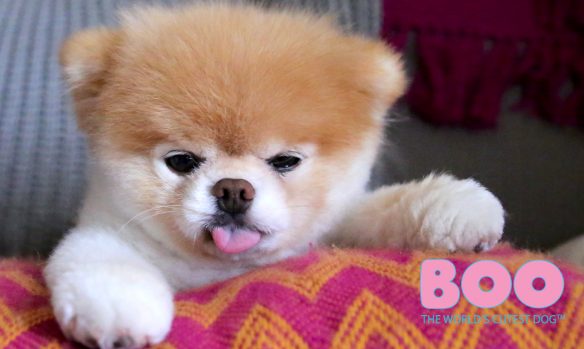 NEW YORK (September 5, 2019) – Get ready for the "world's cutest" Buffalo Games puzzle!
Spotlight Licensing and Brand Management, Inc. President Carole Postal today announced a deal granting Buffalo Games the right to produce Jigsaw Puzzles featuring images of BOO The World's Cutest Dog™ and his canine friends.
"We are looking forward to working with Buffalo Games and helping them choose from the vast library of adorable BOO images available to them in order to create some truly beautiful, premium-quality jigsaw puzzles which BOO fans, dog lovers, and puzzle enthusiasts everywhere can enjoy," says Postal.
About BOO The World's Cutest Dog™
BOO The World's Cutest Dog is a worldwide internet star with over 16 million Facebook "likes" and "followers" (and hundreds of millions of views) as well as nearly 600,000 "followers" on Instagram.  BOO's fame and popularity extend well beyond Facebook™ and Instagram™.  BOO has been the subject  of a series of books, inspiration for a line of top-selling plush by Gund, a media darling featured on Good Morning America, CNN, and QVC, the official spokespet for Virgin Atlantic Airlines and Dr. Dre BEATS, and, the star of a wide range of licensed products.
About Buffalo Games
Buffalo Games is an industry-leading jigsaw puzzle and party game manufacturer located in Buffalo, New York.  Buffalo Games products are available at all major retailers in the U.S.A. and Canada. Over the company's 30-year history, Buffalo Games has sold more than 40 million puzzles and party games.  The company's portfolio includes popular licenses such as Charles Wysocki, Game of Thrones, National Geographic, NFL, Ryan ToysReview, Skee-Ball, Pac-Man, Pokemon, Star Wars, and more. Buffalo Games' puzzles are made in the U.S.A. and all products are made with a careful eye toward quality and sustainable practices. The company's full line of party games are both fun to play and easy to learn.  Their puzzles and games are made from high-quality paper board and precision cutting techniques and feature sought-after artwork from the industry's top licensors. Find us at www.buffalogames.com or on Facebook at www.facebook.com/buffalogames
About Spotlight Licensing
Spotlight Licensing and Brand Management, Inc. (spotlightlicensing.com) is a New York City based boutique licensing agency specializing in representation of Entertainment, Art/Design, Digital properties and Character Brands including BOO The World's Cutest Dog, Call the Midwife, The Country Diary of an Edwardian Lady, Downton Abbey, ELMER, The Great British Baking Show, Imperial War Museums (IWM), The Last Kingdom, Little House on the Prairie, Precious Moments, and more.