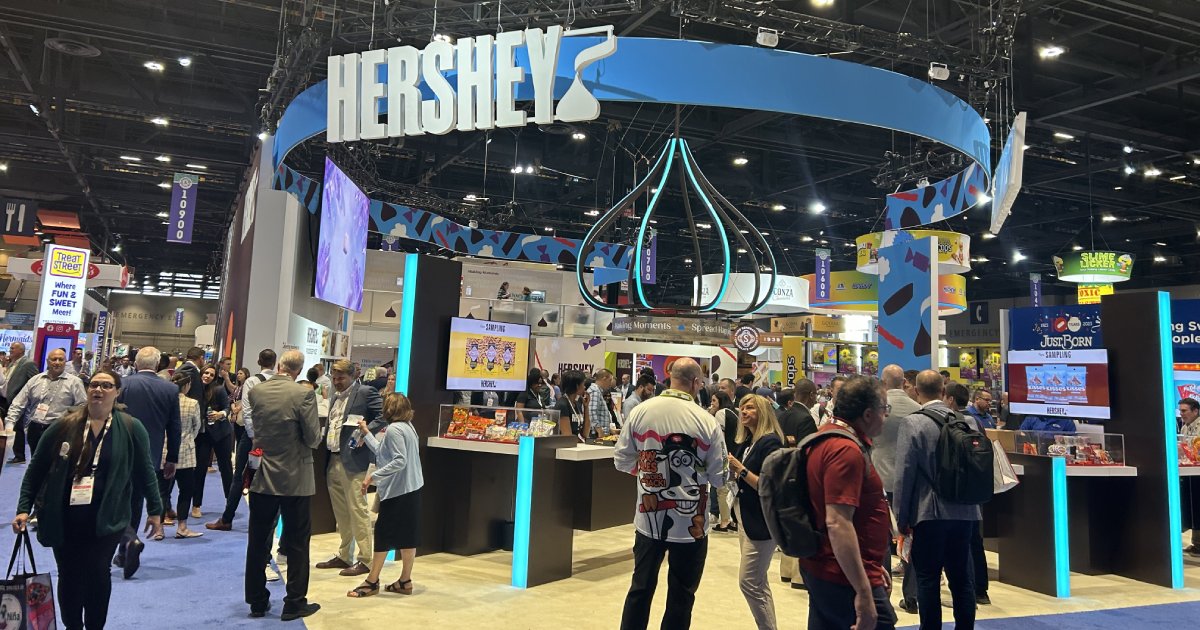 Candy Companies Find Sweet Success in Licensing
Candy and snack companies are increasing their appetite for licensing, with more brands moving into the business or extending their reach to keep up with ever-changing consumer tastes.
That much was clear at the Sweets and Snacks Expo in Chicago this week, with companies navigating a delicate balancing act after a year that saw price increases lead to growth in revenue but declines in unit sales. For example, recent data from Circana (previously The NPD Group) shows that chocolate sales rose 9.1% in 2022, but unit volume fell 4.2% during the same period. And while cookie sales increased 11.5%, unit volume was down 4.7%, Circana said.
The revenue gains were partly driven by rising commodities costs, which in turn boosted retail prices. For example, chocolate was up 15.8% at $2,833 per metric ton as of April 30. But after a year of passing increasing costs to retailers, who in turn raised some consumer prices, there are signs that suppliers are meeting resistance. Additionally, two major suppliers of cocoa—the Ivory Coast (2.2 million metric tons in 2022) and Ghana (750,000 metric tons annually)—have suffered dry weather that has cut into production. Another complicating factor is that inflation has risen 30% from pre-pandemic 2019.
"Normally, there were weeks of negotiation for price increases and pushing back and forth, but last year it was accepted. I am not sure that is the case this year," said Anne-Marie Roerink, Founder and Principal at 210 Analytics.
To combat the rising costs and volume declines, as well as meet consumer demand, a broader array of licensing is emerging. Recently, this has taken the form of unexpected mashups that go viral on social media. For example, pickle supplier Van Holten's paired with Impact Confections' sour candy Warhead brand. The launch's popularity, which was fueled by social media, led to increased production just a few months after the range first hit shelves at Walmart. Moving forward, the companies secured an order from Dollar General for its 19,000 outlets that will launch sales starting in August, said Eric Girard, VP of Sales and Marketing for Van Holten's.
Frankford Candy, after an initial seasonal release of Dunkin' Donuts-inspired candies, is readying a year-round line (including jelly donut chocolates and a dunkaccino hot chocolate bomb) for release in August, said Emma Henry, a Sales Representative at Frankford. And Jack Link's is working with PepsiCo on Doritos Spicy Sweet Chili and Flamin' Hot Original beef jerky flavors.
"If you have a brand, you want to expand it as much as possible because you want it to show up in your core categories but also in unexpected spaces," said Anton Vincent, President of Mars Wrigley North America. "You want brand leverage, and licensing is a great way to do that."
A number of recent launches appear to be aimed at expanding reach and attracting new consumers. Canned vegetable supplier Goya licensed its brand to Hippeas for a line of dried chickpeas, Hershey's unwrapped Reese's Plant Based Peanut Butter Cups made with oats instead of milk, and Snak Club unveiled a line of toasted corn nuggets packaged with Hidden Valley Ranch dressing.
The Sweets and Snacks Expo also saw a plethora of licensed and non-licensed gummy products as brand owners work to cash in on the growing popularity of the candy, including Hilco Sweets' licensed Kool-Aid gummies.
"The more sour, spicy, or gummy-like the product, the better for the younger consumers, who aren't as brand loyal and are always willing to try something new," a licensing executive said.
Licensing in the candy and snack business also benefits from relatively low private label sales. Private label is 7% of the global candy business, much of it confined to premium items, Roerink said. And for snacks it's 13%, according to Sally Lyons Wyatt, EVP and Practice Leader at Circana. This is in contrast to categories like apparel, where private label can account for 30-40% of retail sales.
"With private brands you need to have a big enough slice of the market and for candy it takes about 1,500 items before you start paying off your investment. That's because of the competition from the [candy] brand powerhouses," Roerink said.