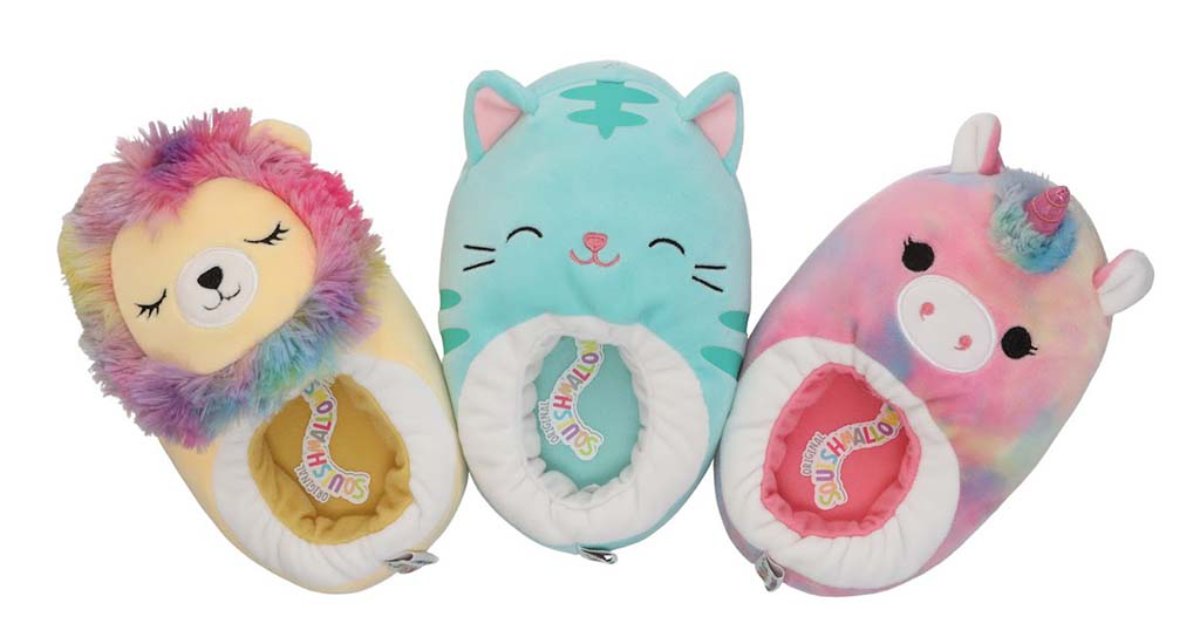 Capitalizing on New Categories
Amid heightened competition, several licensing companies are expanding into new categories in a bid to broaden their business.
Rather than breaking totally new ground, however, many of these companies are adding categories that complement their existing business.
Licensed apparel supplier Poetic Brands formed a new footwear division and signed its first agreement for Jazwares' Squishmallow for slippers, open-toe sandals, and other products that will initially draw from five of the brand's characters. Poetic Brands is owned by PDS Multinational Group, which specializes in the manufacture of adult, children's, and baby apparel, giving Poetic a strong production base.
And toymaker Toikido hired agency Retail Monster last year to represent its Piñata Smashlings brand, a deal that yielded its first licensing agreement this month with publisher Ladybird for a Smashlings collector's guide.
"What we are doing is trying to spread out the risk a little bit more and build out a platform across categories," said Elliot Matthews, Managing Director at Poetic Brands. "It's important [for businesses] to keep as many balls in the air as possible. There's expanding for expanding's sake and then there's expanding because you want to grow your business. If you already have one buying point with a retailer, there isn't a long way to go for another."
Other companies, like Just Play, are expanding by forming their own outbound licensing divisions to seek deals for their IPs. Just Play's journey toward outbound licensing began when the company hired licensing agency Evolution to represent its Hairdorables brand. The launch of this new division followed Just Play's creation of an entertainment division last year to develop content.
This recent rush on expansion is likely the result of strategies that were put on hold during the pandemic finally coming to fruition.
The agency Warren James completed a $6-million funding round last year that was designed, in part, to fund its expansion into merchandise, including "better for you" food and beverage as well as publishing. And Toikido is moving quickly to expand Piñata Smashlings, starting with a Roblox game it developed with Supersocial that will launch in June. Toys are set to launch in the fall, to be followed by publishing, collectibles, and an animated series due in 2024.
"I want this to be a calling card to licensors of what Toikido can deliver when we are given the freedom execute," said Toikido Founder Darran Garnham. "We are seeing shifts of how entertainment is consumed and used with the explosion of influencers, creators, and platforms. Play patterns are changing and digital and physical are rapidly merging and you will need to move at the speed of culture to thrive."
This means licensees will have to expand even further, looking beyond traditional categories and businesses, Garnham said.
Yet even as some companies seek to extend their reach with new categories or increased efforts around outbound licensing, this very expansion could bring them into competition for shelf space with major brands like Marvel and Star Wars. Four years ago, Basic Fun was weighing an outbound licensing program for its Cutetitos brand but has since abandoned the plans, said CEO Jay Foreman.
"If you are talking about a $50-million toy brand [in annual sales] I am not sure it makes sense because you just don't have enough recognition to support an outbound licensing program and you will be competing with major brands," Foreman said. "You need to be a brand with hundreds of millions in sales" to warrant such a program.