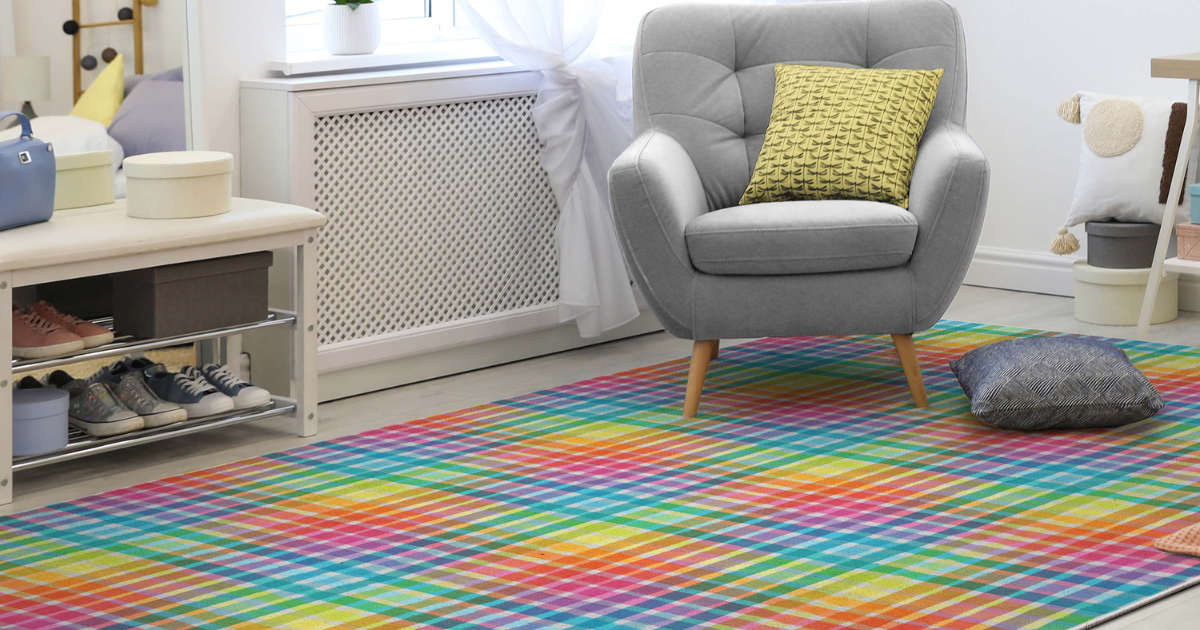 Crayola and Well Woven Create Colorful, Playful Rugs that Celebrate Artistic Expression and Kindness
New York, NY —Creativity icon Crayola and home decor company Well Woven have partnered to create a new licensed collection of rugs that celebrate color, creativity, and kindness. The dynamic rug collection includes a mix of abstract patterns and playful, illustrative designs, some featuring universal messages of positivity and empathy such as "Color the World with Kindness" and "Kind to the Core."
For 120 years Crayola has provided generations of families with creative tools and activities to unleash their imaginations. "Our exciting collaboration with Well Woven now gives anyone who enjoys the expressive possibilities of Crayola the opportunity to cover their spaces with colorful, uplifting rugs in the colors found in a box of Crayola crayons," said April Heeren, Crayola general manager for domestic outbound licensing. "The new collection also features phrases from Crayola's Colors of Kindness line to inspire happy thoughts, encourage positive interactions, and motivate acts of kindness and compassion."
The vibrant hues and positive messages on the rugs fit with Well Woven, a brand known for beautiful, durable, and affordable rugs loved by families and teachers since 2014. "We are overjoyed to bring this project to life," says Adem Ogunc, founder and CEO of Well Woven, "and to inspire children, classrooms, and families to live with color, fun, and joy. This collection is a testament to the power of creativity and imagination, and we can't wait to see the joy it brings to homes, playrooms, and schools."
The rug collection includes 14 patterns available in 11 sizes: 2×3, 3×5, 5×7, 6×9, 7×9, 1.5×5 Runner, 2×7 Runner, 2×9 Runner, 5′ Round, 6′ Round, 9′ Round. The easy-care design makes clean-up quick, and the recycled fiber backing material is environmentally responsible and gentle on all kinds of floors, including wood floors.
The rugs can be purchased from e-commerce shops where Well Woven rugs are sold, including Amazon.com, Wellwoven.com, Walmart.com, Wayfair.com, Target.com, and Overstock.com.
About Well Woven
Well Woven designs affordable rugs for the modern home. The New York-based company was co-founded by Adem Ogunc and Luba Solovyeva in 2014 to make accessible rugs that look and feel good. Using proprietary techniques, Well Woven creates contemporary and classic designs with modern materials, so you can find the rug that fits your decor style and lifestyle. To find out more, visit wellwoven.com. For wholesale inquiries, please visit wwoven.com, or email.  
About Crayola
Crayola LLC, based in Easton, Pa. and a business of Hallmark Cards, Inc., is the worldwide leader in children's creative expression products. Known for the iconic Crayola Crayon first introduced in 1903, the Crayola brand has grown into a portfolio of innovative art tools, crafting activities and creativity toys that offer children innovative new ways to use color to create everything imaginable. Consumers can find the wide array of Crayola products in the "Crayola Aisle" at all major retailers.