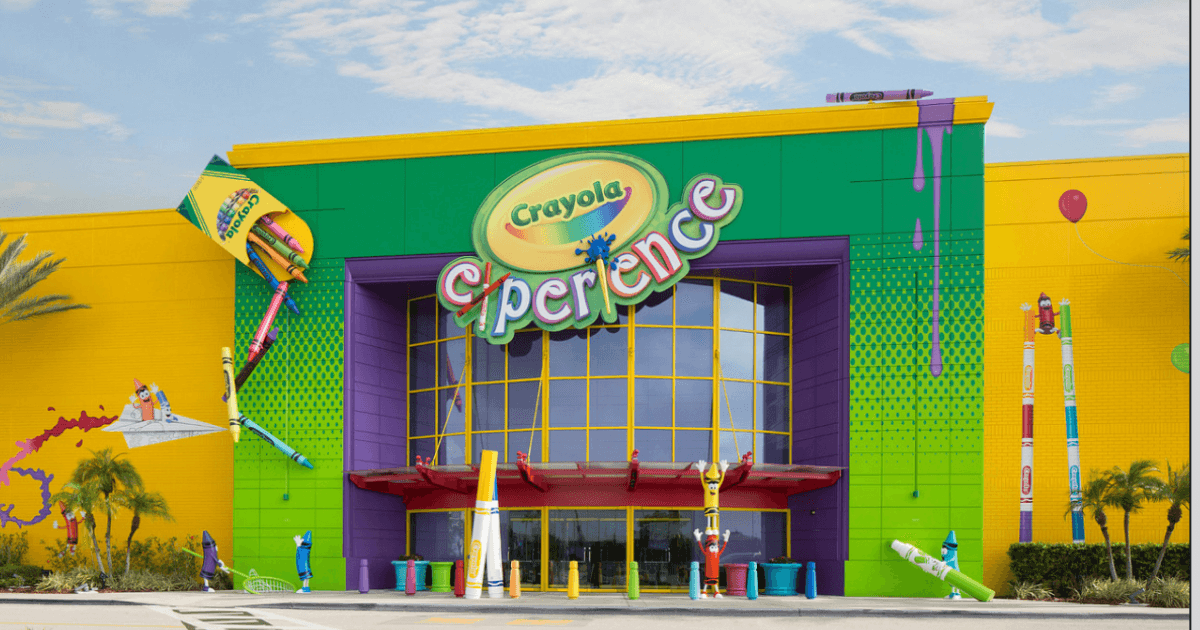 Crayola Positions Itself for Growth within the Location-Based Entertainment Industry
Seeks Partners for Future Development of Crayola Experience Attractions
Easton, PA — Crayola LLC announced today that the premier children's creativity brand is actively seeking partners around the world to license and develop new iterations of its location-based entertainment (LBE) venue—Crayola Experience, a larger-than-life, immersive, and interactive family destination.
"Our growth strategy for 2022 and beyond includes extending our location-based entertainment footprint domestically and internationally. We are now looking to develop licensing partnerships that bring new capital and expertise to accelerate our LBE expansion, particularly internationally where local market access and expertise are important," said Victoria Lozano, Executive Vice President Digital Strategy, GM Attractions & Retail for Crayola.
The concept of a place where the magic of Crayola came to life began 25 years ago as The Crayola Factory in Easton, Pa. Recognizing the desire by consumers for family-driven experiences that were fun, educational, and repeatable, Crayola saw an opportunity in LBE and in 2013 reimagined the downtown attraction as Crayola Experience. The company also owns and operates Crayola Experiences in Orlando, Fla.; at the Mall of America in Bloomington, Minn.; in Plano, Texas; and in Chandler, Ariz. With venues ranging from 20,000 to 60,000 square feet, Crayola Experience engages more than 1.5 million kids and adults annually in activities inspired by and incorporating proprietary Crayola products and technologies.
Crayola also is continuing to develop creative concepts that will help scale its events and exhibitions LBE business. Early this year Crayola debuted IDEAworks at Philadelphia's Franklin Institute, a traveling exhibition encouraging families to explore innovation, invention and design thinking. The company also collaborated with OceanX, a global ocean exploration nonprofit, on a national takeover tour of the Crayola Experience venues that began this summer and runs through summer 2022.
"Our strong brand equity allows Crayola and our partners to create exciting and unique new experiences, not just different iterations of Crayola Experience," said Warren Schorr, Vice President of Business Development & Global Licensing for Crayola. "We're excited about the unique executions Crayola can develop for each of the LBE industry sectors, and we're ready to discuss creative ideas with potential partners."
Crayola and Crayola Experience will start meeting with potential partners this week at the largest, leading global forum for the attractions industry, the annual International Association of Amusement Parks and Attractions (IAAPA) Expo in Orlando. Licensing inquiries should be sent to CrayolaLicensing@Crayola.com. 
About Crayola
Crayola LLC, a subsidiary of Hallmark Cards, Incorporated, is the worldwide leader in children's creative expression products. Known for the iconic Crayola Crayon first introduced in 1903, the Crayola brand has grown into a portfolio of innovative art tools, crafting activities and creativity toys that offer children innovative new ways to use color to create everything imaginable. Learn more at www.crayola.com.