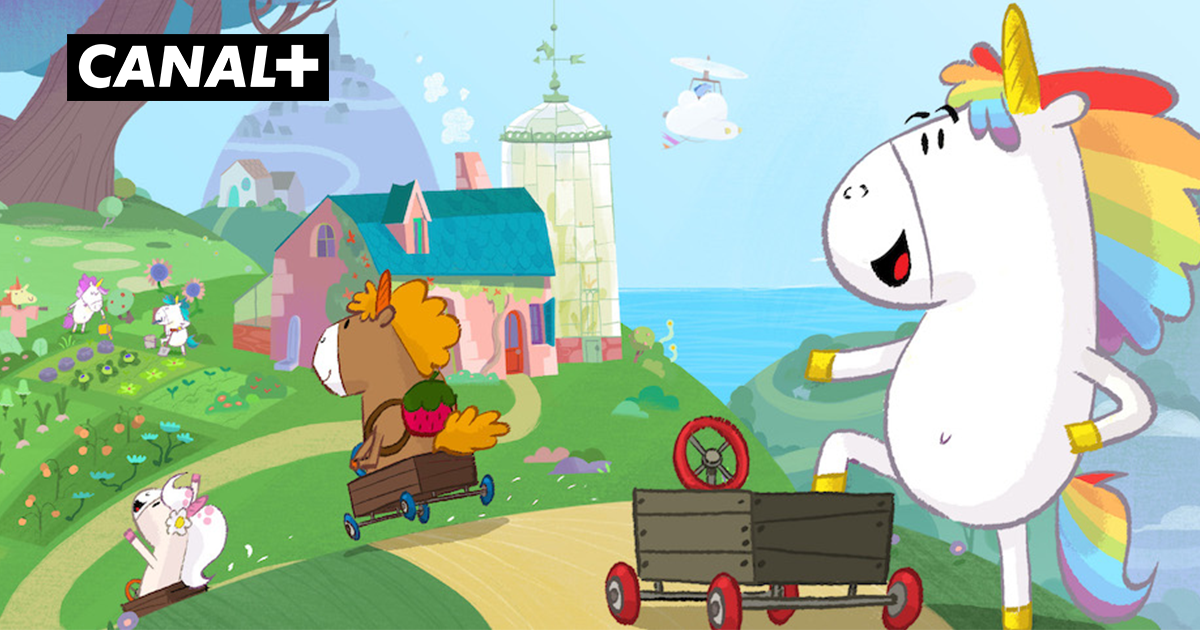 Dandelooo's Animated Comedy Gaston Gets It! in Development with Canal+
Paris, France —  Emmy Award-winning French animation production and distribution company Dandelooo has teamed up with Canal+ to develop its latest animation project Gaston Gets It!, a 52 x 11-minute comedy series for upper preschoolers.
Based on the hugely successful and enchanting children's book series "Gaston's Emotions" (Les émotions de Gaston) iswritten by author and illustrator Aurélie Chien Chow Chine and published by Hachette Enfants, an imprint of Hachette Livre France.  Featuring the cutest unicorn with a rainbow-colored mane, the books which entice children to identify emotions and manage them effectively have sold over 1.3 million copies in France alone and have been translated into 27 languages.
Gaston is a young unicorn just like many others…well, almost. Gaston is unique. He has a rainbow-colored mane which is magical. His striking mane changes colors according to his emotions, oops!
Dandelooo will present Gaston Gets It! to potential industry partners at this year's Cartoon Forum in Toulouse, together with a teaser directed by Aurélie Raphaël (co-director of 'Ernest and Celestine, The Collection'), and will be responsible for the worldwide distribution rights.
"CANAL+ THINKS BIG FOR LITTLE ONES.  We have big ambitions for the content we provide for kids.  Our approach is largely illustrated by what we call 'Original Recreation'; which is our selection of the best kids' TV animation content.  It brings together what we consider to be the most creative and entertaining content that sparks children's imaginations.  Because it's important for our audience to be in touch with their emotions, we've chosen to follow the adaptation of Aurélie Chien-Chow-Chine's best-selling albums "Gaston's Emotions"!  Gaston the unicorn seemed to us to be the most sympathetic of ambassadors, a passionate and exalted character who lives his emotions to the full!", commented Christine Cauquelin, Director of Programs and Youth, Documentaries and Animation Units and Channels at Canal+.
About Dandelooo
Dandelooo is a French award-winning creative company based in Paris dedicated to the development, production, and distribution of original and ambitious animated programs.
Dandelooo has commenced production on the ambitious The Upside Down River (8 x 22′), a serialized series for kids based on the cult novel by Jean Claude Mourlevat and the pre-school series Billy the Cowboy Hamster (52 x 11′), set for delivery in Q1 2024.  The company's key productions include the hybrid pre-school series The Treehouse Stories (three seasons on air, the 4th season now complete and airing on Canal+ and two theatrical films), which won an International Emmy Kids Award in 2017, Stinky Dog (52 x 11′) for France Televisions and TV3 Catalunya, the wonderful TV Special Mum is pouring rain (winner of a Jury Award for a TV Special at Annecy 2021) for Canal+, Chico Chica Boumbacommissioned by M6 and the animated feature film Houdini. Introduced at Cartoon Forum 2022 A Day with the Dogs is now in development and financing stage. Dandelooo is also developing loguis, an original project to initiate yoga for pre-schoolers and Gaston Gets It! targeted at 4- to 7-year-olds.
On the international sales front, Dandelooo is very proud to distribute a selection of the best TV Specials such as Shooom's Odyssey (Annecy Cristal 2020 as best TV Special), the deeply meaningful Dounia and the 2D animation Margot and The Robot.
Dandelooo has its own studio, Ooolala, in la Cartoucherie (Valence, France) and sales offices in Barcelona and Milan.
About Canal+
CANAL+ Group, a subsidiary of Vivendi, is a major player in the creation and distribution of content worldwide, with 25,5 million subscribers, a presence in more than 50 countries. CANAL+ Group has 9,5 million subscribers in France and 16 million in out of metropolitan France. CANAL+ Group is a major player in the production and marketing of television channels, with 130 linear and non-linear channels produced in-house. It aggregates major thematic channels and global content platforms such as Netflix, Disney+, Paramount+ and Apple TV+. With 3.5 billion euros invested in content each year, it is a key player in sport, films , and series (including more than 50 original series per year in more than 15 languages). With the support of its subsidiary STUDIOCANAL,CANAL+ Group is the leading producer and distributor of feature films and TV series in Europe. Finally, it is also a key player in digital with its CANAL+/myCanal app, whose international deployment is accelerating, with a presence in some thirty countries to date.