Dave & Buster's Licensed VR Games Boost Sales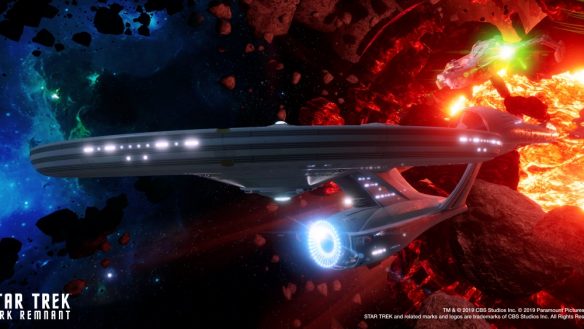 Dave & Buster's amusement business, led by licensed VR titles, posted a 11.9% revenue increase to $215.3 million on a 1.8% gain in same-store sales in Q1 ended May 5.
The 127-store chain, which first introduced a Jurassic World VR game last year, has since added "Halo: Fireteam Raven". "Star Track: Dark Remnant", "Marvel Contest of Champions", and most recently, "Men in Black: Galactic Getaway" to coincide with this month's film release.  Dave & Busters is testing in about 10 stores having two VR machines.
Licensee VRStudios developed the Men in Black and Star Trek games, while Virtual Reality Co. created the Jurassic title, which is a four-seat motion ride using HTC's Vive VR headsets. It also has developed with VRStudios, two non-licensed titles, "VRcade PowerPlay" and "Barky Irons Gunslinger," that are being tested in a Tampa, FL store.
Star Trek has been a "strong" title and Jurassic World has shown "continued strength" a year after being introduced, CEO Brian Jenkins said.
The revenue increase also was tied to a $1 increase in the $5 price of the VR games as part of a test in some stores. The games are currently priced separately, but Dave & Buster's is weighing selling them as a package, Jenkins said.
Dave & Buster's Q1 net income improved slightly to $42.4 million as revenue rose 9.4% to $363.5 million; same-store sales declined 0.3%.
It plans to open 15-16 new stores this year, eight of which have already been added.
Contact:
Dave & Busters, Scott Bowman, CFO, 214-357-9588, scott.bowman@daveandbusters.com