Debra Valencia Creates Bedding Collections for Spectrum Home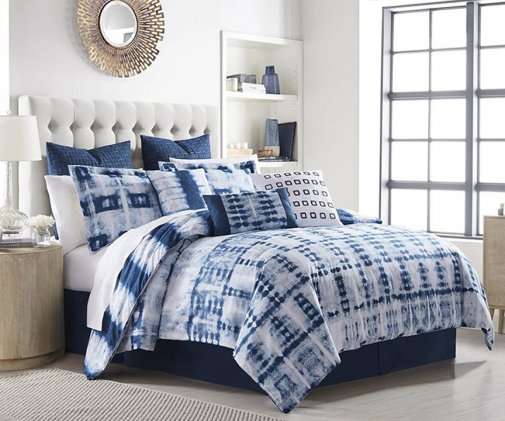 Los Angeles, CA — Debra Valencia and her licensing partner Spectrum Home Textiles are please to announce the release  all new collections of   Shibori designed bedding.  The deal was created by The Brand Liaison, the exclusive licensing agent for designer Debra Valencia.
Debra has spent years mastering the ancient Japanese hand dyed textile tradition of Shibori, studying under the guidance of a master instructor in Japan.  Debra personally created dozens of handmade textiles incorporating a variety of techniques, including handcut stencils, sewing, folding, binding and clamping, her textile works are one of a kind originals. Select prints from Valencia's Shibori Collection can be found on stationery, bedding and other home goods. The entire collection is available for licensing across all product categories. Typically used only for textiles in the past, the Shibori collections are on trends as surface art for dinnerware, home accents, wall décor, social stationery, paper goods, craft, apparel, fashion accessories, bath/beauty products and more.
The new comforter ensembles designs are as follows:
"Toshi", features intricate patterns created with the Katana Shibori technique which involves the fabric folded accordion style with designs handstitched, the textile hand dyed then all stitching removed
"Asami" features water-like organic stripes using the Arashi Shibori technique with fabric tightly wrapped on a pole, tied with thread, then the textile hand dyed
"Hana" features bold stripes created with a folding and clamping using a technique called Itajame
"Mariko" features a circular motif created with the Nui Shibori technique of hand sewing, pulling and gathering fabric prior to dyeing. The stitches are then removed to reveal the design.
All collections are sold as nine piece sets in classic indigo blue indicative of authentic Shibori. The ensembles include reversible comforters in both king and queen sizes with matching pillow shams, bed skirt, two Euro shams, two square accent pillows and one breakfast pillow. All pieces are made of an ultra soft 120gsm brushed microfiber which is super soft and as light as a feather. The bedding ensembles are available at many independent retailers nationwide as well as major retailers including Bed Bath & Beyond and Wayfair.com. Suggested retail prices range from $239.99 to $259.99. In 2021/22, Spectrum Home will expand the Debra Valencia collections with new bedding ensembles as well as decorative accent pillows.
"We are thrilled to introduce the Debra Valencia™Home Shibori Collection in four different eye-catching designs that are appealing to our customers across the board" stated Arshad Mohammed, President, Spectrum Home Textiles
About Debra Valencia:
Debra Valencia, a visionary artist, surface and product designer and entrepreneur with a passion for world travel, artisan traditions and popular genres, has branded a California look uniquely her own. Her colorful chic products are found in the licensed lifestyle market, appealing to women who love style, fashion and femininity. Expansion of the Debra Valencia™ lifestyle brand products includes home décor collections as well as women's apparel and fashion accessories.
The unmistakable bold and colorful style of Debra Valencia, the artist, has garnered her namesake brand a sizable niche in the lifestyle marketplace. As an independent fashion forward woman herself, she is able to put that knowledge to work to create a world of artistic beauty. Her designs inspire women to be chic and stylish, turning everyday life into a lifestyle, whether it is expressing a personal fashion statement, decorating their home or entertaining friends. This provides added value to licensing partners through name recognition, reputation and the brand's history. Debra Valencia is a hands-on artist and a businesswoman. She does not simply lend a name to a product line. She remains intimately involved with her licensing partners to bring a quality product to the lifestyle marketplace. Debra is savvy about understanding women's lifestyles as well as her expansive knowledge of product design and manufacturing processes.
About Spectrum Home Textiles:
Spectrum Home Textiles is part of a multinational textile group, with more than three decades of home textile experience. They have manufactured and supplied for top retail chains and leading brands in the United States and abroad. After years in the business, they have amassed the experience to design and supply quality linen which comparable only to products found in exclusive fine European design houses..
About The Brand Liaison:
The Brand Liaison is a boutique licensing, brand extension and brand management agency focused on creating new revenue streams for our clients through licensing, strategic partnerships and other brand extension programs. Our goal is to commercialize opportunities that will extend our clients' intellectual property into multiple product categories.  We work closely with our clients to ensure that our brand extension activities compliment the strategic goals and objectives of each brand that we represent.
For licensing inquiries:
Steven Heller, The Brand Liaison
Tel:  (855) 843-5424
Cell: (561) 302-7838
Steven@thebrandliaison.com
www.thebrandliaison.com