Designer Debra Valencia releases new Bohemian-Style Needle-Art Crafting Book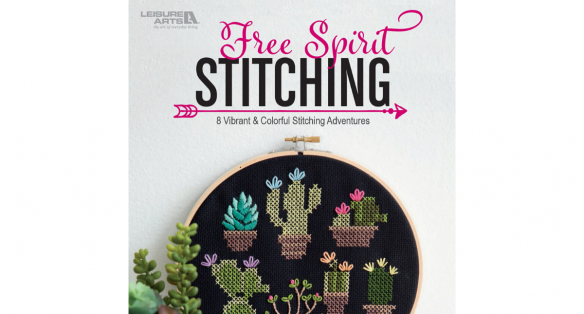 Latest Book entitled "Free Spirit Stitching: 8 Vibrant & Colorful Stitching Adventures" is Valencia's 6 crafting book
Los Angeles, CA – November 1, 2019:  Designer Debra Valencia and publisher Leisure Arts Inc., are proud to announce Valencia's newest crafting book entitled Free Spirit Stitching: 8 Vibrant & Colorful Stitching Adventures. With lifestyle photography, step-by-step instructions and fresh, modern designs, DIY crafters learn how to make beautiful projects for both fashion and functional uses.  Geared to the beginner needle arts and weekend crafter, from tween and teenagers to moms and grandmothers, this title is Valencia's 6th consumer and crafting book and the first in a series of needleworks books for Leisure Arts.
"All of these crafting items were inspired by my informal Bohemian-style" explained designer and free spirit Debra Valencia.  "The projects I created in this book will take the crafter on a retro stitching journey packed with paisleys, florals, and hand-drawn fonts."
Projects in this title creatively combine cross stitch and free style embroidery to create unique projects such as the Paisley Heart Pillow, Summer Love Tote Bag, Chic & Cozy Clutch, among other fabulous products featuring Valencia's bohemian designs.
"So grab some colorful embroidery floss, pillow covers, waste canvas, and other fun supplies and go retro! Skill level ranges from beginner to intermediate, depending on project. Set your stitching free!"  Adds Valencia.
The Debra Valencia brand is a California lifestyle brand appealing to modern women who love style, fashion and femininity. Get inspired to express your unique personality with the stunning embroidery works. You'll look stylish carrying your one-of-a-kind accessory, personalized with fancy trims, pockets, beads, flowers, appliqué or embroidery.
And watch for Valencia's next title to be released later this year just in time for the holidays.
Author:  Debra Valencia
ISBN:  978-1-4647-6989-4
Code:  7228
Price:  $12.99
Publication Date: 1/4/2019
Pages:  64
Format:  Paperback
Size:  8.5" x 11"
About The Author
Debra Valencia is a visionary artist, designer and entrepreneur with a passion for world travel, artisan traditions and popular genres. Her surface designs take a fresh approach to creatively blending florals, paisleys, geometric and decorative motifs, appealing to women who love bold color, fashion and femininity. Debra is currently licensed with product manufacturers in the gift, stationery, textiles, home décor, fashion accessories, bath/body, and cosmetics industries. Her products have sold in both independent and mass market retailers nationally and  internationally.
For more information, visit the website: http://www.debravalencia.com 
For Licensing Inquiries:
Steven Heller, The Brand Liaison
Tel:  (855) 843-5424
Cell: (561) 302-7838