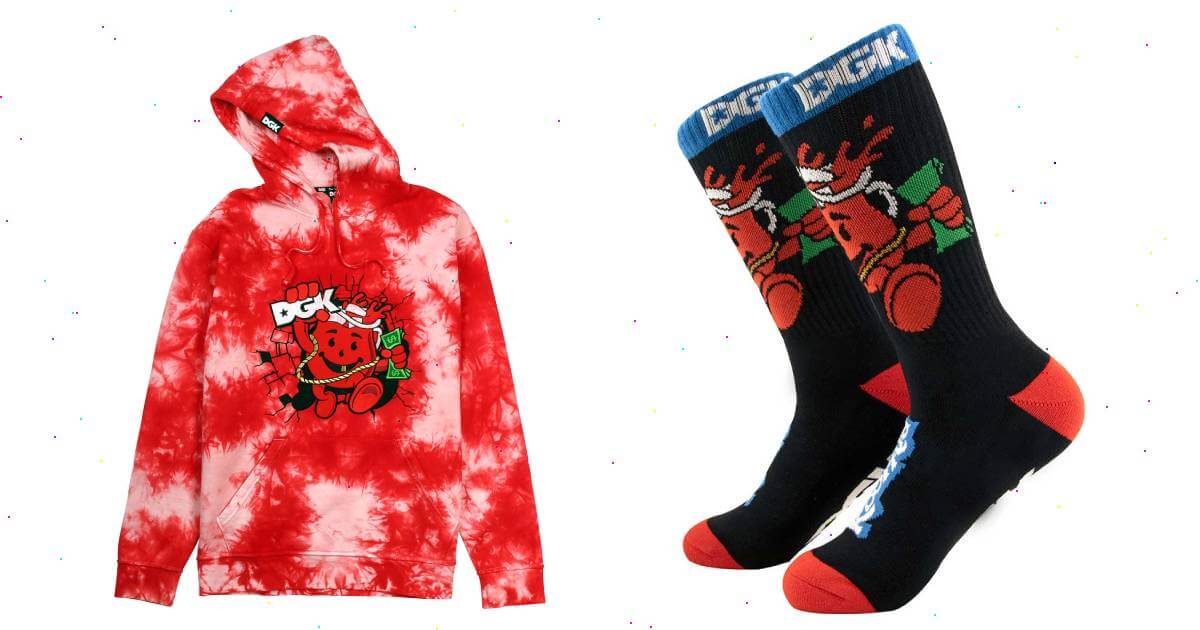 DGK & KOOL-AID® Brand Always in the Mix
August 8th, 2022 — DGK, the most iconic street skateboard and apparel brand, is about to drop the drippiest, most flavorful collection for the kids and the culture. DGK is proud to roll with KOOL-AID brand as DGK introduces a collection that will have the streets drippin' with flavor for the Fall 2022 season. The deal was brokered by Kraft Heinz's licensing agency, Brand Central.
The Kool-Aid Man™ is committed to the culture which leads him to mix it up with the DGK crew. His flavor is put on full display as he bursts into neighborhoods with his DGK family, bringing a tongue-in-cheek attitude to everyone who comes along for the ride. This iconic adventure will be one the kids won't soon forget, cementing the Kool-Aid Man in the hearts and minds of anyone searching for unapologetic fun.
In 1927, Edwin Perkins created Kool-Aid beverage powders aimed to provide a flavorful yet affordable drink for the kids. The groundbreaking drink exploded in popularity due to its taste, price, and the Kool-Aid Man's adventures. Nearly 100 years later, the Kool-Aid brand is still the go-to favorite for kids of all ages. DGK has worked with the Kool-Aid brand to put flavor in the mix for your Summer and Fall.
The DGK & KOOL-AID Collection consists of a full range of Softgoods, Headwear & Skateboards featuring the Kool-Aid Man. Available in stores worldwide and Dgkallday.com on August 12th, 2022.
If I can provide you with additional information concerning the DGK & KOOL-AID Collection, please email me at matt@thekayocorp.com or call 760.877.8521.
About DGK
DGK is the most authentic urban skateboard and apparel brand in the world. Started in 2002, the company is a tribute to skateboarders from less advantaged backgrounds. With the brand achieving global fame, DGK uses it's connection to the youth to change peoples live through programs like "Saved by Skateboarding". DGK is all about turning a negative into a positive for people from humble beginnings. dgkallday.com @dgk #dgk #savedbyskateboarding
About KOOL-AID® Brand
The jug. The drink. The legend. Oh yeah! koolaid.com @koolaid #koolaid

About Kraft Heinz Company
We are driving transformation at The Kraft Heinz Company (Nasdaq: KHC), inspired by our Purpose, Let's Make Life Delicious. Consumers are at the center of everything we do. With 2020 net sales of approximately $26 billion, we are committed to growing our iconic and emerging food and beverage brands on a global scale. We leverage our scale and agility to unleash the full power of Kraft Heinz across a portfolio of six consumer-driven product platforms. As global citizens, we're dedicated to making a sustainable, ethical impact while helping feed the world in healthy, responsible ways. Learn more about our journey by visiting www.kraftheinzcompany.com or following us on LinkedIn and Twitter.