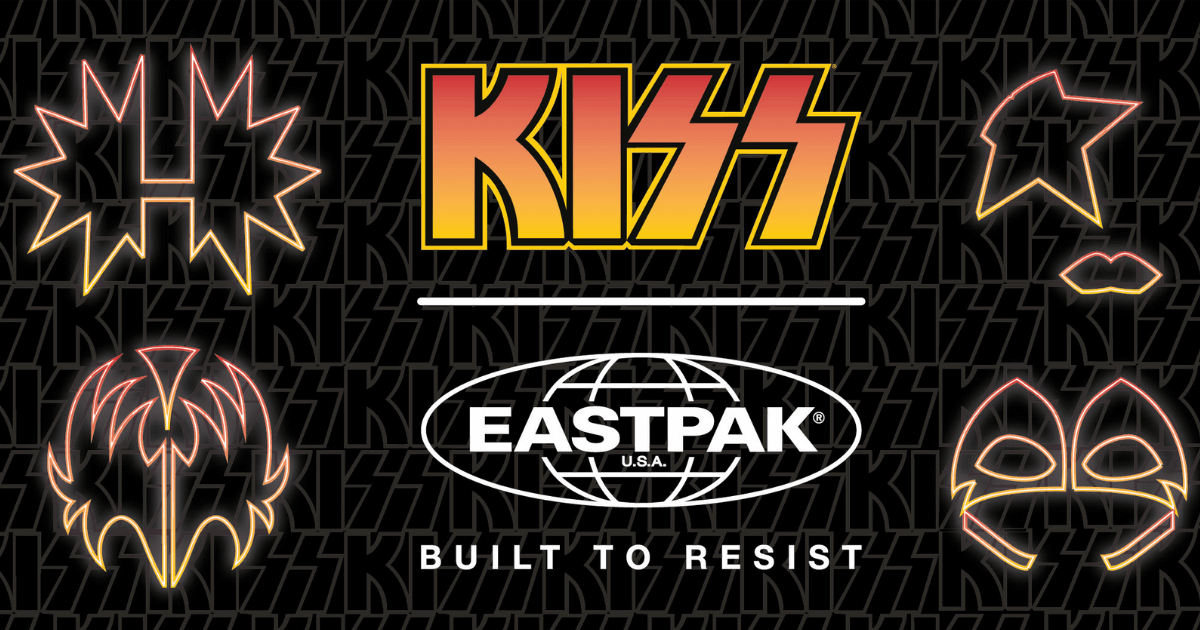 Eastpak X Kiss: Inspired by The World of Rock
The world's most iconic backpack brand meets surely the most iconic rock band ever to light up the stage. Literally. "Inspired by the world of rock" this Eastpak collaboration with rock legends Kiss provides a fitting tribute to the band that changed the music world forever. The collection launched this week.
Featuring four legendary Eastpak styles designed in the same era and now transformed into "make-overs" referencing the iconic face paint and pyrotechnic antics of arguably the most influential band in history. For those who like to make a statement and prefer to make it loud.
PADDED PAK'R
The backpack that started it all, now reinvented in collaboration with the band that changed everything. Comprising 6 colorways in all: 4 adorned with silkscreen prints reminiscent of each band member's instantly recognizable make-up against a backdrop of Kiss Black, Kiss White, Kiss Red, and Kiss Grey; a firey version of the Kiss logo in the form of Kiss Brand, and a rock-inspired all-over black-and-white print, Kiss Grunge. Co-branded with the Eastpak and KISS logos.
DELEGATE+
Our plus-sized shoulder bag, now infused with plus-sized attitude. The US rock band's penchant for fireworks, shooting rockets, and other pyrotechnics is symbolized in the blazing logo of the Kiss Brand colorway, while Kiss Grunge captures the spirit of the band's monochromatic aesthetic to perfection. With all the functionality you've come to expect from Eastpak including built-in padded laptop sleeve, adjustable ergonomic shoulder strap, versatile pockets, and internal organizer.
BANE
The humble bum bag, first elevated to an iconic lifestyle accessory by Eastpak in the 1980s, has now been taken to the next level. Available in the same two colorways inspired by the
world of rock as embodied by the legendary US band Kiss.
PERCE MORE
Finally, the versatile Eastpak duffel that packs all your essentials, now packs plenty of rock-inspired attitude as well. Adorned with the blazing Kiss logo and co-branded patches.
About KISS
KISS remains one of the most influential bands in the history of rock and roll after 45 years. KISS has  earned more Gold Album Record Awards than any American band in the history of The Recording IndustryAssociation of America's (RIAA) Gold and Platinum certifications with 26 KISS albums and four solo albums released simultaneously—a feat never before achieved by any band. To date, KISS has released 44 albums, with 14 achieving Platinum status and three albums reaching multi-platinum. KISS has sold more than 100 million albums worldwide and their legacy continues to grow their fan base, generation after generation. KISS continues to build on the momentum recently generated by sold out tour dates, incredible media coverage and consistently phenomenal concert performances on their End of the Road world tour, which is  scheduled to continue in 2021. For more information on the band's activities and events, visit www.KissOnline.com.
About Eastpak
Eastpak has been making bags that inspire people to move, since 1952. From a manufacturer of militaryissue packs and duffels for the US army to a leading lifestyle brand for people who live, work and play in the city. Since 2000, Eastpak forms part of the VF portfolio of international brands. We ensure that the same commitment to quality that made Eastpak famous lives on in its range of stylish and functional backpacks, shoulder bags, travel gear, and accessories. Eastpak continues to evolve with its loyal fans, and it is s