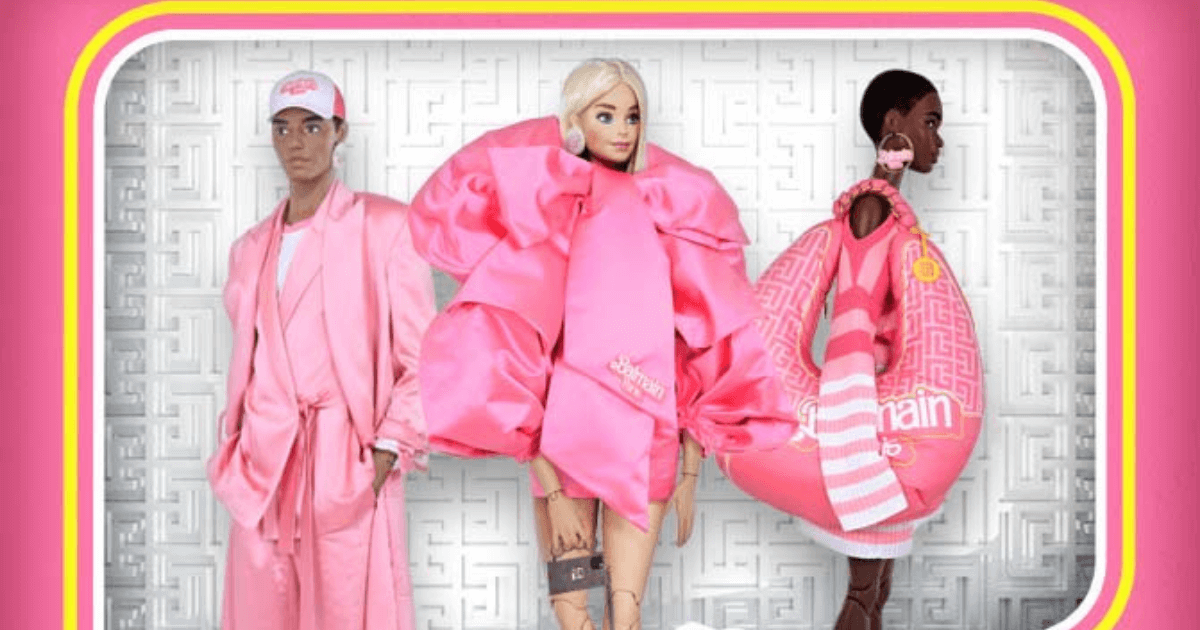 Fashion, Entertainment Brands Deepen Runway for Licensing
It's a meeting of the brands.
Luxury and streetwear labels are increasingly broadening their customer reach by partnering with entertainment and toy brands which are after much the same thing.
These alliances aren't new. Indeed, Mattel first formed Mattel Fashions Inc. in 1964 to focus on Barbie-inspired "girls" apparel. But the frequency at which the fashion/entertainment partnerships are occurring is. In part, it's being driven by an ever-wider array of content being made available through streaming services and other sources that are combining with a rapidly growing list of fashion brands.
In many cases it has become a race to create evermore counterintuitive pairings that are as much about capturing consumer attention as they are sales.
Barbie Inspiration
For example, French high fashion house Balmain earlier this month announced a deal with Mattel's Barbie for a 50-piece inspired-collection that's minus the doll, designed for adults and will include three Mattel-designed NFTs of one-off looks, the first of which – Balmain x Barbie NFT 1 — was auctioned on Jan. 7 on Dapper Labs' Flow Network. That was after Balmain launched a collection last fall based on Netflix's The Hard They Fall western film. Then there is MGM's David Lynch-directed 1986 neo-noir cult classic Blue Velvet pairing with the late designer Virgil Abloh's Off-White brand for a collection that includes a gown ($1,000) and mini-skirt ($350) that was first introduced in 2020 and reprised last fall.
The pairings were happening so frequently that ViacomCBS's licensing group created a separate staff that focuses on collaborations and reports to Softlines SVP Jose Castro. The group forged deals on multiple collaborations during the past year, including those for "South Park"/Adidas and "Emily in Paris'" second season in December that includes licensing agreements with AZ Factory (dress), and Chanel-owned labels Maison Michel (captain's hat), Goossens Paris (jewelry) and Barrie (cashmere jacket). And these types of collaborations are likely to carry over to the recently approved seasons three and four of "Emily in Paris," Castro said.
Collaborations Proliferate
"There has always been a big intersection of fashion with pop culture and that's an on-going trend," Castro said. "Now pop culture is content and that is more prolific than ever and on top of that the designer or brand likes to show that they are associated with something that has big fandom.  It is a way to connect with the audiences and the shopper and the fans of both the brand and the content.  When you look at content as another form of art, it is another way to expand a visual and that is why we are seeing so much more of it. We are seeing this because there is more content and it is a much more outward facing thing for brands to be associated with. They [fashion brands] are more comfortable with showing that fandom."
The price of fandom can be expensive. The Balmain collection ranges from $295 for a t-shirt to $42,495 for a signature gown. Yet in some cases it's less than the classic Balmain apparel which starts at $495 for a logo t-shirt. But as with many inspired-by collections the dream of a Balmain dress can start with a lesser-priced Barbie x Balmain accessory, Mattel President Richard Dickson said.
The increased frequency of these collections and the higher prices are largely fueled by limited editions largely sold online that create a sense of urgency among consumers. The contracts for these deals typically one month to a year, but may be renewed as fashion seasons change. For example, surfing brand Billabong released a Dr. Suess Enterprises-licensed Lorax board shorts in the spring and a "How the Grinch Stole Christmas" version during the holiday season.
"If you are doing a co-brand with a high-end collection, the cut, the types of materials used and the expression of graphics are taken into consideration by the consumer," Robert Marick, EVP of Global Consumer Products and Experiences at MGM said. "You may be shopping at Off White because you are a fan of the trend-setting design and when you overlay an IP that may be the consumer grew up with, all of sudden what's old is new again."