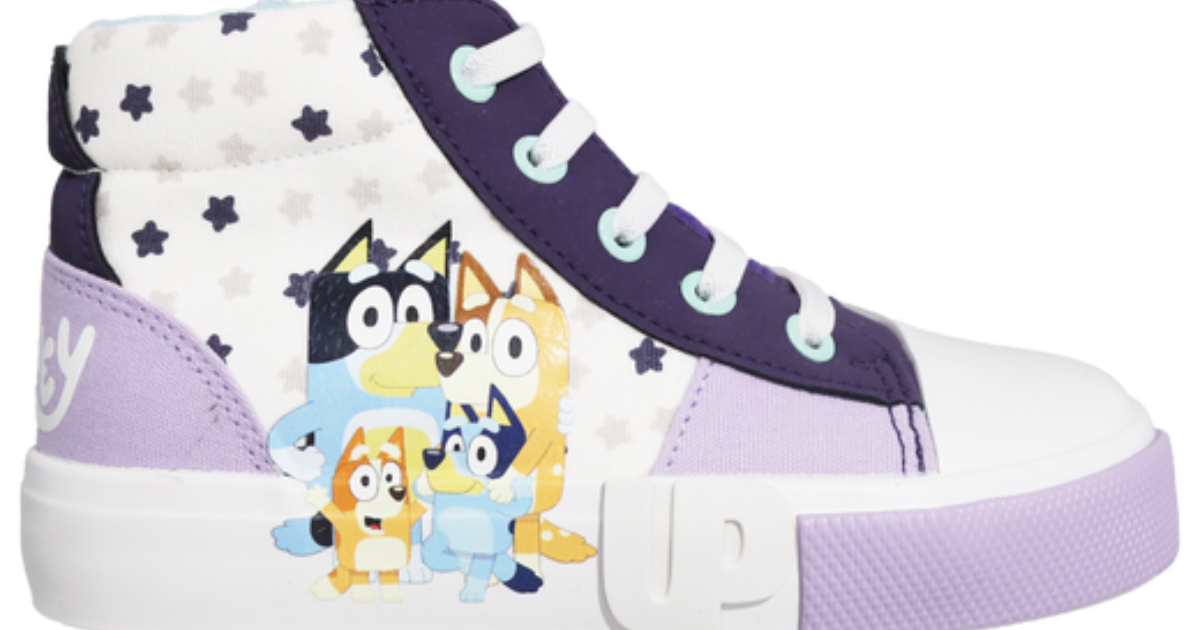 For Real Life!? Ground Up X Kids Foot Locker Is Launching Exclusive Bluey Collection 
Ground Up International is releasing a new kid-favorite collection in partnership with Kids Foot Locker and BBC Studios Kids & Family, distributor, and licensor for the global hit animated series Bluey. Your little ones can explore the world by strutting in these fresh kicks. The collection is inspired by the beloved Emmy®-winning series, which is available on Disney+, Disney Channel and Disney Junior. Bluey is a Blue Heeler pup known for her abundance of energy, imagination, and curiosity about the world. The high-top and slip-on sneakers feature all toddler sizes.
All-new Bluey High Top available only at Kids Foot Locker
The sneaker features light purple canvas pieces, dark purple pebbled along the laces, and canvas with purple stars on both sides. The outer side of the shoe illustrates Bluey, her sister Bingo, and parents Bandit and Chilli, standing together as a family in rubber applique. Strong attention to detail continues to the back of the shoe with the Bluey logo, along with a blue woven tab of Bingo's magic feather wand. The white toe cap and light purple toe bumper on the high top ensure durability and protection. Along with elastic laces for easy access and protection granting your little one the freedom to go on an adventure.
All-new Bluey Slip-On available only at Kids Foot Locker
The Bluey slip-on features a white and beige striped canvas for a classic everyday style. Both sneakers have different characters on the front – the left displays Bingo playing with a red balloon in rubber applique and the right has Bluey looking over at Bingo ready to hit the balloon. The slip-ons represent Bingo and Bluey playing their favorite game together, "Keepy Uppy." The artwork continues to the back of the shoe, where the Bluey emblem is embedded on the heel. For a special touch, the kick features a sueded blue trim along the sneaker and a brown toe bumper for design and stability.
The interlocking "Up" symbol on every sneaker represents the connections we make every day with Ground Up, our friends and families, our favorite brands, ourselves, and even our favorite Bluey characters.
Ground Up's brand mission is to fulfill the need for fun. They provide customers the freedom to express themselves through their favorite fandoms. The company is dedicated to fostering creativity and facilitating collaboration between their footwear and everyone's favorite brands. Regardless of age, Ground Up is suitable for the entire family. The brand promises to include fashion and fun in your daily life. Jointly commissioned by BBC Studios Kids & Family and ABC Children's, Bluey is created and written by Joe Brumm and produced by multi-Emmy® award-winning Ludo Studio in association with Screen Queensland and Screen Australia. The series is distributed internationally by BBC Studios Kids & Family outside Australia.