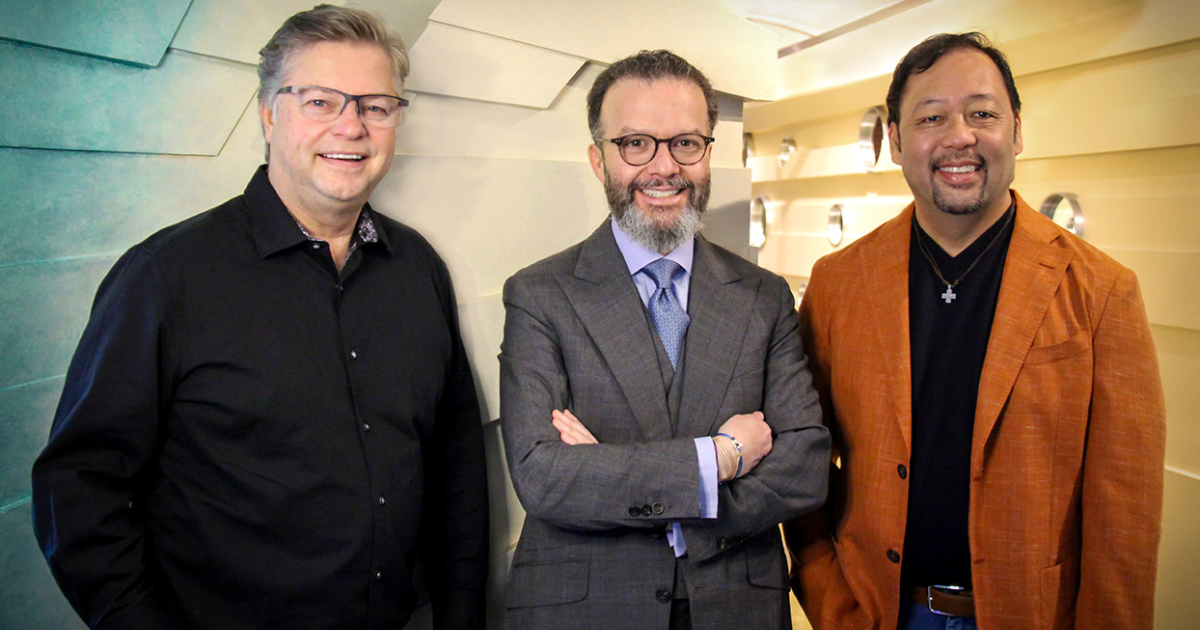 Former Disney, Marvel and Moonbug Executive Assumes Leadership Role to Bolster Falcon's Beyond's Innovation in Entertainment
Orlando, FL  — Falcon's Beyond ("Falcon's" or the "Company"), a leading fully integrated global entertainment development company specializing in intellectual property (IP) creation and expansion, today named Simon Philips, an accomplished entertainment industry executive, as President, a newly created position for the company. Philips, whose visionary approach to brand building has helped shape the strategic direction of some of the world's most iconic franchises – including Disney, Pixar, Star Wars, Marvel, CoComelon, Pokémon, Teenage Mutant Ninja Turtles and Yu-Gi-Oh – previously served as Senior Advisor to the Falcon's Beyond Board.
Most recently, Philips was Managing Director, Global Consumer Products at Moonbug Entertainment, the company behind properties including CoComelon, Blippi and Little Angel. He brings significant experience that will help drive the substantial entertainment and consumer product synergies at Falcon's. Philips has relocated to Falcon's headquarters in Orlando and reports directly to CEO Cecil D. Magpuri.
As President, Philips will oversee the future growth and expansion of entertainment-based business and development of the company's IPs. This will include developing and implementing comprehensive corporate strategies for future growth across all commercial operations of the company and its wholly owned subsidiaries. Leveraging his deep industry expertise and relationships, Philips will also focus on strategically building the infrastructure of new consumer products and entertainment content.
"When I became Senior Advisor to the Board last year, I commented that Falcon's Beyond is playing in a vast sandbox. Since last year, I have been so impressed with the Company's mark on the industry. This is a terrific time to join the team for what we expect to be explosive growth in the industry," said Simon Philips. "I appreciate the opportunity to bring more than 30 years of experience and insight to Falcon's and am thrilled about the abundant opportunities we will pursue together."
"Simon's reputation and acclaim in entertainment has been truly inspirational for me and the greater Falcon's team." said Cecil D. Magpuri. "His visionary cross-channel approach to brand expansion will further strengthen our own IP Expander flywheel. We feel incredibly fortunate to have found someone of Simon's caliber whose values are so perfectly aligned with Falcon's culture."
Among his many accomplishments, Philips previously served as president of Marvel Entertainment International, where he was a member of the leadership team that helped build Marvel into an internationally renowned brand and pave the way for its sale to Disney. He later became Executive Vice-President & General Manager, The Walt Disney Company, Europe, the Middle East & Africa, where his strategic approach to bringing to life iconic brands from across the Disney, Star Wars, Pixar and Marvel portfolio through licensing generated more than $16 billion in annual sales.
Details of Philips joining the company follows other recent transformative news from Falcon's Beyond, including the grand opening of Falcon's Resorts by Meliá | All Suites Punta Cana, along with the opening of the adjacent Katmandu Park | Punta Cana on March 15, 2023, the Caribbean's first world-class theme park, together offering a unique "resortainment" hospitality experience.
Last year, Falcon's Beyond announced plans to become a publicly listed company through a definitive merger agreement with FAST Acquisition Corp. II ("FAST II") (NYSE: FZT), a special purpose acquisition company founded by Doug Jacob and headed by Sandy Beall. Upon the closing of the transaction, the new combined company will be named "Falcon's Beyond Global, Inc." and is expected to be listed on Nasdaq under the ticker symbol "FBYD." More information about the transaction can be found in the Investor Relations section of Falcon's Beyond website.
About Falcon's Beyond
Headquartered in Orlando, Florida, Falcon's Beyond is a fully integrated, top-tier experiential entertainment development enterprise focusing on a 360° IP Expander model. The Company brings its own proprietary and partner IPs to global markets through owned and operated theme parks, resorts, attractions, patented technologies, feature films, episodic series, consumer products, licensing, and beyond. The Company has won numerous design awards and provided design services in 27 countries around the world, turning imagined worlds into reality.