GameStop Holiday Sales Decline 27.5%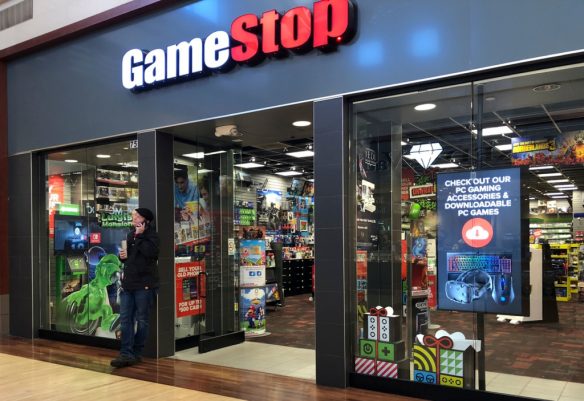 GRAPEVINE, TX —  GameStop reported sales during the holiday period ended Jan. 5 declined 27.5% to $1.83 billion on a 24.7% decrease in same-store sales.
Sales results during the holiday period are indicative of overall industry trends impacting the video game industry and driven by an accelerated decline in new hardware and software sales, particularly in the month of De­­­cember.
George Sherman, GameStop's chief executive officer said, "We expected a challenging sales environment for the holiday season as our customers continue to delay purchases ahead of anticipated console launches in late 2020. However, the accelerated decline in new hardware and software sales coming out of black Friday and throughout the month of December was well below our expectations, reflective of overall industry trends. On a positive note, we continued to see growth in the Nintendo Switch platform, which supports our view that our sales will strengthen as new consoles and innovative technology are introduced."
Mr. Sherman continued, "Given the deceleration in sales trends, particularly in December, we are adjusting our sales outlook for fiscal 2019 and now expect fiscal 2019 earnings to be below guidance. While we expect the challenges that we faced in the fourth quarter to continue into fiscal 2020, we believe we have the right long-term action plans in place to optimize profitability and increase new revenue streams in advance of new console introductions for holiday 2020. We look forward to delivering progress against our strategy as we move through the year."
Guidance Update
Comparable store sales are now expected to decline in the range of 19% to 21% for fiscal 2019. The Company, while not updating earnings per share guidance at this time, now expects an adjusted net loss for the fiscal year, with adjusted earnings per diluted share impacted by the further deceleration in sales in December. Despite the sales results, the Company continues to manage inventory effectively and anticipates ending fiscal 2019 with inventory down approximately 26% as compared to the fiscal year end 2018. The Company now expects capital expenditures for FY2019 to be in the range of $75 million to $80 million, and forecasts total cash and liquidity, including availability under the revolving line of credit, at the end of the fiscal year to be approximately $900 million.
The Company anticipates reporting fourth quarter and full fiscal year 2019 results in late March.
About GameStop
GameStop Corp., a Fortune 500 company headquartered in Grapevine, Texas, is the world's largest video game retailer, operates over 5,600 stores across 14 countries, and offers the best selection of new and pre-owned video gaming consoles, accessories and video game titles, in both physical and digital formats. GameStop also offers fans a wide variety of POP! vinyl figures, collectibles, board games and more. Through GameStop's unique buy-sell-trade program, gamers can trade in video game consoles, games, and accessories, as well as consumer electronics for cash or in-store credit.
Contact:
GameStop Corp. Investor Relations
(817) 424-2001
investorrelations@gamestop.com