Green's a Theme at Nuremberg Toy Fair
For reasons ranging from business imperatives to pure social responsibility (with many combinations in between), "sustainability" has become a hot topic in the licensing business, among many others. We put that word in quotes because, in a business sense, there is no single definition of "sustainable"; ask ten people what it means, and you'll probably get 12 different answers.
But if we can agree that it denotes an environmental consciousness and processes designed to avoid depleting natural resources, then sustainability was a growing theme running through the massive halls of last week's Spielwarenmesse in Nuremberg, Germany, with its nearly 2,900 exhibitors showing off more than a million toys and tangential products (i.e. children's furniture).
Recycling
A couple of examples:
At its stand, plush producer Wild Republic Europe had signage announcing a "Promise To The Planet" that for the first time "The fill in our plush is 100% Recycled P.E.T. water bottles."
Swiss manufacturer GeomagWorld prominently billboarded that its Geomag construction sets now use "100% recycled plastic," a journey that took more than two years to develop a material with the necessary properties.
Spain's APLI Kids under a Save the Ocean banner, highlighted a line of oceanically-themed kids accessories which were constructed of fabric formulated from recycled P.E.T. bottles

And, in a different sort of recycling, Hasbro expanded the toy recycling program it began in the U.S in 2018 to France, Germany and Brazil last year, with plans for the U.K. this year.  Some companies have environmental goals at their core. One of them — California-based Green Toys – is using licensing "to get the word out" about its mission, said president Charlie Friend during a panel at the Fair sponsored by Licensing International and Global Licensing Group. "People that don't know Green Toys will know Elmo or Mickey or Minnie, and that allows us to broaden the appeal or broaden the scope so we can get them into the Green Toys family."
Brand enhancement
Contrary to common practice, in which a licensee has to adapt to the brand owner's packaging scheme, Friend said, Sesame Workshop rejected Green Toys' original package submissions a couple of years ago. "They actually came back to us and said, 'This looks too much like Sesame Street.' We didn't even have Green Toys on it. They said we want you to bring the environmental and sustainability feel to our brand, so it halos." It's gone through a similar process with Disney as it prepares to launch a line through Amazon on Prime Day.
Removing plastic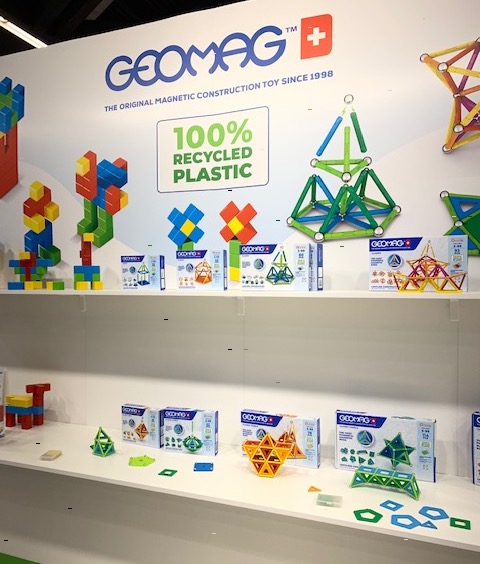 To date, several companies have made packaging a particular focus. During the panel, Hasbro's Rafaela Hartenstein outlined the company's recently announced moves (among other environmental-related initiatives) to eliminate plastic from all packaging by the end of 2020. She described it as "a purpose-driven announcement, but it's also driven by the realities of our business. Consumer expectations are rapidly evolving, and regulators and retailers are responding by mandating a reduction of single use plastic packaging."
It's an effort that will be extended to Hasbro's licensees. "We know that our licensees are really interested in all the initiatives we're running, and they are keen to participate in whatever way it will be," Hartenstein said. "But we have to make the first moves ourselves. And the next step [is to create best practices] that maybe we can roll out further."