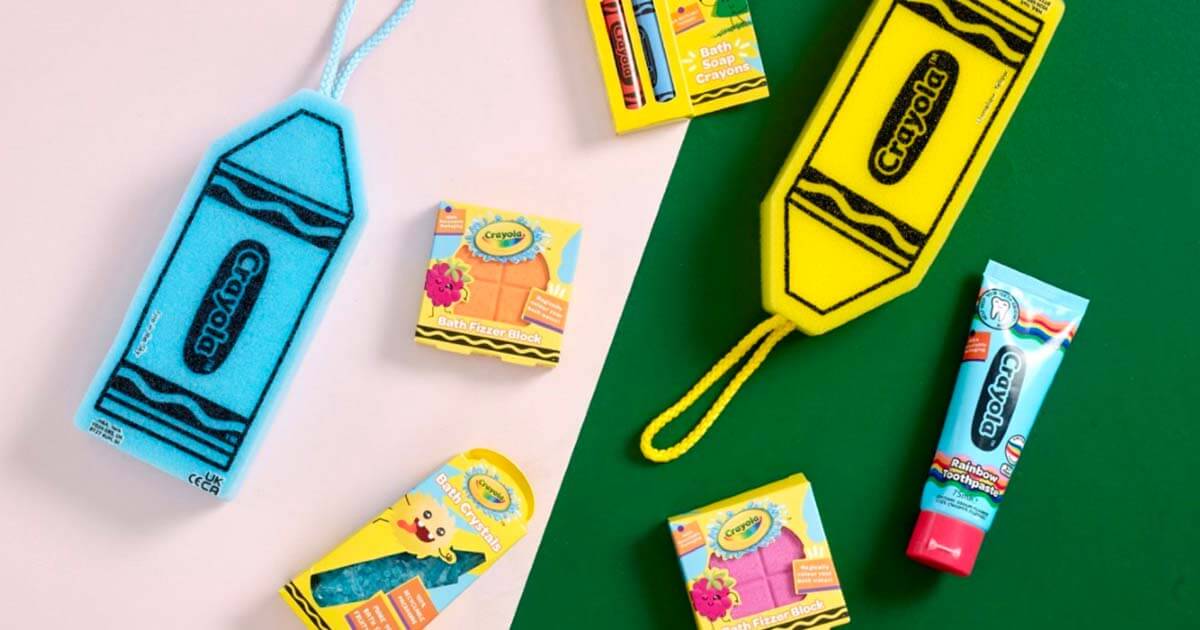 H&A Announces Colourful Partnership with Crayola
H&A, the UK's leading supplier of bath accessories, kids toiletries and gifting, and Crayola — the brand that embodies color, creativity and self-expression — have teamed up to create an exciting new collection of innovative and fun products that inspire children. Coloring outside the lines in the bath has never been more fun!
The collection, which includes Hand Gel, Bath Soap crayons, Bath Crystals, Body Puff, Bath Fizzer Blocks and Body Sponges, will launch as part of a Crayola Poundland Event. The product styling is gender neutral and the product creativity ties in with Crayola's brand ethos. The H&A Crayola Rainbow Toothpaste has been nominated for the Innovation Award at this year's Licensing Awards.
"At H&A, we pride ourselves on creating fun, innovative and affordable products. We are excited to be working with Crayola and look forward to continuing this partnership to make kids' bath time routines full of colour and imagination!" says Livy Coare, Licensing and Marketing Manager, H+A.
"At Crayola, we're all about inspiring creativity & imagination through colour and innovative play experiences," said Rob Spindley, Crayola Licensing Director, EMEA. "Our partnership with H&A and working with a retailer like Poundland supports our approach to making the Crayola brand available to everyone, while providing kids with stimulating activities so they can colourfully express themselves."
About H&A UK
With over 30 years' experience in producing market-leading beauty & bathing ranges, H&A is the UK's leading supplier of bath accessories and #1 in the licensed kids toiletries and gifting space. Known for their product quality and flexibility, they bring fun to bath time, through creative product development and innovative packaging. In addition to their well-loved seasonal gift ranges, their extensive capabilities cover Beauty Accessories, Bathing, Hair Accessories, Fragrance and Bath Accessories.
About Crayola®
Crayola LLC, based in Easton, PA and a subsidiary of Hallmark Cards Incorporated, is the worldwide leader in children's creative expression products. Known for its iconic Crayola crayon first introduced in 1903, the Crayola brand has grown into a portfolio of innovative art tools, crafting activities and creativity toys that offer innovative new ways to use color to create everything imaginable. Consumers can find the wide array of Crayola products at major retailers.