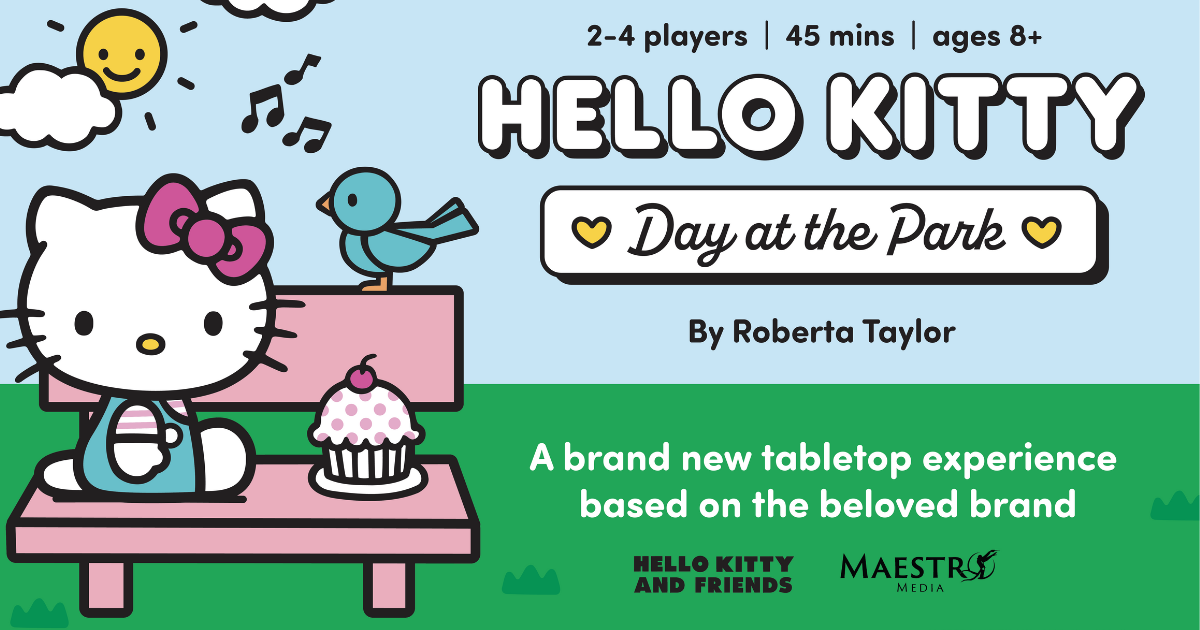 Hello Kitty: Day at the Park, A Tile-Laying Board Game Featuring Sanrio's Characters
Los Angeles, CA — Tabletop game developer Maestro Media,  and Digital Development Management (DDM), launched the Kicsktarter campaign for the "Hello Kitty: Day at the Park" board game.
"My daughters and I are massive fans of Hello Kitty and her friends, and when the opportunity arose to work with Sanrio on creating an original game, I knew I had to jump at the opportunity," stated Javon Frazier, CEO of Maestro Media. "Through Kickstarter, we're able to work directly with fans and incorporate their ideas and feedback into the final version of the game, creating a one-of-a-kind experience the Hello Kitty and Sanrio community will love."
The game is the first from Maestro Media's recent partnership with Sanrio®, the global lifestyle brand known for its beloved characters including international pop icon Hello Kitty. Designed by award-winning game designer Roberta Taylor (Creature Comforts, Octopus' Garden), Hello Kitty: Day at the Park is a light tile laying game in which players take on the role of Hello Kitty, My Melody, Keroppi, and other fan-favorite Sanrio characters to playfully compete for the most epic day of fun and adventures at the local park.
"I absolutely adore the cozy game space, and Hello Kitty is the perfect name to create a game within this genre," stated Taylor. "I designed the game to be competitive, but also very gentle, as well as easy to learn and play, with the goal of bringing Hello Kitty's sweetness to life for players. I hope you all enjoy it!"
Players explore the park by laying tiles, gaining items along the way that allow them to complete adventures, which are documented by taking selfies. The game features a unique system to scale all parts of the game in difficulty for each individual player, even while the game is in progress, so kids can start with the simplest version to begin to explore the game's mechanisms, then learn the more advanced gameplay when they feel ready. Once all the tiles have been played, the end of the game is triggered, and the player who has gained the most points from their adventures wins!
With a history of creating multiple record-breaking campaigns and surpassing over $15 million with previous crowdfunding projects, Maestro Media has become a leader in the tabletop crowdfunding community,  and has designed a fun and unique campaign that will engage and delight the Hello Kitty community worldwide. As with previous crowdfunding campaigns Maestro Media has spearheaded, the Kickstarter platform is being used as a way to directly engage with fans and have the community involved in the game development from the very start, ensuring they are involved with the overall development of the final product.