IMG Representing Tokidoki in Japan, Korea, Taiwan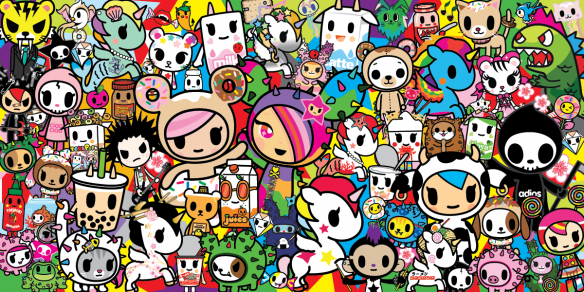 Tokyo, Japan – Tokidoki, the internationally renowned lifestyle brand based on iconic characters created by Italian artist Simone Legno, has appointed IMG as its exclusive licensing representative in Japan, Korea and Taiwan.
Launched in 2005 and named after the Japanese word for 'sometimes', tokidoki has amassed a cult-like following for its diverse array of character families, each one with its own unique story. As well as its popular designs, the brand is known for high-profile apparel, handbag, cosmetics, accessory and toy collaborations with the likes of Hello Kitty, Karl Lagerfeld, LeSportsac, Barbie, Onitsuka Tiger, Sephora, Marvel and more.
IMG will work with tokidoki to expand its global footprint in the three Asian territories through a programme of mono-branded and collaborative consumer products, with an initial focus on apparel, accessories and toys across a variety of distribution channels.
Pooneh Mohajer, Co-founder and CEO, tokidoki, said: "One of tokidoki's founding principles is my business partner Simone's belief that everyone waits for moments that change one's destiny. We believe our partnership with IMG is one of those moments and that their representation of us in Japan, Korea and Taiwan will simultaneously expand and complement our business in Asia as well as globally."
Miki Yamamoto, SVP of Licensing, IMG, added: "With its larger-than-life characters, bold designs and Japanese-inspired roots, tokidoki is already widely loved and in demand in Asia – and all around the world. The diverse choice of character families, each with its own identity and personalities, lends itself well to an array of potential products and collaborations which we look forward to exploring."
tokidoki character families include: Cactus FriendsTM, DonutellaTM, UnicornoTM, MoofiaTM, MermicornoTM, 'Til Death Do Us PartTM, Tiger NationTM, Kaiju TokimondoTM, Royal PrideTM, and Punkstar TM
About tokidoki
tokidoki, which translates to "sometimes" in Japanese, is an internationally recognized and iconic lifestyle brand based on the vision of Italian artist Simone Legno and his partners, serial entrepreneurs Pooneh Mohajer and Ivan Arnold. Since debuting in 2005, tokidoki has amassed a cult-like following for its larger-than-life characters and emerged as a sought-after global lifestyle brand. tokidoki offers an extensive range of products which include apparel, handbags, cosmetics, accessories, toys and more. Simone Legno, tokidoki's Chief Creative Officer, was born in Rome, Italy and from a very young age developed a deep love of Japan and a fascination with world cultures. Combining Legno's unique talent and creativity with Mohajer's business acumen, tokidoki has grown exponentially. As an innovative company, tokidoki is known not only for its eye-popping aesthetic and criminally cute characters but also its megawatt partnerships.
About IMG 
IMG is a global leader in sports, fashion, events and media. The company manages some of the world's greatest athletes and fashion icons; owns and operates hundreds of live events annually; and is a leading independent producer and distributor of sports and entertainment media. IMG also specializes in licensing, sports training and league development. IMG is a subsidiary of Endeavor, a global entertainment, sports and content company.
Media contact
Jo Robertson – IMG
+44 7392 088227
Joanna.robertson@img.com