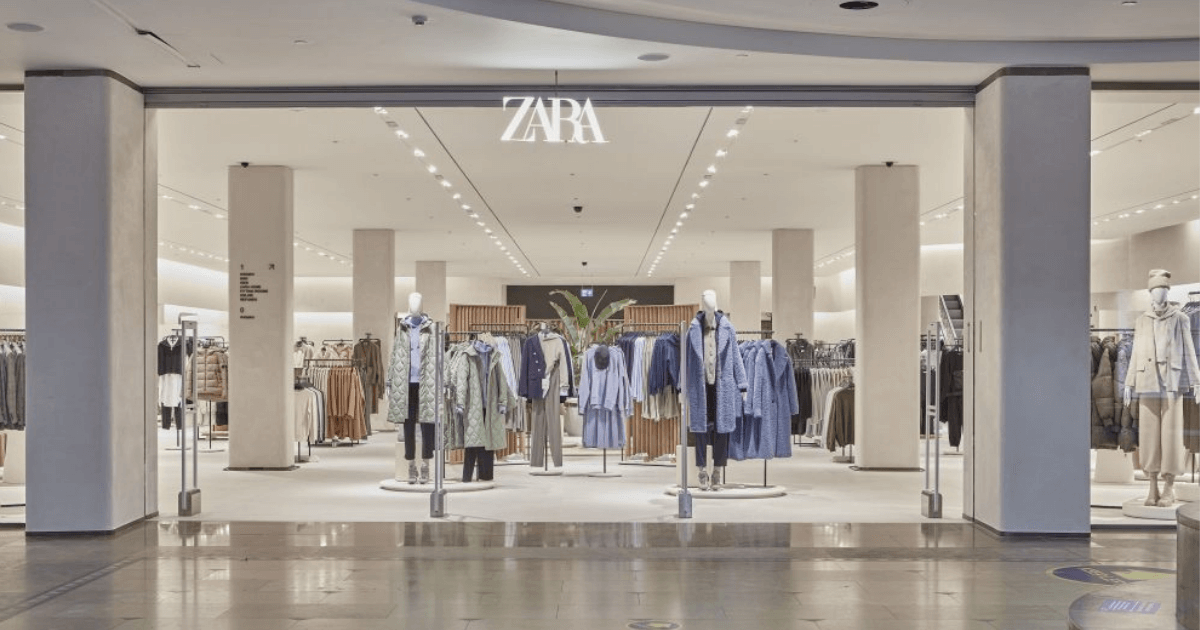 Inditex FY21 Revenues Grow 36% to €27.7 Billion
Revenue from online sales
 reached 
€7.5 billion
, accounting for 
25.5%
of total sales
, reinforcing the company as a global leader in ecommerce.
Inditex's executive chairman Pablo Isla said "after two years of the pandemic, this set of results demonstrates the incredible ability to adapt to any circumstances which characterises the people who work here, borne from their commitment and talent".
The group's CEO, Óscar García Maceiras, singled out "the leadership demonstrated by the company in regard to its digital transformation all these years places us in an unrivalled position to offer an exceptional level of engagement with our quality and sustainable fashions".
Revenue topped that of 2019 by 3% in local currencies (-2% on a net revenue basis).
Net profit amounted to €3.24 billion, marking year-on-year growth of 193%.
Inditex's net cash stood at a record €9.3 billion at year-end, having increased by 24% during the year.
The company outperformed its sustainability targets for 2021, specifically for the use of renewable energy – accounting for 91% of total consumption – and more sustainable raw materials, with Join Life products accounting for 47% of the total, 7 percentage points ahead of target.
Inditex opened 226 stores in 40 markets during the year.
In 2021 Inditex brands had 146 million active apps and 228 million social media followers, while 6.2 billion people visited its online platforms.
The Board of Directors will ask the company's shareholders to approve a dividend of €0.93 per share, growth of 33% from 2020, made up of an ordinary dividend of €0.63 per share and an extraordinary dividend of €0.30 per share. The Board has also agreed on an extraordinary dividend of €0.40 per share for 2022, payable in 2023.
Store and online sales between 1 February and 13 March 2022 were up 33% compared with the same period of 2021 and up 21% from the record pre-Covid levels of 2019. In this period, sales in the Russian Federation and Ukraine represented approximately 5 percentage points of sales growth.
2021: A highly adaptable business model
Inditex reported revenue of €27.72 billion in fiscal 2021 (1 February 2021 to 31 January 2022), up 35.8% year on year. In local currencies, revenue was 3% above that of 2019 (net revenue was 2% lower). Net profit increased by 193% to €3.24 billion.
Inditex's executive chairman, Pablo Isla, said that, "after two years of pandemic, this set of results demonstrates the incredible ability to adapt to any circumstances that characterises all the people who work here, borne from their commitment and talent".
The group's CEO, Óscar García Maceiras, singled out "the leadership demonstrated by the company on the digital transformation front in recent years, this places us in an unrivalled position to offer an exceptional level of engagement with our quality and sustainable fashion".
The performance through 2021, which was still shaped by the Covid-19 pandemic, highlighted the reactiveness of the business model. In the first quarter, for example, store trading hours were 24% below capacity due to health restrictions, measures that had to be reintroduced during the last quarter, due to the emergence and rapid transmission in mid December of the Omicron variant. However, once the pandemic retreated, sales rebounded strongly and the Group reported record levels of earnings in both the second and third quarters. Notably, revenue from online sales amounted to €7.5 billion, up 14% from a year earlier following strong growth of 77% in 2020. Online sales now account for 25.5% of total Group sales and it is expected to reach 30% of total sales in 2024. Those figures rank the company alongside the world's largest ecommerce players.
The integrated stock management system (SINT) is fully operational across all the brands. In 2021, the Group placed €1.19 billion worth of orders online from inside stores. The integrated platform is now operating exclusively over the Group's proprietary operating system, Inditex Open Platform (IOP).
The Group posted a robust gross margin of 57.1%, up 123 basis points from 2020, marking the highest level in six years. EBITDA amounted to €7.18 billion and EBIT came in at €4.28 billion, yearon- year growth of 57.8% and 184.2%, respectively.
The Group continued to generate strong cash flow, which was up 24% with a net cash position to €9.36 billion, a record high.
Inditex's total tax contribution amounted to €6.09 billion, of which €2.42 billion was direct taxes and €3.67 billion of taxes collected. In Spain, the group's contribution totalled €1.5 billion, €780 million of direct taxes and €721 million of taxes collected.
The Group's employment commitments were on display this year. Inditex had 165,042 employees at 31 January 2022, up from 144,116 a year earlier, thanks to gradual normalisation of trading hours, albeit still influenced by the pandemic. 81% of those jobs were permanent, and 76% were held by women. There is no gender pay gap at Inditex (a slight 0.3% in favour of its female employees).
The Board of Directors will ask the company's shareholders to approve a dividend of €0.93 per share, growth of 33% from 2020, made up of an ordinary dividend of €0.63 per share and an extraordinary dividend of €0.30 per share. That dividend will be structured into two equal payments: €0.465 payable on 2 May 2022 and the other €0.465, on 2 November 2022.
In addition, the Board has agreed to pay an extraordinary dividend of €0.40 per share for 2022, which will be added to the ordinary dividend to be paid out over the course of 2023.
With regards to the beginning of FY2022, on 24 February a conflict began in Ukraine. The company announced that its priority was the safety of its workforce and closed all stores in the country. On 5 March 2022 the Group also announced that it was temporarily pausing its activity in Russia due to the inability to guarantee operations.
Store and online sales between 1 February and 13 March 2022 were up 33% compared with the same period of 2021 and up 21% from the record pre-Covid levels of 2019. In this period, sales in stores and online in the Russian Federation and Ukraine represented approximately 5 percentage points of sales growth.
The year, quarter by quarter
The first quarter of the year was marked by ongoing health restrictions, with 24% of trading hours unavailable. However, store productivity was robust and online sales registered strong growth.
In the second and third quarters, as normal business operations resumed, the Group reported record revenue, profit before tax and net profit figures, despite an 11% reduction in stores operating, highlighting the effectiveness of the store optimisation plan.
That momentum continued into the start of the fourth quarter, until the Omicron variant took hold in mid-December, which, as shown in the accompanying chart, weighed on sales following the reintroduction of restrictions in most markets and lockdowns in Austria, Netherlands, Germany, Japan, China and the Philippines. Stores sales were inevitably affected during that period of rapid transmission. The impact on the fourth quarter is estimated at around €400 million (€210m in terms of gross profit and €190m of operating expenses).
As the Omicron variant began to wane, sales momentum resumed. On February 24, a conflict began in Ukraine. The Group announced that its priority was the safety of its workforce and closed its stores in the country. On 5 March 2022, the Group announced it was temporarily pausing its operations in its stores and online in the Russian Federation due to the fact it cannot guarantee the continuity of operations in the market.
At present, store and online sales between 1 February and 13 March 2022 are tracking 33% higher yearon-year, which is 21% above the pre-Covid highs of 2019. In this period, sales in store and online in the Russian Federation and Ukraine represented approximately 5 percentage points of sales growth.
Transformation of the digital platform
Throughout the year, the Group continued to invest in growth, specifically in its digitalisation strategy and the integration of its store and online sales platforms, which continues to drive strong results. The Group is continuing to execute its €2.7 billion capex plan for 2020-2022, accelerating its transformation and boosting online sales to over a quarter of the total. Since 2012, when it embarked on its digital transformation, the Group has invested over €13 billion.
As part of that drive, the various brands continued to expand their online sales reach. Zara launched online sales in Ecuador, Aruba and the Dominican Republic; Pull&Bear began to sell online in Morocco, Egypt and Tunisia; Massimo Dutti's online platform went live in Serbia, Macedonia, Bosnia, Indonesia, Singapore, Israel, Thailand and India; Bershka added online sales in Israel, Colombia, Kuwait, Morocco and Egypt; Stradivarius did the same in the United Arab Emirates, Egypt and Indonesia; while Zara Home entered Tunisia, Algeria, Indonesia, Thailand, Kazakhstan, Cyprus and Peru, as well as integrating with www. zara.com in Mexico, France and the US, among other markets; www.oysho.com extended its reach to Serbia, Jordan, Lebanon, Singapore and Thailand.
Inditex ended the year with 6,477 stores across the world's most important cities, shopping streets and shopping centres. Throughout 2021 the Group continued to open new stores and expand existing branches in quality high profile locations. In total, it opened 226 stores equipped with the latest integration technology, and the entire sales network now complies with the Group's eco-efficient store criteria
Zara also continued to roll out its automated online order pick-up points in select locations, allowing customers to collect their purchases in just a few seconds by simply scanning a QR code. At present, 61 Zara stores have automated pick-up points.
In parallel, the brands' various online channels continued to build their following, with over 6.2 billion visits to the brands' apps and websites in 2021, annual growth of 13%, 146 million active apps and 228 million social media followers.
Paris, London, Barcelona, Milan, Cape Town and Nashville are just a few of the cities in which Zara opened or reopened expanded and refurbished flagship stores over the course of the year. The Paris La Défense store epitomises the Group's strategy of opening larger, more high-tech stores, such as the flagship store in Madrid's Plaza de España due to open on 8 April. Zara also has high-profile openings in the pipeline in Qatar, Tokyo Ginza (Japan) and Porto (Portugal), among other places.
The Group's other brands were also active opening new stores and expanding and overhauling existing ones in 2021. Pull&Bear notably opened new stores in St. James Quarter in Edinburgh (UK), Florence (Italy), Mall of the Netherlands in Leidchendam (Netherlands) and Esmirna (Turkey). Massimo Dutti opened major stores in Hwaseong (South Korea), Seville (Spain) and Cancun (Mexico), among other cities, while Bershka was home to one of the biggest openings of the year, on Madrid's calle Preciados (Spain), as well as adding to its store footprint in Paris, Rome, Cairo and Marseilles in 2021.
Stradivarius was particularly active, opening establishments in Rethymno (Greece), Rotterdam (Netherlands), Sharjah-Al Zahia (United Arab Emirates), Seville (Spain) and Edinburgh (UK).
Oysho extended and fully refurbished stores in Coruña and Barcelona (Spain), Puebla (Mexico), Doha and Beijing (China).
Lastly, Zara Home refurbished its flagship store in Coruña (Spain), where it unveiled the brand's new image, as well opening new stores in Dusseldorf (Germany), Paris La Défense (France), Brussels (Belgium) and Bratislava (Slovakia).
Virtual fitting rooms
Virtual fitting rooms, store mode, Shop&Go, e-ticket… these are just a few of the many shopping features enabled by the full deployment and ongoing development of the Inditex Open Platform (IOP), a proprietary and unique operating system that offers a comprehensive suite of microservices for the management of every link in the business.
One of the best examples of the features enabled by that integrated experience are the virtual footwear fitting rooms configured, for now, at Massimo Dutti and Zara Athleticz. From their mobile handsets, shoppers can verify, virtually, whether the selected article best suits their needs thanks to 3D visualisation technology.
Investments in logistics capabilities and headquarters
The ongoing effort to invest in the company's growth is also translating into the expansion and upgrade of the facilities housed at the Group's head offices in Arteixo (Spain) and capacity additions at the centralised distribution system.
In 2022 Inditex will invest €80 million to increase capacity by 20% at the Plataforma Europa, located in Zaragoza (Spain), which distributes Zara clothing globally. Specifically, the Group plans to build a new auxiliary warehouse for a silo, an auxiliary service building, a staff canteen and a truck parking area, including walkways connecting the new and existing buildings. The capacity increase planned at Zaragoza will increase the centre's workforce to around 2,000, an increase in its average headcount of around 250 people.
Elsewhere, there are plans for a new 170,000m2 building that will house the Zara sales and design teams within Inditex's complex in Arteixo. The new building will entail an investment of €238 million. The work began in January and is expected to take around two years to complete.
The new five-storey building will extend the visual identity of the adjacent offices, which accommodate the www.zara.com. operations. The building will be predominantly white and feature large horizontal windows with protruding eaves to provide protection from the sun while flooding the interiors, which will soar unfettered up to 4.7 metres tall, with natural light. A structural trellis will generate huge open spaces that will further facilitate the dynamic work flows between the various departments.
The plans, designed by Batlleiroig, the architecture firm which was responsible for the recent expansion of the Group's facilities in Arteixo and several of the brands' head offices, is based on an orderly and structured design of flexible work spaces that lend themselves to an adaptable reconfiguration.
The proportions and dimensions of this huge building give it a 'shape coefficient' which, together with its highly insulated façades and roofing, will rationalise its energy consumption and facilitate energy selfsufficiency, thanks to energy off-taken from three new wind turbines located in the Coruña's Outer Port.
The building will also uphold the highest standards of sustainability. Digitalisation during the design phase will enable construction based on industrialised elements. That industrialisation, coupled with intensive use of recycled materials, will reduce the works' carbon footprint and waste generation. The new building will meet the stringent requirements of the US Green Building Council (USGBC), the benchmark in sustainable building, and will strive to achieve that organisation's highest certification, LEED Platinum.
The sustainability commitment
The Group has continued to accelerate its sustainability efforts. On the product front, Inditex topped its target for this year by seven percentage points, with 47% of the products put on sale carrying the Join Life label which distinguishes those made using more sustainable materials and/or processes.
This effort, which considers the entire product life cycle, delivered growth of 125% in the use of more sustainable cotton and of 179% in more sustainably sourced polyester, mainly recycled polyester but also some made using innovative carbon capture technology. In tandem, the company brought its target for using more sustainable cotton forward to 2023.
On the energy front, the Group continues to search for new sources of renewable power, which accounted for 91% of total consumption in 2021 (just above the target of 90%), putting the company on track to consume only renewable energy in its own operations in 2022.
Inditex's strong commitment to sustainability materialises in specific and measurable targets. Last year, Pablo Isla, Inditex's executive chairman, announced the Group was bringing targeted delivery of its net zero emission target forward by a decade to 2040. The Group has also embraced specific sciencebased targets (SBTs) and reiterated its commitment to using more sustainable raw materials (cotton, linen, viscose) only by 2025.
Meanwhile, the Group continued to work on all of its community investment initiatives, which are mainly articulated around education, social wellbeing and humanitarian aid programmes. In 2021, the 725 initiatives supported, in collaboration with 427 specialist charitable organisations, benefitted more than 2,2 million people and received over €63 million of funding.
Product, experience and communication innovation
'There is no beauty, only beauties' was the calling card used to introduce Zara Beauty, one of the new lines launched by the brand in 2021. The new top-quality makeup range, launched last spring, created in collaboration with British make-up artist Diane Kendal, features an extensive colour palette and refillable packaging.
For its spring and autumn collections, Zara turned once again to its trusted collaborators, Steven Meisel and Fabien Baron, for its photography and video shoots. That alliance, which highlights the harmony that exists between Zara and two of the most important names in fashion imaging, was complemented by the tribute paid by the brand to a global legend in fashion photography, the deceased Peter Lindbergh, through a special collection called Tribute: a clothing range featuring some of the iconic images taken over the year by the German artist of super models such as Kate Moss, Amber Valletta, Linda Evangelista, Helena Christensen and Lyonne Koester.
In 2021, Zara also unveiled Athleticz, a new collection of sportswear designed for athletes from all disciplines, and Zara Origins, a range designed to help shoppers build a contemporary wardrobe of timeless staples. Towards the end of the year, the label launched capsule collections with fashion brands including KASSL Editions of the Netherlands and Ader Error of South Korea, the latter including development of an extension into the virtual world through the ZEPETO app, marking Zara's first foray into the metaverse.
Zara continues to innovate in order to integrate sustainability criteria into its products and processes under its Join Life label. Through its collaborative platform designed to spark research into new and more sustainable technologies and materials, the Sustainability Innovation Hub, Zara, together with start-up, Lanzatech, launched a collection of dresses made from fabric derived from the capture of carbon emissions.
Pull&Bear celebrated its 30th anniversary under the slogan '30 Years Young', which it used to embody its homage to youth, creativity, passion and originality, values that are part of the brand's DNA and have accompanied an entire generation. That philosophy was transmitted to consumers by means of a joyful and colourful graphic design, on limited edition packaging and within its shop windows all over the world.
The label's commitment to denim was reinforced by (Un)Catalogued, a limited-edition capsule collection comprising a mix of iconic denim garments. Pull&Bear also presented 19.91 Colours, a new category in which shoppers can find the season's key pieces organised around a single premise: colour.
Collaborations remained important to the brand, some related with the world of sport (NFL and Starter), others with entertainment (Space Jam: A New Legacy), while others strived to bring art to a younger public (The Andy Warhol Foundation).
Pull&Bear also explored new digital innovation formats with Pacific Game, a game on the Spark AR platform developed together with Facebook Creative Shop and inspired by the collection targeted at the brand's youngest shoppers.
New channels became more important, for example, Twitch, a platform that hosted live streams backed by Pull&Bear, including 'La Noche del Ropas', alongside one of the most popular Gen Z content creators: ByCalitos. Lastly, the brand stepped up its commitment to circularity with 'Ecodesign and Circularity', a collection made locally from other garments that additionally carry the Join Life label.
Striking natural landscapes such as the Hamptons in the US or the Cote d'Azur in France provided the ideal backdrop from Massimo Dutti's Limited Edition collections which stand out for their exquisite fabrics and, with a contemporary and vanguard common thread, offer premium quality designs of marked delicacy and simplicity
Massimo Dutti also launched Body Care, a line made from exclusively selected ingredients.
At the height of the summer season, the brand launched its sustainable swimwear collection made from recycled plastic.
And in the winter, Massimo Dutti brought us to the heart of womenswear with its début lingerie collection. The result was a collection that celebrates moments of tranquillity and wellbeing and strives to transmit emotions by means of its fabrics, cuts and colour range.
Bershka continued to collaborate with prominent figures from the world of music, including Bad Gyal, Paloma Mami, French rapper Hatik and, most recently, C. Tangana, one of today's most popular urban artists. It also worked hard to associate with brands of importance to its target audience. Good examples include the capsule NBA collection, associations with the world of anime – Naruto, Evangelion and Sakura – and, within the realm of gaming, the exclusive League of Legends collection.
Bershka's commitment to sustainability remains evident in the Hack Denim project, which presented a Join Life collection designed in collaboration with the Organic Cotton Accelerator, and Denim lab, thanks to which shoppers can personalise their denims as part of a collaboration with Jeanología.
Stradivarius made inroads with its Stradivarius Meets Art project articulated around the premise that art deserves to be shared. With this new launch, the brand has emerged as a global window for emerging artists all around the world, offering its online platforms to showcase their talent. A meticulously selected coterie of artists from multiple disciplines participated in the two editions already held.
Varius was another cornerstone last year. The campaign, which featured several women, celebrated self-esteem under the hashtag #LOVEALLYOURVARIUS, a high-potential message the brand plans to revisit. Stradivarius also launched new product lines, including Sport, a sportswear collection and Pets Collection, a range of accessories for pets.
To broadcast all these projects, Stradivarius relied on international ambassadors such as Beatrice Vendramin (Italy), Michelle Salas (Mexico), Julia Wieniawa (Poland), Sasha Spilberg and Dasha Kozlovskaya (Russia), Maya Bursali (France), Juultje Tieleman (Netherlands) and Cuban artist Rachel Valdés who curated the Stradivarius Meets Art project.
Oysho remains committed to innovation, especially with respect to its sportswear collections' technical performance. With the launch of collections such as Silky Feeling, Comfortlux, Compressive, Light Touch and Oysho Train Together, the first capsule sportswear collection for men, the brand renewed its commitment to sportswear and specialist technical lines for different disciplines.
In parallel, for its Working Leisure collection, inspired by the athleisure movement, Oysho combined sportswear trends and technical clothing and fabrics with an urban look.
The brand expanded its Oysho Train With Us workout programme, featuring international yoga instructors and other athletes who provide classes via www.oysho.com and YouTube.
It sponsored charity runs: the Women's Run and the Formentera Half Marathon in Spain and the Race for Cure internationally. And it became the official sponsor of the San Silvestre Vallecana run in Madrid (Spain). Likewise, Oysho remains strongly committed to embedding sustainability values into its collections, featured by the Join Life label.
The collaboration with KASSL Editions, a collective of designers of functional, durable and genderless clothing which curated a collection of clothing and home products for Zara and Zara Home, was one of the highlights of the year.
Zara Home also expanded and renewed its product categories with launches such as Bakery Kids and the Pastry Collection, baking utensil collections (the latter designed by French pastry chef Cédric Grolet); Pet and Tools collections; a vinyl record collection and products for setting up a home cinema; and a collaboration with Fujifilm, including cameras and all the accessories needed by photography aficionados and newcomers alike.
Staying with the world of imagery, in the second half of the year Zara Home ran a highly cinematic campaign featuring actress and fashion icon Chloë Sevigny, who was directed by Fabien Baron to make a short feature called The Last Line.
Likewise, true to the Group's sustainability commitments, Zara Home increased the number of products sold under the Join Life label: new furniture collections made from recycled wood, the first collection of Join Life home fragrances, baskets made from recycled plastic and a broad range of ceramic kitchenware made using renewable energy.