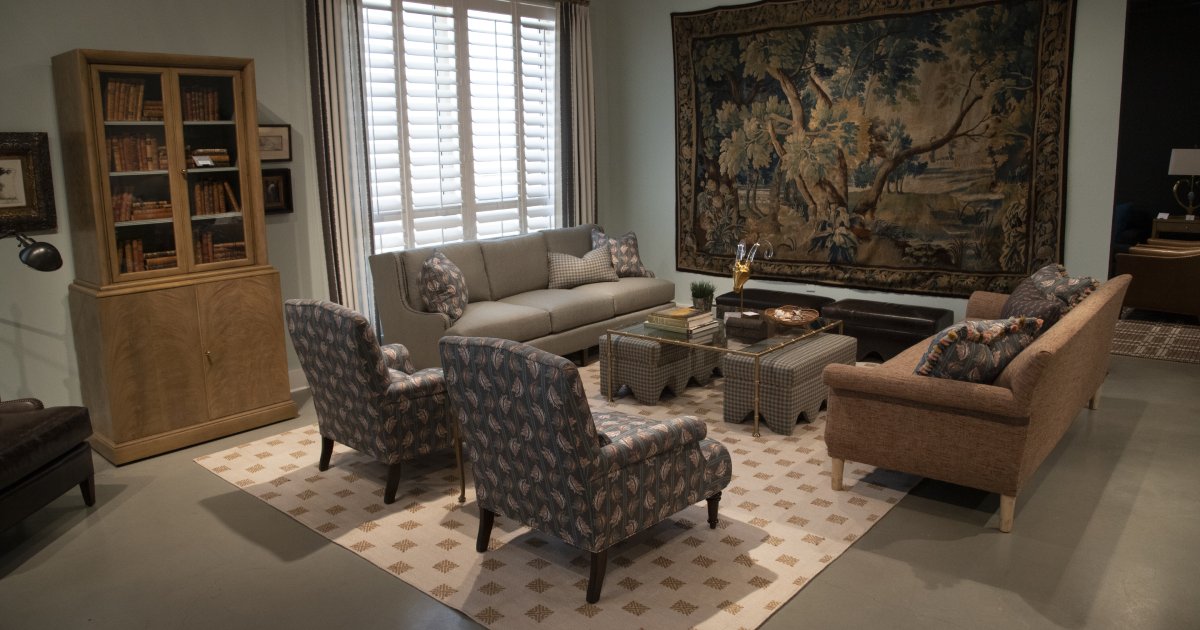 Interior Designers Set Sights on Furniture Licensing
Interior designers are increasingly gaining an inside track on furniture licensing.
Designers, like celebrities, have long been part of the furniture business—interior and product designer Jena Goldman Hall was an early champion of the strategy—but these partnerships have been picking up speed.
"Consumers have been educated to celebrate themselves and personalize their space," said Ellen Gefen, a trend researcher and owner of Gefen Marketing. "If the consumer is not working with a designer, they get confidence [from selecting items created in partnership with] a celebrated designer."
At the recent High Point Furniture Market, designer Alexa Hampton highlighted the 11-piece Lorenzo outdoor collection with Woodard, consisting of an all-weather sofa, chaise lounge, and lounge chairs as well coffee and dining tables. In the past, Hampton had licensing deals with Hickory Chair and Theodore Alexander. Alfredo Paredes partnered with furniture maker EJ Victor on a line that included the Sevilla leather ottoman, which doubles as a coffee table, and Celerie Kemble introduced a 35-piece collection for Taylor King and Woodbridge that included a gold-accented cocktail table and a side table with a caned top.
This increasing spotlight on designers is a reflection of how many talented designers are in the marketplace right now, said Michelle Lamb, founder of the research firm Marketing Directors. And these designers are particularly attracted to products that tell a story, she said, because stories make products more memorable.
That story can vary significantly depending on the designer's intention. Some designers are launching products designed for the mass market, including Martha Stewart (Pollywood), Chip and Joanna Gaines (Magnolia Home, including Hearth & Hand at Target), and the Scott Brothers (Scott Living).
Others, meanwhile, are focused much more on an individual client seeking to design for their specific home. This includes the likes of Barry Dixon and Arteriors Home, whose licensed line ranges from the Luna centerpiece ($650) to the ivory-laden Mosquito Desk ($6,370). And there's Corey Damen Jenkins, who introduced new designs into his licensing deal with furniture maker Maitland-Smith, including a leather lounge chain with nailhead trim. Jenkins also has worked with Kravet and Hancock & Moore.
While licensing is a means for diversifying an interior designer's revenue, it is far from a get-rich-quick scheme, furniture industry executives said. From pitch to production to royalty paycheck, the process can take years. In fact, the turnaround for a custom collection can be 24 – 48 weeks. And while interior designers typically target their brands at a perceived white space within a supplier's line, a collection will likely be dropped if it does not produce volume orders.
"There's a perception that licensing is a major source of passive income, where you hand in a design and then just get checks in the mail for years," said Stacy Garcia, who started with an interior design business before moving into product design and has had collections with QVC. "That may be true for a few people, but sometimes the reality is a check that will just cover a few lattes."
Designers entering licensing are also finding a furniture business that is changing. Many consumers are mixing and matching their furniture collections instead of outfitting an entire room with one style and brand, which was once a hallmark of the business. This is a trend that is attracting younger consumers and one that has also shown up in other categories such as tabletop, furniture executives said.
"It's no longer a suite of furniture anymore. It's more a collection of pieces that you bring to a design installation and that opens up more opportunities for licensing," Lamb said. "The days of everything matching is over. It may not always have the same panache as you might [see] with an interior [designer], but if you bought two to three different designs and put it into a room, it can work."