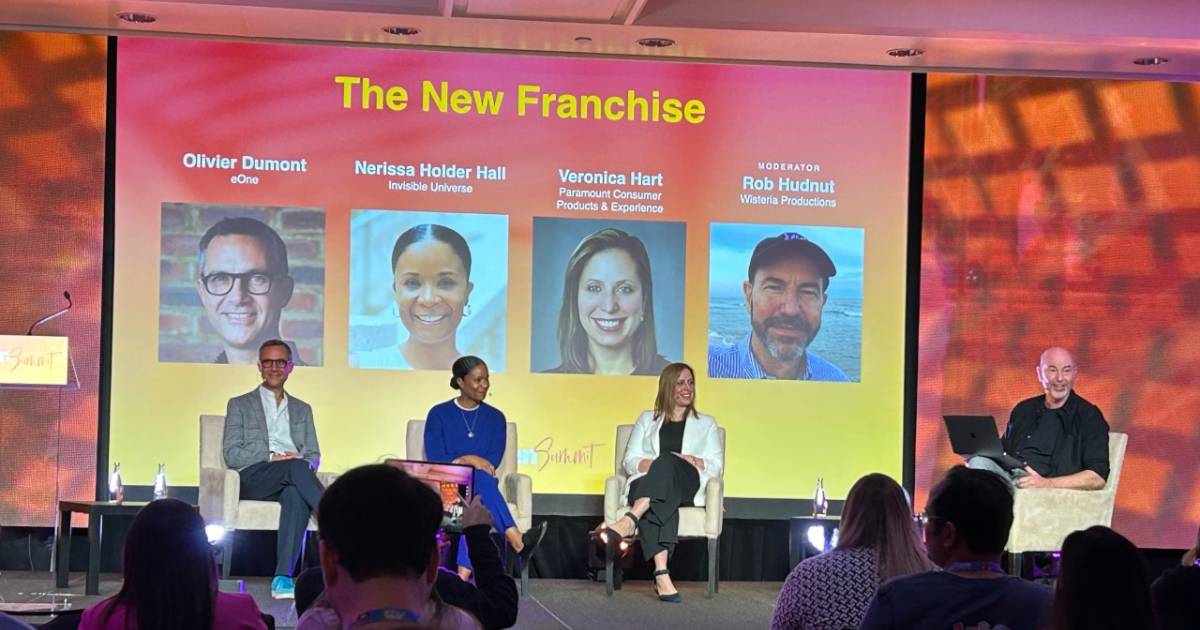 Kidscreen Summit Maps Major Trends in Children's Entertainment
Kidscreen Summit took place in Miami this week, and key takeaways from the event included a focus on co-viewing to address audience fragmentation, an increase in socio-emotional content, and growing demand for location-based brand extensions.
Content suppliers are increasingly being faced with engaging younger fans while still retaining adults, according to executives at the event. That challenge is underscored by the need to cultivate fans in what has become a fractured market where content is delivered from a broad range of sources.
To do so, there needs to be a shift toward family viewing to help offset a fragmented audience, Entertainment One's President of Family Brands Oliver Dumont said during the event's The New Franchise panel discussion.
"Because of audience fragmentation, it's very difficult to cut through. There's no silver bullet," Dumont said. "A big trend is co-viewing—content that will resonate with parents and children. Because there's so much fragmentation, being able to appeal to multiple demographics creates opportunities for bigger audiences."
The growing importance of co-viewing was underscored by distributor Future Today, which last year picked up more than 150 films for its HappyKids AVOD platform, said David DiLorenzo, Future Today's SVP of Kids and Family. More than 60% of the children watching programming on the HappyKids platform did so with a sibling or parent, he said.
In addition to creating content that multiple generations can enjoy together, many producers are also focused on expanding IPs to include multiple touchpoints for multiple demographics simultaneously. For example, Mattel—which formed a centralized content division in 2016 to drive programming across multiple platforms—is developing animated Barbie content while also readying the release of a new live-action, feature-length film (July 21).
The key is creating exclusive content and consumer products for a property's longtime fans while attracting new ones through mass media, said Cort Lane, VP Original Content and Entertainment Production at eOne. This necessitates that companies must also deliver content tailored to platforms where children are spending their time, like TikTok, said Suzy Raia, SVP Consumer Products and Business Development at BBC Studios.
In addition to capturing kids' attentions, another topic of conversation at Kidscreen Summit was the importance of providing young viewers with more socio-emotional content. In creating and tailoring programming for these young fans, companies must also take their well-being into consideration, especially in a post-pandemic world, executives said.
The demand for meditation and mindfulness remains strong as companies focus on developing programming that gives children the vocabulary and structure required to address feelings of sadness or anxiety produced by the pandemic.
Sesame Workshop already has a strong footprint in this area as the non-profit is focused both on content and licensed consumer products. Sesame worked with the online meditation app Headspace to create meditation exercises featuring its Elmo character along with a board book explaining mindfulness from licensee Random House.
Headspace last year also launched Star Wars-themed breathing exercises voiced by the series' characters.
Another trend inspired by quarantine-related lockdowns is the need to further extend brand licensing through location-based activations. With crowds returning in a post-pandemic world, many families are seeking live events and budget-priced experiences to connect with brands, said Meredith Halpern-Ranzer, co-founder and CEO of children's media company Tinkercast.
Museums and science centers are ripe for these activations as they appeal to local communities as well as to parents seeking new educational programs for their children, said Eddie Newquist, President of experiential design, development, and management services company Retlaw Enterprises.