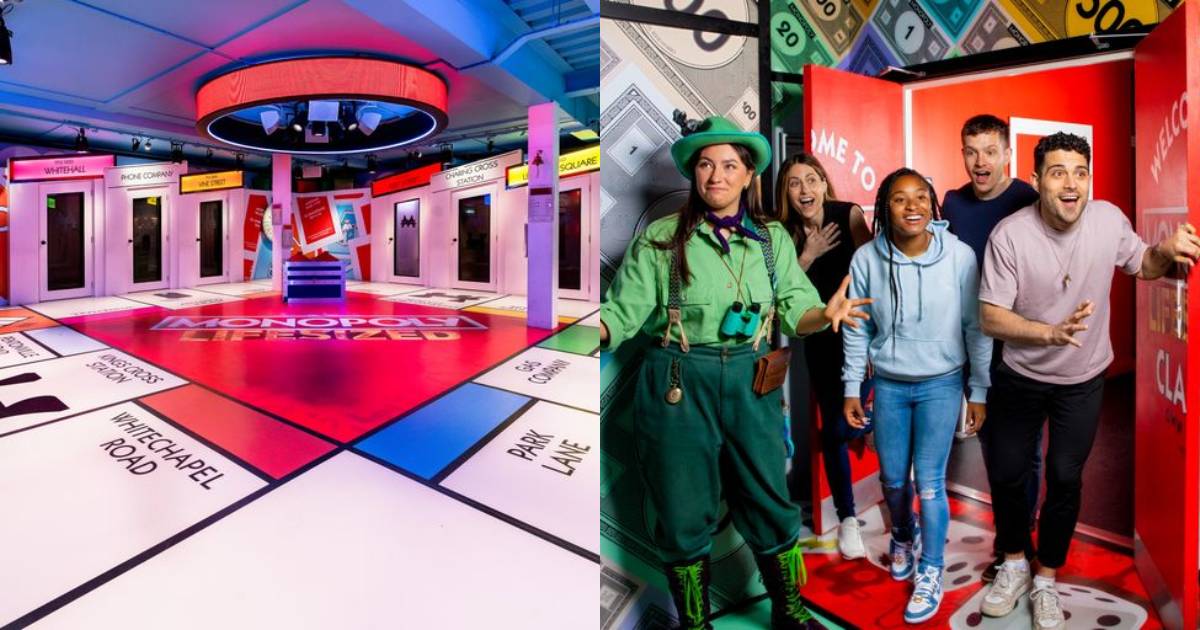 LBE is the New Marketing Platform Brands Can't Get Enough Of
An Executive Voices Blog by Ella Haynes, Event Director for Brand Licensing Europe
Seeing brands at festivals and live events is de rigueur these days—Barbie was all over Glastonbury and Peppa Pig even popped up at Eurovision in Liverpool. Branded pop-ups are also welcome favorites throughout the summer holidays—I mean, who doesn't love a mobile Aperol cocktail bar or ice cream store handing out free Magnums?
But there's another out-of-home marketing opportunity that's gaining traction among brands, and that's Location-Based Experiences (LBE). Defined as any out-of-home experience, it includes theme parks, escape rooms, immersive art exhibitions, outdoor trails, music extravaganzas, and loads more. It is also about 'retailtainment' and retail pop-ups, which are increasingly becoming excellent methods to attract footfall in stores.
What's more, it's one of the fastest growing branded property categories with global revenue, rocketing by 67% in 2022 compared to 2021, and by 26% compared to 2019 (before experiences were closed due to the pandemic), to be valued at around $7.94 billion, according to Licensing International's 2023 Global Licensing Industry Study.
"Location-based entertainment is growing faster than other areas of the live entertainment sector. Covid suddenly took away the opportunities for us all to come together and share experiences with friends and family, so coming out of the pandemic period, the demand for those experiences is significant," said David Hutchinson, Founder and CEO of LBE specialist The Path Entertainment Group, which created MONOPOLY LIFESIZED with Hasbro.
"Also, so many great IP owners are now looking to utilize their brands in this way. Over the past few years, we've seen studios and IP owners tooling up to put more emphasis on LBE. Now IP owners have dedicated, really amazing people who concentrate on LBE; it's a priority for them. And of course, audiences are growing on the consumer side as well," Hutchinson said.
Another major factor, according to Hutchinson, are changes in the retail sector. "We're all shopping in a different way—we can click and collect or get something delivered in 24 hours. City centre stores will no longer need huge stockrooms, and so high streets are becoming more receptive to ideas as to how leisure and cultural experiences can drive people into the city centre. Consumers can do a bit of shopping, they can go and play some MONOPOLY LIFESIZED, go bowling, play mini golf—there are so many cool concepts popping up."
Why are brands so excited about LBE?
What's brilliant about LBE, and one of the reasons we are spotlighting it at Brand Licensing Europe (BLE) this October, is the fact that it appeals to everyone. There is an LBE offering for any gender and any age, and often a mix of many ages as multi-generational LBE offerings are gaining traction. It's also cleverly plugging into the Millennial and Gen-Z preference to buy experiences rather than 'things.'
We all crave experiences and have brands that we hold close to our hearts, and this passion for brands is why we love to experience them and connect with them in different ways. This is marketing gold for brand owners.
"We're incredibly lucky to have a brand behind us with a quality legacy going back nearly 90 years. The game has a place in everyone's heart. I love standing outside the building and watching people notice the venue as they walk past, because I know if I asked any of them, they'd have a MONOPOLY story to tell," Hutchinson said.
License Global's EMEA content director Ben Roberts agrees that memories make an experience genuinely impactful. "Experience engineers know this well, and brands can leverage this by creating engaging connections with consumers through intellectual property licensing. Authentic licensing examples like the Tomb Raider Experience or Secret Cinema events provide moments to connect with those around us and brands we love worldwide."
Other UK-based LBE success stories include the Gruffalo outdoor trails, Peppa Pig Land, the Van Gogh and David Hockney immersive art exhibitions, the Crystal Maze escape room, and MONOPOLY LIFESIZED, which is the topic of our BLE opening keynote.
That's retailtainment!
LBE is also gaining traction at retail. Retailers are increasingly seeking immersive experiences to drive foot traffic and engage consumers in ways that traditional retail cannot. This presents an opportunity for brands to leverage their intellectual property to create unique and memorable experiences that generate revenue and strengthen brand loyalty.
"Yes, it's entertainment in a retail space, but for brands and retailers [that are] collaborating, it's a blank canvas," Roberts said. "It's a way to engage fans and consumers in situ through increasingly creative and unique experiences."
Examples in London alone include the Hello Kitty pop-up cafés, the Anya Hindmarch Village, the Rolling Stones pop-up store, the latest Barbie takeover at Selfridges, and Nike's athletic areas.
"They're bold, attractive, drive buzz and create a moment for people to immerse themselves in a brand and its licensed products. The future of retail will hold a space for experiences both big and small, and it's constantly evolving to become an impactful, exciting, and proven reason for consumers to leave the house by transforming retail spaces into destinations," said Roberts.
What's next for LBE and brands?
The creative development of the LBE business is driving new opportunities for the market to grow, but there is also an equally exciting increase in intellectual property licensing that is driving the connection with the guest.
There is growing interest in creatively produced hybrid experiences, such as how AI and VR can enhance immersive experiences worldwide. And licensed back-to-nature initiatives that bring families together have also shown great success. All brands need to know is that the technology, creative approach, and consumer engagement inherent to this platform are all evolving rapidly, making it a really exciting opportunity. 
About Brand Licensing Europe
Launched in 1998, Brand Licensing Europe is the only pan-European annual event dedicated to licensing and brand extension. The London event features over 2,500 brands and more than 7,500 licensees, manufacturers, retailers, distributors, and licensing agents. Brand Licensing Europe is a part of the Global Licensing Group at Informa Markets, the licensing industry's leading trade show organiser and media partner. Its mission is to provide licensing opportunities around the world by bringing brands and products together.
Brand Licensing Europe takes place October 4-6 at ExCeL, London and is free to attend for anyone working in the licensing industry. Register at www.brandlicensing.eu