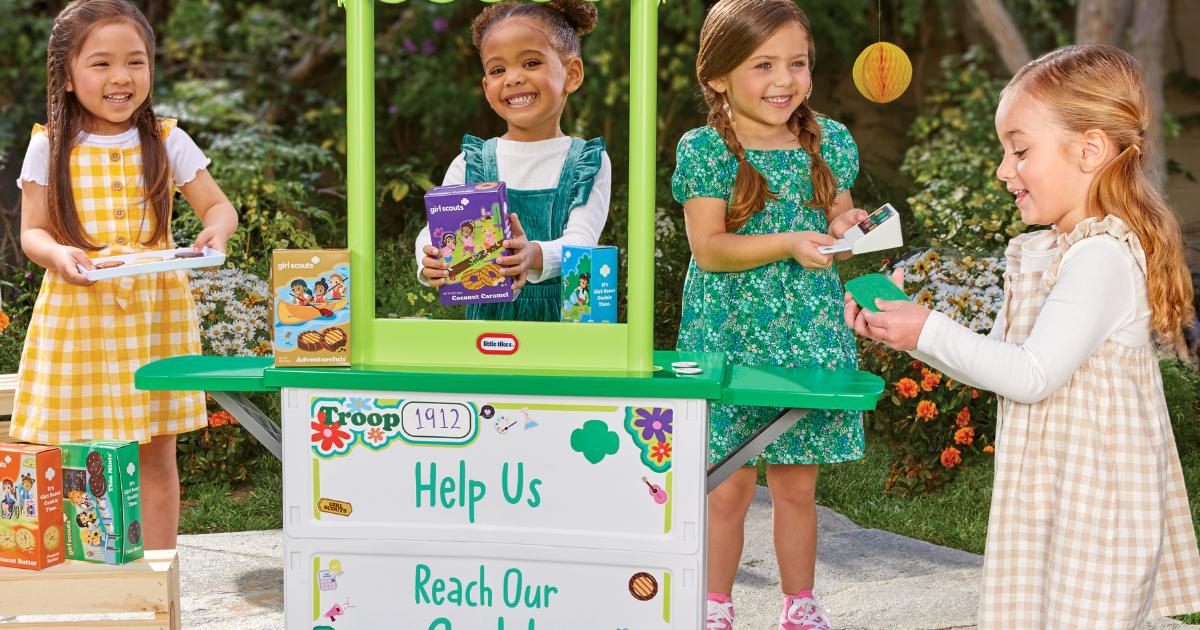 Legacy Brand Little Tikes and Girl Scouts of the USA Announce Partnership to Create Cookie Booth Playset
Los Angeles, CA and Hudson, OH – The Little Tikes Company, a wholly-owned subsidiary of MGA Entertainment (MGA), one of the largest and fastest-growing, privately held toy and entertainment companies in the world, has entered into a licensing relationship with Girl Scouts of the USA to introduce the Little Tikes™ 2-in-1 Girl Scout Cookie Booth playset. The playset encourages young kids to expand on essential skills like goal setting and communication while they run their own make-believe business selling toy cookies.
The Girl Scout Cookie Booth playset offers children the hands-on opportunity to indulge in the power of pretend play while exploring their creativity and leadership potential as they customize signage, set up shop, and role-play selling cookies. Included with the Girl Scout Cookie Booth are five cookies, five cookie boxes, two dry erase markers, two Little Tikes Bucks™, two coins, a credit card reader, a credit card and a cookie tray.
"Little Tikes aims to create products inspired by the real-life interactions and environments kids see around them while simultaneously integrating educational experiences into playtime," said Isaac Larian, Founder and CEO of MGA Entertainment. "This licensing relationship with Girl Scouts of the USA allows us to create this one-of-a-kind Girl Scout Cookie Booth, exciting kids to play and helping parents or grandparents inspire life skills like decision-making, business ethics and social interaction."
Designed with both the parent and child in mind, the Girl Scout Cookie Booth inspires families with kids ages three and up to imagine the possibilities of starting a cookie business, just as Girl Scouts do, and encourages an entrepreneurial spirit. The playset easily stores cookie boxes or accessories in the back of the booth and has a quick setup. The booth is lightweight and portable with side tables that fold out for additional display space. The all-new Girl Scout Cookie Booth launches ahead of the holiday season and makes for the perfect gift for those with an entrepreneurial spirit. Plus, if a child is a Girl Scout, they can bring make-believe to life by using the booth in a real cookie sale and feel confident in applying all their learnings gained through playtime.
"Inspired by the millions of Girl Scouts who have developed real life skills including financial literacy, leadership, and entrepreneurship through our cookie program, the Little Tikes Girl Scouts Cookie Booth encourages kids everywhere to discover these skills through pretend play," said Wendy Lou, chief revenue officer of Girl Scouts of the USA. "Girl Scouts who own one could also use these as booths during cookie season, selling real cookies and conducting real transactions."
Little Tikes has established itself as a trusted household name with a history of active and imaginative play for nearly 55 years. The Girl Scout Cookie Booth is available at Target, Amazon and Walmart. To learn more about Little Tikes and the product, visit https://www.littletikes.com, and engage with the brand on YouTube, Instagram and Facebook. To join Girl Scouts, or become a volunteer, visit girlscouts.org.