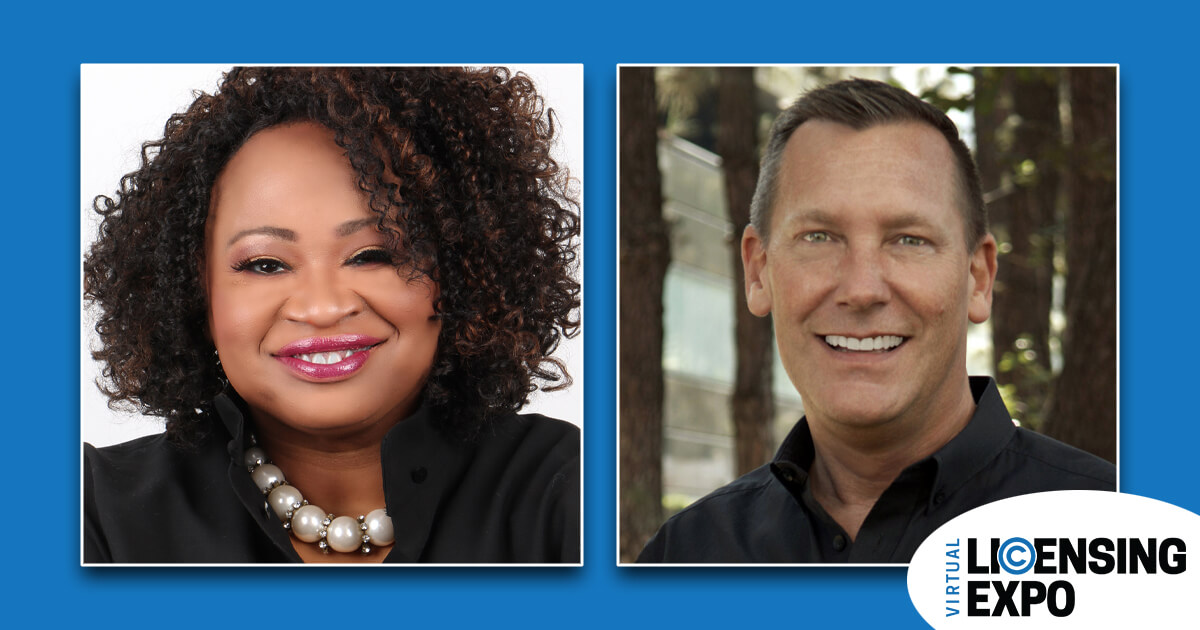 Licensing Expo Virtual 2021 Welcomes Day One Keynote Speakers
Licensing Expo Virtual, in partnership with industry trade association Licensing International, today announced two key leaders from Warner Bros. Consumer Products will kick-off Day 1 in the opening keynote of the free-to-attend virtual event, set for August 24-26. Pam Lifford, president of WarnerMedia Global Brands and Experiences, and Robert Oberschelp, senior vice president, Global Franchise Management and Brand Product for Warner Bros. Consumer Products, will deliver the address entitled "Unlocking the Fan Power of Global Franchises," moderated by License Global's content director Amanda Cioletti.
Slated for August 24, Lifford and Oberschelp will take the virtual stage at 11:00 a.m. EDT/8:00 a.m. PDT, presenting attendees with exclusive insight into their world-class business strategy that is a key contributor to the $292.8 billion licensing industry. "Licensing is a strategic tool for brands to leverage in order to extend their audience reach and gain market share—we are honored to headline Licensing Expo Virtual and share our deep pool of insights and learnings from across Warner Bros. Consumer Products' wide assortment of portfolios," commented Pam Lifford.
Lifford is responsible for developing all-new fan-engagement business opportunities at WarnerMedia, in addition to aligning current fan-focused activities, while Oberschelp's role includes oversight of Warner Bros. Consumer Products' global licensing program that brings new and existing collections to fans.
Details on the "Unlocking the Fan Power of Global Franchises" Keynote
How do you reach a consumer when fragmentation is practically built into the modern purchaser's DNA? Warner Bros. Consumer Products is super-sizing its franchises across its portfolio to create multiple consumer touchpoints – from content to commerce – enabling it to meet its fans wherever they are. Learn from Pam Lifford and Robert Oberschelp in this fireside conversation that will touch on everything from the power of super fandom to leveraging e-commerce channels in 2021 and 2022, when to pull on direct-to-consumer levers, how to maximize multiple platforms, enhancing collaborations and in-store retail, and so much more in this headline keynote for Licensing Expo Virtual.
"We could not be more excited to share that executives from a world-renowned studio with global reach and influence will kick off this year's event; Lifford and Oberschelp's address is a must-attend," said Anna Knight, vice president of Licensing, Informa Markets. "Between the two executives, attendees will have access to decades of experience in executing licensing campaigns that have shaped the entertainment sector and will walk away with newfound learnings they can apply to foster brand growth and expansion."
In addition to presenting world-class education, Licensing Expo Virtual is designed strategically to advance the industry through peer-to-peer connection, networking, and deal-making, with searchable IP discovery at the forefront.
Knight continued: "Registration for the event is off to a strong start with numbers into the thousands, including many of the world's leading retailers and licensees such as Wal-mart, Amazon, Hot Topic, and many more. This is a huge milestone that underscores the unmatched quality of our exhibitor and speaker roster and the critical need for industry connection."
Among pre-registrations to date include retailers Alibaba, Amazon, Claire's, Lidl, Primark, rue21, Superdry, TJX, and Toys'R'Us, and licensees Bentex Group, Bioworld International, Boeing Group, Colgate Palmolive, Ferrero, Garmin, Hallmark Cards, HER Accessories, PUMA, Ravensburger, Tastemakers, and TOMY International.
For more information on the keynote presentation, visit Licensing Expo Virtual Keynotes.
Register now to attend the 40th edition of Licensing Expo Virtual: Visitor Registration and press register Press Registration.
About Licensing Expo
Launched in 1980, Licensing Expo is the world's largest and most influential annual tradeshow dedicated to licensing and brand extension. Every year, more than 5,000 brands and 16,000 retailers, licensees, manufacturers, distributors, and licensing agents attend Licensing Expo from more than 70 countries. Licensing Expo is a part of the Global Licensing Group at Informa Markets, the licensing industry's leading tradeshow organizer and media partner. Its mission is to provide licensing opportunities around the world by bringing brands and products together.
About Global Licensing Group
The Global Licensing Group at Informa Markets is the licensing industry's leading tradeshow organizer and media partner. Its mission is to provide licensing opportunities around the world by bringing brands and products together. The following events and information products are produced for the licensing industry by the Global Licensing Group at Informa Markets: Licensing Expo, Brand & Licensing Innovation Summits, Brand Licensing Europe, Licensing Expo Japan, Licensing Expo Shanghai, License Global magazine, License Global Daily E-News, and The Licensing Mixtape podcast. Global Licensing Group events are sponsored by Licensing International.
About Licensing International
Licensing International is the leading trade organization for the global licensing industry. Licensing International's mission is to foster the growth and expansion of licensing around the world, raise the level of professionalism for licensing practitioners, and create greater awareness of the benefits of licensing to the business community at large. Founded in 1985, Licensing International members in over 40 countries enjoy access to an array of benefits, including extensive educational programming and worldwide networking events. Visit LicensingInternational.org for more information and to utilize licensing's definitive online resource.