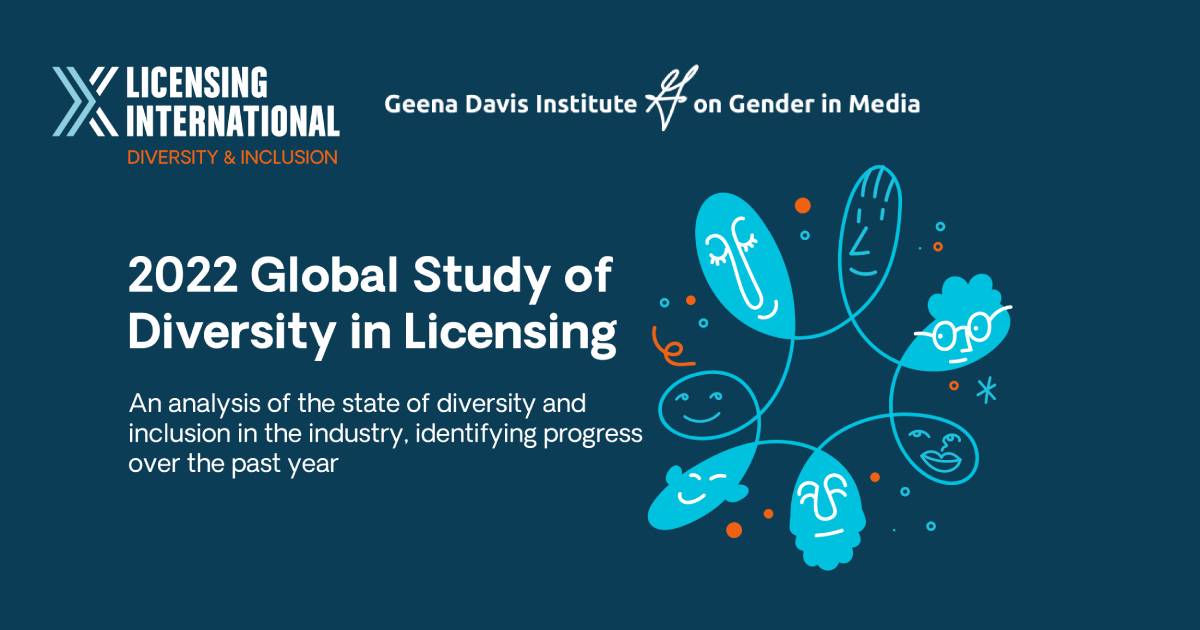 Licensing International and the Geena Davis Institute on Gender in Media Reveal New Data on Inclusion in the Global Licensing Industry
New York, NY [October 13, 2022] — Licensing International, in partnership with the Geena Davis Institute on Gender in Media (GDI) and Netflix, hosted a live event yesterday to announce the results of the 2022 Global Study of Diversity in Licensing. The new data was presented by Madeline Di Nonno, President and CEO of GDI, at the Netflix offices in Los Angeles, California.
The 2022 study, which analyzed findings from two global surveys of Licensing International members, examined the effect the pandemic had on diversity and inclusion initiatives in the industry with a focus on employee retention. Notable findings from the 2022 report include:
44% of survey respondents reported their organization had D&I programming (up from 41% in 2021 and 23% in 2020)
32% of respondents reported their organization had diversity education and training (down from 33% in 2021 but up from 21% in 2020)
Recruitment efforts (36%), D&I mission statements (36%), and education and training (32%) were some of the most common D&I program components in 2022
The top reasons respondents reported employees left their companies in 2022 included compensation (30%), life changes (26%), and morale (22%)
The top retention strategies employed in 2022 included flexible schedules (70%), hybrid work options (55%), and employee discounts (32%)
"Research shows that diversity and inclusion matter to people, both in their professional lives and in their capacity as a consumer. This shift in business is exciting, and so important, because the global licensing industry's focus on amplifying historically excluded voices will allow brands to build stronger teams, retain talent, and meet consumers where they are," said Maura Regan, President of Licensing International.
"Given the severe financial implications of the pandemic, we are heartened to see that diversity, equity, and inclusion initiatives remain a priority," said Madeline Di Nonno, President and CEO of the Geena Davis Institute on Gender in Media. "There is still much more progress to be made, so it is important that companies remain vigilant and continue their commitment in supporting these programs, which is the only way to systemically change the licensing industry."
Licensing International has made these research materials available online and free of charge in an effort to help its members, as well as the broader licensing community, build diverse and inclusive workplaces.
Licensing International initiated the first-ever global study of diversity in the licensing community in 2020, conducted by the Geena Davis Institute, to establish benchmarks and measure progress year-over-year. The Global Study of Diversity in Licensing is sponsored by the NBPA, the NFLPA, Paramount, Peanuts Worldwide LLC, and Sony Pictures.
About Licensing International
Licensing International is the leading trade organization for the $300+ billion global brand licensing industry. Licensing International's mission is to foster the growth and expansion of brand licensing around the world, raise the level of professionalism for licensing practitioners, and create greater awareness of the benefits of licensing to the business community at large. Founded in 1985, more than 1,500 Licensing International member companies in over 40 countries enjoy access to an array of benefits, including extensive educational programming and worldwide networking events. Visit licensinginternational.org for more information and to utilize licensing's definitive online resource.
About Geena Davis Institute on Gender in Media
Founded in 2004 by Academy Award Winning Actor Geena Davis, the Institute is the only research- based organization working collaboratively within the entertainment industry to create gender balance, foster inclusion and reduce negative stereotyping in global family entertainment and media. Visit seejane.org for more information.