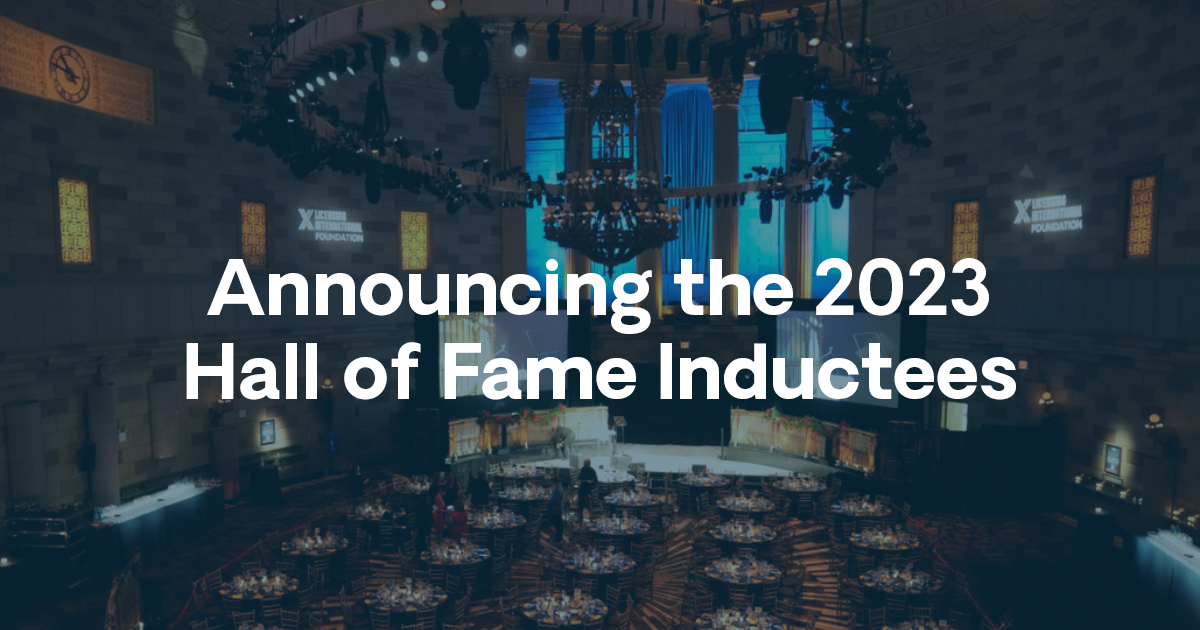 Licensing International Announces 2023 Hall of Fame Inductees
New York [June 9, 2023] — Licensing International, the leading trade association for the global brand licensing industry, today announced the 2023 Hall of Fame inductees. The Hall of Fame honors executives' legacies, bodies of work, and unique contributions to the licensing community.
This year's inductees are Pam Kaufman, CEO and President of International Markets, Global Consumer Products & Experiences at Paramount; retail pioneer Cindy Levitt; and Carole Postal, President of Spotlight Licensing & Brand Management.
As leaders in the industry, it is fitting that this celebration of Pam, Cindy, and Carole's accomplishments will also act as a fundraiser for Licensing International's scholarship program. The program grants scholarships to deserving individuals around the world who are interested in a career in brand licensing. With a focus on diversity and inclusion, the scholarship program is a crucial element of Licensing International's ongoing work to support the next generation of licensing professionals and ensure the industry continues to grow and evolve.
Pam Kaufman leads the consumer products and experiences business for Paramount Global, representing well over $6 billion in worldwide retail revenue from a diverse slate of franchises, brands and content including PAW Patrol, SpongeBob SquarePants, Teenage Mutant Ninja Turtles, Star Trek, South Park, Yellowstone, and Top Gun, among others. In addition, Pam's purview includes gaming and themed entertainment such as hotels, resorts, live tours, Broadway, and VidCon. Pam is also responsible for leading the continued globalization of Paramount's operations, driving growth of the company's international business including the expansive streaming portfolio, which encompasses Paramount+, free-to-air, cable networks, and the Paramount Television International Studios. Pam serves as a member of the Board of Directors of the Rock and Roll Hall of Fame Foundation as well as Stella McCartney Ltd. A passionate advocate for women and families, she is also on the board of the Pace Women's Justice Center.
Cindy Levitt is nationally recognized for her expertise in trend retail and developing novel licensing programs for the teen and young adult market. Best known for her more than two decades of work with retailer Hot Topic, Cindy recently retired as SVP of Licensing for Mad Engine. Cindy is an avid supporter of Delivering Good, which provides merchandise to people in crisis, and is passionate about mentoring individuals entering the licensing industry.
Carole Postal is an industry luminary with a career built on trend licensing acumen and retail expertise. She launched her agency in 1997 as what was then known as CopCorp. In 2017, Carole's agency was renamed Spotlight in recognition of its focus on developing successful branding and licensing programs for entertainment and non-traditional properties. In her professional career and through philanthropic activities, Carole has focused on bringing together (and bringing attention to) female leaders in business, entertainment, and philanthropy.
These licensing icons will be honored at the 2023 Hall of Fame and Rising Star Awards event in New York City on December 6th. Taking place at Gotham Hall, the event will also spotlight rising talent currently making strides in the licensing industry.
The Rising Star program recognizes young professionals from around the world who have been nominated by their peers for their passion for and contributions to the global brand licensing industry. The 2023 Rising Star recipients will be announced later this year.
"We have so much to celebrate at this year's Licensing International Hall of Fame and Rising Star Awards," said Maura Regan, President of Licensing International. "In addition to honoring these three industry veterans, who have contributed so much not only to our industry but also to our community, we also have the opportunity to highlight gifted newcomers. This industry is full of talent, and I am so inspired by the innovation that constantly moves our business forward. I can't wait to see what Pam, Cindy, and Carole do next."
Those interested in sponsoring the 2023 Hall of Fame and Rising Star Awards should reach out to Maria Ungaro (mungaro@licensing.org).
About Licensing International
Licensing International is the leading trade organization for the $315+ billion global licensing industry. Licensing International's mission is to foster the growth and expansion of licensing around the world, raise the level of professionalism for licensing practitioners, and create greater awareness of the benefits of licensing to the business community at large. Founded in 1985, Licensing International members in over 40 countries enjoy access to an array of benefits, including extensive educational programming and worldwide networking events. Visit LicensingInternational.org for more information.
About Licensing International Foundation
The Licensing International Foundation was established in 2020 to mark a new chapter in the global association's charitable initiatives and to continue its decades-long support of the brand licensing community. The Foundation is focused on the education of future licensing leaders through the Licensing International Scholarship Program, which awards grants to deserving individuals who are interested in a career in brand licensing. Visit https://licensinginternational.org/about/foundation/ for more information or to make a donation.
Contact
Elizabeth Foster, Director of Content & Communications
efoster@licensing.org