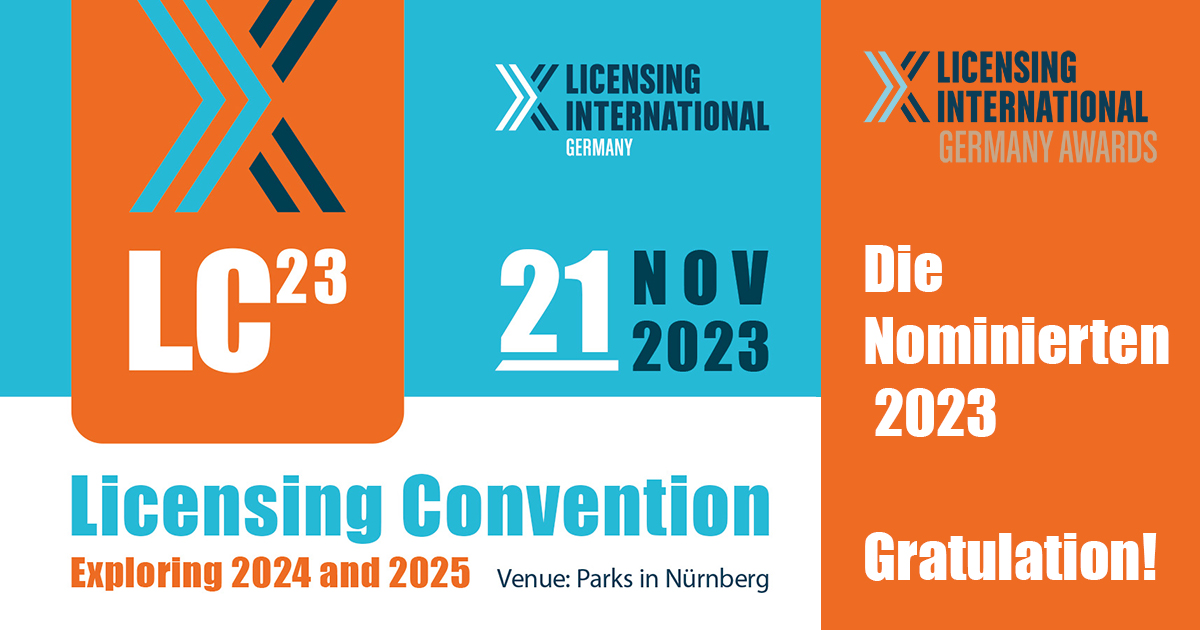 Licensing International Germany Awards 2023 – Die Nominierten
Die Mitglieder des deutschen Chapters von Licensing International haben die Besten ihrer Branche nominiert und werden in Kürze wählen. Damit stehen die Aspirant*innen für den begehrtesten Preis der Lizenzindustrie in Deutschland fest. Seit 2001 werden die Licensing International Germany Awards vergeben.
Nominiert für 2023 sind:
Lizenzgeber/Lizenzagentur des Jahres 2023:
Active Merchandising
IMG
Mattel
SUPER RTL Licensing
Universal Products & Experiences
Lizenznehmer des Jahres 2023:
License Factory
Nelson Verlag
ROFU Kinderland
Tonies
VDV Benefit GmbH / Party Factory
Lizenzthema des Jahres 2023:
50 Jahre Sesamstraße
Barbie
Die drei ???
Gabby´s Dollhouse
Super Mario
Lizenzprodukt des Jahres 2023:
Haribo Goldbären Wacken
Heidi Bergmensch Zebrastreifen (Abbey Road Design) T-Shirt
Montblanc Schreibgeräte, Van Gogh Museum
Sorgenfresser® – Sesamstrasse Edition
Teenage Mutant Ninja Turtles Pizza von Pizzatainment
Promotion des Jahres 2023:
bio-vegane Weinserie mit beebetter und biorebe. beebetter und Peter Mertes KG
D100, Ravensburger
Frida Kahlo, Thalia
McDonald's Happy Meal Schleich Schlümpfe "Little Smurfs, Big plans" – CREATA
Miraculous, Volkswagen
Handelspartner des Jahres 2023:
E.M.P. Merchandising Handelsgesellschaft mbH
LIDL
Müller
Rofu
Rossmann
Sports Brand des Jahres 2023:
adidas
Bayern München FCB
FIT FOR FUN®
DFB Frauen-Nationalmannschaft
NFL
Digital Brand des Jahres 2023:
Minecraft
POLAR
Roblox
Sonic the Hedgehog
Super Mario
Corporate/Lifestyle/Vip Brand des Jahres 2023:
Barbie
Frida Kahlo
SCHÖNER WOHNEN-Kollektion
Van Gogh Museum
Wacken
Newcomer des Jahres 2023:
B2L Bag to Life
Bergmensch
HiFly
Lush
Polar
Lifetime Achievement Award 2023 und Licensing Industry Award 2023:
Der Lifetime Achievement Award 2023 wird auch dieses Jahr an eine Persönlichkeit verliehen, die sich im Laufe ihres beruflichen Lebens besonders um die Lizenzbranche in Deutschland verdient gemacht hat.
Der Licensing Industry Award 2023 ehrt Unternehmen, welche die letzten Jahrzehnte des Licensings in Deutschland begleitet und maßgeblich geprägt haben. Ganz besondere, herausragende und besonders erwähnenswerte Unternehmen, die in der Licensing Branche Maßstäbe gesetzt und diese nachhaltig mitgeformt haben.
Rising Stars 2023
In unserer kreativen und bewegten Branche gibt es ganz besondere Persönlichkeiten, die vielleicht noch nicht lange in der Branche oder im Job sind, denen man ihr außergewöhnliches Potenzial aber jetzt schon anmerken kann. Menschen voller Energie und Commitment. Das können junge Berufseinsteiger*innen oder engagierte Quereinsteiger*innen sein. Nicht das Alter ist hier der entscheidende Faktor, sondern Engagement, Tatkraft und Leidenschaft für´s Licensing.
Bekanntgabe der Preisträger*innen
Alle Preisträger*innen werden bei der großen Abendveranstaltung/Party während der Licensing Convention LC23 am 21. November 2023 in Nürnberg bekannt gegeben. Wir drücken allen Nominierten die Daumen!