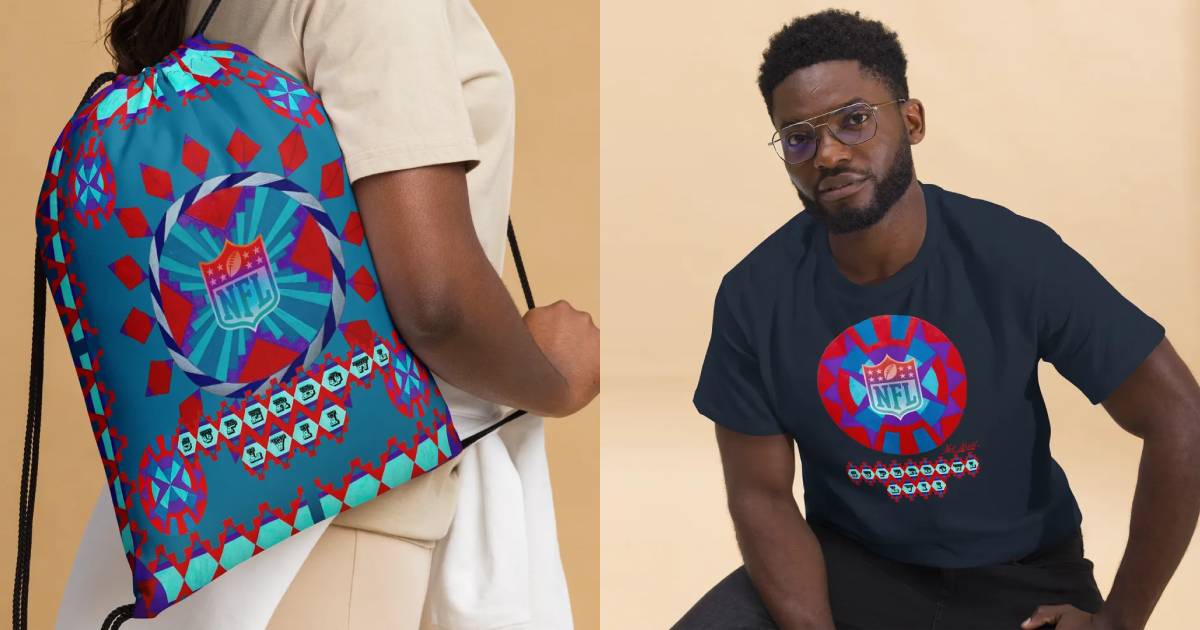 Licensing Takes the Field at Super Bowl LVII
While the National Football League's (NFL) Super Bowl kicks off on Sunday February 12, the ground game for licensed merchandise is already underway.
Stores in the Phoenix, Philadelphia, and Kansas City areas—including Sporting Goods, Rally House, and Academy Sports—started selling Super Bowl-branded products online and in stores on January 30, the day after the Eagles and Chiefs won their respective conference championships. But Super Bowl product sales will hit their peak this week and those sales can continue for up to 30 days after the Super Bowl, according to Ryan Samuelson, VP of Consumer Products at the NFL.
And the NFL is expanding its licensing playbook by working with four local artists as part of its royalty-free "Origins" capsule collection program. The Origins program ties together local themes—in this case the Phoenix area and Indigenous designs—with Super Bowl apparel and accessories that are sold through the NFLShop.com, which is operated by Fanatics.
Origins products were also sold through local retailers in the Los Angeles area last year, but making Origins an online-only capsule business "lends itself better to tighter retail and makes it easier in terms of managing inventory," Samuelson said.  "This is more additive and isn't really a revenue play. It's about giving consumers and fans something that is unique to the city and gives new designers and artists a platform."
Local muralist Lucinda "La Morena" Hinojos' designs are also featured on this year's Super Bowl tickets.
Online sales will work in tandem with in-store purchases following the February 4 opening of the 30,000-square-foot NFL Shop at the Phoenix Convention Center, which is operated by licensee Legends. The shop's sales will start to build Wednesday as fans begin arriving in Phoenix and the NFL has its Super Bowl launch event in Tempe, AZ. Among the items that will be available is Nike's "Atmosphere" jersey, a fashion-focused version of each team's gameday jersey. Nike and New Era also introduced the "Opening Night" featuring player names and numbers on team pull-over jackets and long-sleeved shirts.
As might be expected, player, team, and Super Bowl-related apparel garners much of the business in the lead-up to the event, but licensees like Forever Collectibles have developed products spanning multiple categories. While print-on-demand (POD) has become a focus for sports licensing, it plays a smaller role at the Super Bowl. Licensees like Fanatics have contracts with local printers to supply product on an as-needed basis within 24 hours, Samuelson said.
"It [POD] doesn't play into the Super Bowl as much you might think," Samuelson said. "We have had it in the past and it hasn't been as big. There are so many SKUs being produced now and there is customization that is being done on site. The quality is better when we are able to manufacturer through the normal channels and as the need [for POD] has become smaller and smaller, we have focused those efforts elsewhere" for the Super Bowl.
Nevertheless, much like the game itself, speed is important for Super Bowl merchandise to capitalize on key moments during it.
"Based on who wins the game, you have to be ready," said Josh Feinstein, EVP of New Business and Strategic Partnerships at NFL licensee Outerstuff and a former NFL licensing executive. "The local printers must set up to deliver those orders because you want the fans to be able to buy right away. If you miss that window, it's hard to make it up because demand subsides as every day goes by."