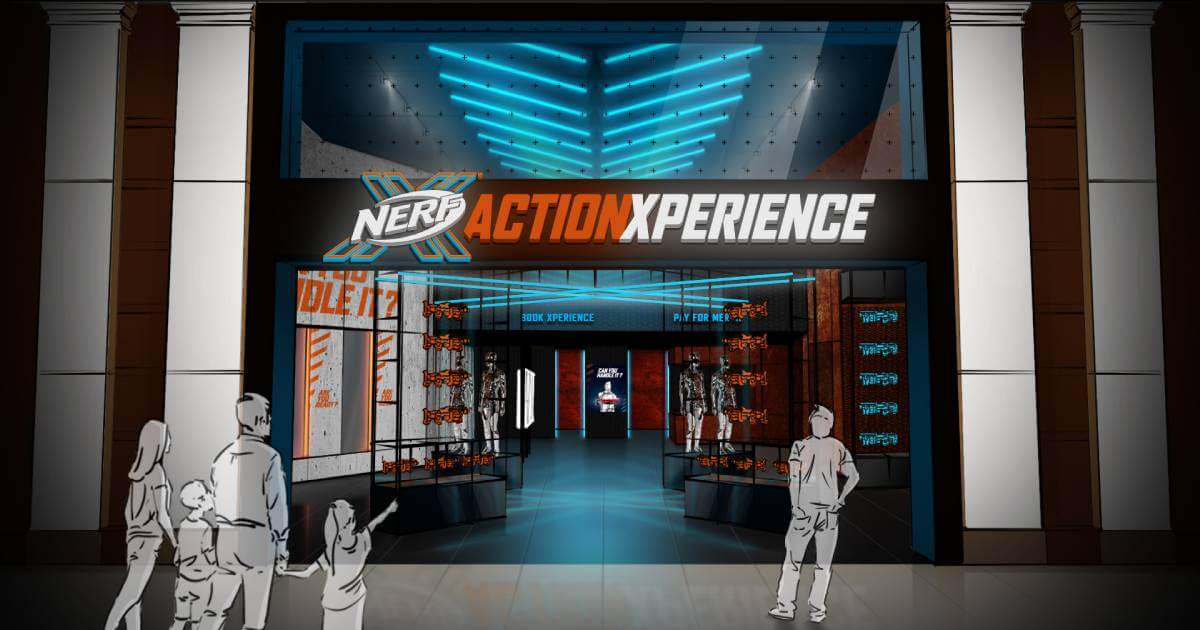 Manchester-Based NERF Action Xperience (NAX) Kick-Starts UK Rollout
Having successfully entered a licensing agreement with global branded entertainment company HASBRO, Rocafella Leisure have recently secured the investment to commence work on the first NERF Action Xperience family entertainment centre (FEC) in the UK.
Each NAX centre provides guests with a multitude of NERF-fuelled indoor activities to explore, exhilarate and excite. It consists of three different zones to activate those ultimate NERF adventures in a purpose-built and immersive environment.
The competition zone allows groups to battle it out with different NERF blasters in three immersive themed arenas. The sports zone features a huge atrium of NERF-related sports challenges including basketball and football volley. Finally, there is a dedicated training zone to hone players targeting skills, truly providing something for everyone.
The inaugural FEC will open in the recently rebranded Trafford Palazzo (Manchester) in Summer 2023, marking the start of a UK-wide rollout which will see two further locations added within the coming years."
"The NERF Action Xperience in Manchester embodies Hasbro's Brand Blueprint 2.0, our strategic approach to bringing Hasbro's iconic brands to life, for fans of all ages," said Matt Proulx, VP Location Based Entertainment at Hasbro, Inc. "As we expand the NERF franchise into new categories, we will continue to introduce innovative experiences for consumers – and we're excited to partner with Rocafella Leisure to bring the NAX experience to fans throughout the UK." 

Working alongside Peel L&P, who now own and successfully manage Trafford Palazzo, Rocafella Leisure shared the same vision to create a unique and rich blend of IP-led entertainment within the venue, which adjoins one of Europe's largest retail and leisure destinations, the Trafford Centre.
The new Nerf FEC being introduced by Rocafella Leisure will join Trafford Palazzo's growing tenant mix as it continues to elevate its offering whilst becoming a rivalled destination for retail, leisure and entertainment for families of all ages. The tenant mix currently includes Primark, 
Merlin operated LEGOLAND® Discovery Centre and SEA LIFE, Silentnight, Homesense, Natuzzi, newly opened Italian restaurant, Matterello and the newly announced forthcoming addition, King Pins which is due to open in the Spring of 2023.
Work has already begun on altering the current layout and infrastructure of the ground-floor unit, located just inside the main entrance of Trafford Palazzo, installing a mezzanine floor and preparing the mechanical and electrical infrastructure in readiness for the main contractor to start the first phase of building works. 
Mark Whittaker, Executive Director Property Investment & Management for Peel L&P said: "We are really excited to welcome Nerf Action Experience to Trafford Palazzo. The brand aligns perfectly with all existing operators and will I'm sure be extremely popular with visitors, old and new. Over the past year, we have focused on developing an activations and events strategy within our mall space which has attracted significant interest and demonstrates the power of creating experiences for customers within a retail space. We are excited to develop our strategy and offering further to bring some spectacular collaborations to Trafford Palazzo."
Rocafella Leisure have agreed an exclusive partnership with Archie's, the Manchester based American-inspired diner to be the operator of the food and beverage (F&B) offer within the FEC.
The team–up with Archie's seemed a logical fit, helping deliver a first-class F&B offering that is grounded in quality and service, and where both brands can use similar values and positioning to attract like-minded customers.
This relationship presents Rocafella Leisure with a trusted ready-made F&B proprietor with appropriate menus, that can organise and deliver children's parties and have the added advantage of attracting passing footfall to boost their sales.  
Amer Rafiq, co-founder of Archie's said: "We are hugely excited to be partnering with NAX on such a high-profile attraction coming to Manchester. The decision to work together was an easy one, as our overall brand proposition and american-inspired menu has great appeal with the intended audience coming to NAX. Working with NAX has enabled us to take a huge step in our growth plans, providing a route into new markets where entertainment and dining are possible under one roof. A sector that both organisations are well-equipped and eager to capitalise on through this successful partnership. We look forward to opening our doors next summer as we welcome battle-ready NERFers to experience the high-quality food and drink from our menu as they refuel after a fun and energetic time at NAX."
As the build takes shape, investments into local services to launch the new centre, provide a positive contribution to local economic growth. Once up and running, 45 new jobs will be created, offering opportunities to kick-start a career within the leisure and hospitality sector.
A curriculum is being developed to help schools and colleges utilise the facilities for STEM (Science, Technology, Engineering and Mathematics) learning as key STEM topics can be demonstrated through the gameplay and operations within the venue.
Chris Hayes, Chief Executive of Rocafella Leisure Group said: "This is a momentous moment for Rocafella Leisure as we establish, what we believe, a world-renowned destination that personifies the brand values of NERF within an entertainment setting. HASBRO have been extremely supportive of the vision we have proposed and like us are extremely excited to bring this venue to life; continuing to enable and inspire the use of their IP in pioneering ways within the LBE (location based entertainment) sector. Not only are we creating a place for families and adults to experience NERF beyond their own homes, we will transport them to an immersive space where they can play with the freedom to challenge, compete, and take home bragging rights – if they wish! The industry needs new entrants, those that look to disrupt and strengthen the family entertainment offer, and through NAX we firmly believe we will do that.
"Creating an experience that is backed by long-standing and well regarded IP and brings together families under one roof, supported by forward-thinking landlords who share the same outlooks on the future of the sector. Through NAX we also blend fun-fuelled active play with learning, providing an interactive and innovative STEM focused programme that helps young people understand certain areas we offer. They may look at the trajectory of darts from a blaster; the mechanics of how the games work or the digital and technical complexities that run our venue. I can't wait to finally get this open and provide a beacon destination that cements the North West as a leading light in family entertainment. I hope to see many of you there!"
Fit-out work is due to be completed in Summer 2023, with an official opening to follow soon after. To keep up to date with potential opening dates keep an eye on the NAX website www.nerfax.co.uk
Contacts: 
Darren Booth
Head of Marketing, Rocafella Leisure Group
darren@rocafellaleisuregroup.com
Chris Hayes
CEO, Rocafella Leisure Group 
chris@rocafellaleisuregroup.com
About Hasbro
Hasbro is a global branded entertainment leader whose mission is to entertain and connect generations of fans through the wonder of storytelling and exhilaration of play. Hasbro delivers engaging brand experiences for global audiences through gaming, consumer products and entertainment, with a portfolio of iconic brands including MAGIC: THE GATHERING, DUNGEONS & DRAGONS, Hasbro Gaming, NERF, TRANSFORMERS, PLAY-DOH and PEPPA PIG, as well as premier partner brands.
Hasbro is guided by our Purpose to create joy and community for all people around the world, one game, one toy, one story at a time. For more than a decade, Hasbro has been consistently recognized for its corporate citizenship, including being named one of the 100 Best Corporate Citizens by 3BL Media, one of the World's Most Ethical Companies by Ethisphere Institute and one of the 50 Most Community-Minded Companies in the U.S. by the Civic 50. For more information, visit www.corporate.hasbro.com
About Trafford Palazzo
Trafford Palazzo is a place for everyday adventurers. Home to exciting brands like Primark, LEGOLAND® Discovery Centre, SEA LIFE, Silentnight, Homesense, Natuzzi, Next Home and Archies, it's where the familiar takes a day off. 
Set within TraffordCity, where 40 million adventurers come annually, it has been redesigned to the tune of £75m, providing its community and beyond with a vibrant shopping mall experience that combines retail opportunities and fun, family-friendly activities. 
For more information on Trafford Palazzo, please see here: http://traffordpalazzo.co.uk
About TraffordCity
TraffordCity is the UK's foremost retail, leisure and commercial destination encompassing the Trafford Centre and its surrounding 3.5 million square feet of retail, leisure and office space.
With 300 of the most premium brands in retail and leisure as well as exciting sport, culture and event offerings which attract over 40 million visits a year, TraffordCity is owned and managed by Peel L&P on behalf of its stakeholders.
With a further £2.6 billion investment in the pipeline over the next 20 years, TraffordCity is set to become a world class destination where people can live, businesses thrive and with entertainment at your fingertips. It is home to a number of attractions including Trafford Golf Centre, Dino Falls Adventure Golf, Chill Factore, Play Factore, and iFLY.
TraffordCity is conveniently located five miles west of Manchester city centre, adjacent to the M60 orbital motorway and boasts excellent connectivity via road, tram, rail and air. Excellent public transport links gives accessibility to business, retail, leisure and employment opportunities within TraffordCity. www.traffordcity.co.uk 
About Peel L&P – Realising Possibility
Peel L&P is a family-run regeneration business with its roots in Greater Manchester.
Operating across the UK for over 50 years, we are fortunate to have had the opportunity to re-imagine some of the country's historic assets.
We can be trusted to deliver with a track record of transformative and exciting developments. We created MediaCity to bring the BBC to the North, started a trailblazing project to give homeless people their own front door at Manchester's Embassy Village, and are helping to decarbonise industry and generate low carbon energy at Protos and through our Peel NRE business. 
Working with local partners, our nationwide Peel Waters schemes like Liverpool Waters and Wirral Waters are regenerating waterfront destinations into mixed-use sustainable communities, and our innovative homebuilder Northstone is building new energy-efficient family homes in suburban areas. 
As part of The Peel Group, we strive to make a positive impact on people's lives and are proud of our legacy. Promoting sustainable development is at the heart of what we do, and we take our responsibilities to the environment seriously. Our people are passionate about the communities we work in, and we value our close partnerships with local groups and charities.
By building homes and creating opportunities including highly skilled jobs of the future, protecting and improving our open spaces, addressing the climate emergency and our energy needs, Peel L&P will continue to realise possibility and invest in communities for years to come. 
More information at www.peellandp.co.uk or follow us on Twitter @PeelLandP and LinkedIn.
More about our charitable work here.
About Rocafella Leisure Group
We help transform globally recognised IP into leisure and recreation solutions that inspire visitors. Whether it's helping find the right venues, in the right territories, or fully operating an FEC, we have the capability to deliver. We do this through either end-to-end operations to creative consultancy services.
Working with a variety of intellectual property owners across the globe we transform their coveted content into compelling and thrilling family entertainment experiences that wow visitors daily. Our approach is to inject creativity and operational nous to an already popular product to deliver world-beating family entertainment centres that excite and captivate.