Marketplaces Have Changed Commerce … and Will Change Licensing Too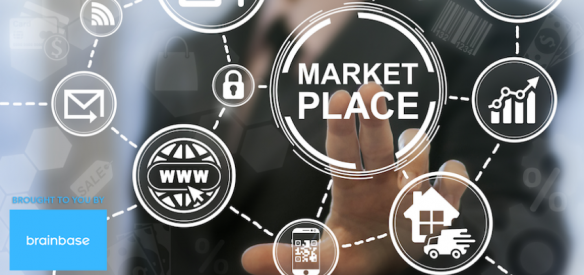 From retail to transportation to real estate, this one e-commerce model has profoundly changed countless industries, and licensing is next.
1995 was a big year. Although we didn't know it then, this was the year that separated Then from Now; this was the year that Amazon (and eBay) were born.
Now, 24 years on, stories about how Amazon is changing the world are a newsfeed staple. Ebay, though it gets less attention as a disruptor these days, was at the time (in what now looks the Dark Ages of E-commerce) as much of a game-changer as Amazon. And so we can extend our gratitude – or ire – equally to both companies for fundamentally shifting the way that goods and services are exchanged around the world.
Disruption Through Centralization
Both platforms were based on the same idea – that by creating a centralized hub for isolated third-party vendors with similar offerings, you could more efficiently and profitably sell goods.
It's not actually a revolutionary concept – department stores, malls, travel agencies, the Yellow Pages all operate on the same principle. What's different about online marketplaces is their scope. Free of physical limitations like square footage or paper weight, online marketplaces have been able to scale almost infinitely and use new technologies to facilitate connections and coordinate resources more efficiently than any human ever could.
"People love marketplaces because they make it easier to conduct business with anyone, anywhere, anytime, usually very affordably. It's that simple," says Nate Cavanaugh, a tech entrepreneur and co-founder/CEO of a new marketplace called Brainbase.
These days, as with so many ingenious human innovations (think cell phones, air travel, heck even refrigeration), the idea of online marketplaces has become mundane, commonplace. Of course, that's because they are commonplace. In 2016, consumers did half of their e-commerce shopping in marketplaces, according to Forrester, and that number is expected to increase to 67 percent by 2022. And revenue for marketplace operators is expected to reach $40.1 billion by 2022, according to Coresight.
It's no wonder, then, that everyone, even retailers that already have a strong e-commerce presence, want to get into the marketplace game. It's all about what Skype co-creator Jonas Kjellberg called "innovating in zeros" – cutting your costs in a way that your competitors haven't been able to yet. Marketplaces are a very effective way for retailers, and increasingly service providers, to do just that.
Take Walmart, which launched a marketplace in 2009 that was bolstered by the acquisition of Jet.com in 2016. Last year, it announced the addition of a new "fashion destination" to its portfolio, framed as less online marketplace, more online mall. And just like a classic mall, the experience is anchored by a department store, in this case a digital Lord & Taylor "storefront" complete with 125 premium brands.
Other traditional retailers that have entered the marketplace space include Target (a little late to the party, but showing up nonetheless with Target+ this February), Urban Outfitters, J Crew, Crate and Barrel and Albertsons.
Perhaps more important than the proliferation of marketplaces is their impact – 50% of consumers who have used a marketplace said these platforms have actually changed the way they shop, not just online but everywhere.
The Fourth Wave of E-Commerce
Given all this, one might assume that the marketplace for marketplaces is near saturation. That couldn't be further from the truth.
In fact, there is a huge white space, in particular when it comes to services. The concept has been made familiar by the likes of Uber, Airbnb and Zillow, and the opportunity is vast.
"Online marketplaces are about much more than just selling products. Globally and in the U.S., we have seen a boom in marketplaces serving specialized demands, focused on niche categories or providing platforms for trading services rather than products… Indeed, we think the ease that these platforms bring has been one reason for strong growth in spending on discretionary services in the U.S. in recent years: it is now as easy to buy services as it has long been to buy products," said Coresight in their recent report.
And this is where new marketplaces like Brainbase enter the picture, taking on industries that were previously deemed too challenging, like IP licensing.
"Think about a typical marketplace like Amazon – if you're just buying a t-shirt it's pretty straightforward, there are no post-transaction requirements. For licensing, transactions are much more complex. There is ongoing reporting compliance for multi-year deals, there are exclusions, minimum guarantees, royalty reporting. On top of that, brands are understandably sensitive about where their IP is licensed so it's relatively challenging from a Marketplace dynamics perspective," says Cavanaugh.
Indeed, in the 20-plus years since the marketplace model was first introduced, the model has experienced several waves of evolution. What began with unmanaged, Wild West-style platforms like Craigslist or Yelp, eventually led to the first offerings for simple (relatively speaking) services like transportation (Uber, Lyft), dating (Tinder) or food delivery (Doordash). All of this has led to where we are now, dubbed the Fourth Wave. This is the era of "managed marketplaces," with operators taking on more complex services that require more of them as intermediaries than the hands-off approach of First Wave operators like eBay.
The prize for success will be big. The service economy in the U.S. alone was valued at $9.7 billion in 2018, according to the Bureau of Economic Analysis, accounting for 69% of national consumer spending. And yet, the BEA estimates that in that same time frame only 7% of services were primarily digital.
There's no question that the time is ripe for such a solution in the licensing industry, as social media drives the global proliferation of brands and a challenged retail sector increases the pressure for faster, more responsive product development.
"Brainbase Marketplace is a new way to showcase your brand or product and grow revenue entirely online with curated partners from around the world," explains Cavanaugh. "You can facilitate the entire licensing transaction online, so there are zero legal fees, no barriers to entry and no travel required. It's a global licensing community that's online 24/7."
Cavanaugh and his co-founders, Nicolai Tolkatshjov and Karl Johan Vallner, come from the fast-paced world of tech start-ups, drawing on their previous experience in development and design to shape a platform that meets the high standards of today's licensing executives. They've spent three years getting to know the licensing sector and its key players, and are aided by an advisory team of licensing industry veterans and investors who have backed some of the biggest start-ups in recent memory including Dropbox, DoorDash and Duolingo.
"What is missing in our industry right now is an easy way for licensees and brands to connect and interact with each other online," says Ted Larkins, formerly of CPLG, now owner of Get To LLC and a Brainbase advisor. "As a licensee and then as an agent looking for licensees, pounding the pavement was a natural state of business. I sure wished there was an easier way to find licensees, and not just the standard ones. This is a great tool for any licensor or agent or even an unknown licensee to get exposure to brands and brand owners. I don't think it's going to replace the other tools we currently use, just enhance them."
Cavanaugh says customers have characterized Brainbase Marketplace as "LinkedIn for licensing, with the ability to complete full transactions."
But it's much more than that – participants on the platform are carefully curated, much of the due diligence that brand owners typically go through to verify licensees is handled automatically, standardized licensing agreement templates are available if needed and licensees have an elegant platform to showcase their most recent products. Perhaps most importantly, companies can participate while continuing to do everything else they've always done to build their business.
"We put a large premium on curation, so companies can set the categories, territories, distribution channels that they're interested in, and then see opportunities based on those preferences," says Cavanaugh.
Brainbase Marketplace also offers optional integration with Brainbase Assist, the company's licensing management offering, creating an end-to-end solution.
These kind of sophisticated integrations and automations simply weren't possible back in 1995, which may explain why the licensing industry has waited so long for this kind of digital solution.
Part of the reason is that in many service industries, including licensing, real-world interaction is essential, and the Brainbase team doesn't think that will change.
"Just because there's Airbnb doesn't mean I don't stay at hotels," says Larkins. "This is another tool that anyone, including agencies, can use to find and search for new brands and for licensees to get exposure. Once those introductions are made, I believe there's still going to be the face-to-face communication. That's the nature of any business."
Licensees pay nothing to join the platform once they're verified, and brand owners and agents only pay when the deal is closed, with a fee structure that takes into account the intricacy of relationships in this business. For example, if a brand owner and licensee have a relationship now or did at any time in the past, they'll pay nothing for a deal facilitated through Brainbase Marketplace. Companies only pay for deals developed with new partners. Companies only play for deals developed with new partners.
Brainbase Marketplace will launch in early summer, but companies interested in getting access to new licensing opportunities now can sign up now for the Waitlist, where they will be introduced to other Waitlist companies that meet their preferences. When Brainbase announced Marketplace in February, over 100 companies signed up within six days, and Cavanaugh expects Brainbase will meet their target of 1,000 companies well before year-end.
"Timing is key. Creating something like this for the licensing industry is important right now, because the deals are international and there are so many brands trying to grow in markets where they don't have any contacts," says Cavanaugh. "Every customer we talk to essentially says, 'I've been waiting for this."
 —
This report is brought to you by Brainbase, a new marketplace and CRM solution for the licensing industry. Brand owners, brands, agents and licensees can sign up for the Brainbase Marketplace Waitlist today to be among the first to access the marketplace when it goes live in a few months. And be sure to stop by and see the Brainbase team at Licensing Expo June 4-6 at Booth A106.