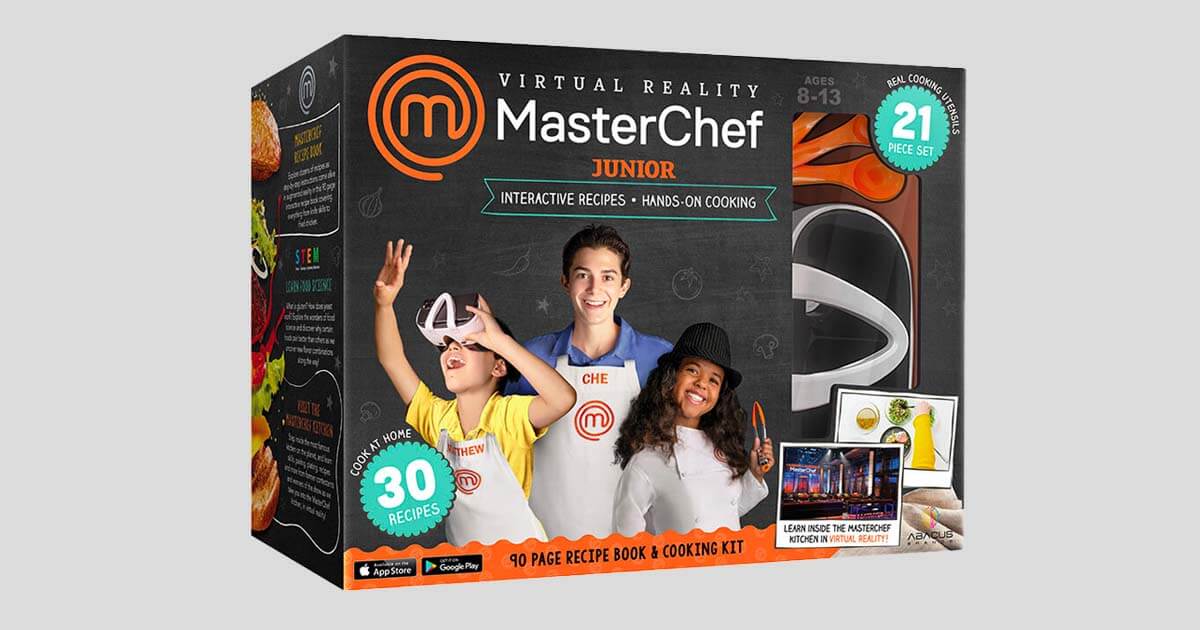 MasterChef Junior and Abacus Brands Introduce Interactive VR Cooking Kit
MasterChef Junior Kit brings the show-stopping fun to the kitchen while teaching kids the science behind cooking
Abacus Brands, a leader in educational virtual reality toys, expands its line of licensed interactive kits with Endemol Shine North America, producers of the hit culinary competition series MASTERCHEF JUNIOR ON FOX with the new VR MasterChef Junior experience. The STEM focused kit features a unique interactive cooking experience through augmented (AR) and virtual reality (VR) technology, allowing kids to learn about cooking techniques and where food comes from.
"We are excited to partner with MASTERCHEF JUNIOR to bring this highly successful cooking competition to life in kitchens across the country," says Steve Rad, the company's founder and CEO. "This exclusive licensing of our flagship Junior Chef kit, will maintain the tangible learning play patterns that are prominent across our line of VR kits, while empowering our youth to make better food choices and learn the science behind what they are eating."
"We are thrilled to have partnered with Abacus Brands to develop this innovative, immersive and first-of-its kind MASTERCHEF JUNIOR cooking kit," said Scott Shillet, Vice President, Licensing, Endemol Shine North America. "Through the power of AR and VR technology, recipes will literally jump off the page and onto your plate in this highly engaging culinary experience."
VR MasterChef Junior Kit is the first ever VR cooking kit from the hit culinary competition series MASTERCHEF JUNIOR and will feature exclusive tips and tricks from former favorite MASTERCHEF JUNIOR contestants, while users discover the wonderful world of food science. Through AR (Augmented Reality), each page in the included workbook comes to life to demonstrate steps within the recipes, while the VR (Virtual Reality) portion will transport users to the MASTERCHEF JUNIOR kitchen, immersing them completely into the cooking experience with former contestants. This 80-page, high-quality book features 30 delicious recipes, like how to make a chocolate layer cake or tasty lasagna. The kit comes complete with VR Goggles and a 21-piece BPA free and food safe set of full-size functional kitchen utensils needed to complete the recipes, such as measuring spoon, spatula, tongs, a whisk and more.
VR MasterChef Junior Kit launches this Fall as part of a series of exciting new licensed products in the Abacus line, following the successful Bill Nye's VR Science kit, which launched earlier this year. Abacus' flagship line of VR Kits includes Magic, Chef, Science, and Universe. The "Learn-Experience- Play" pattern has been applied to all activity kits in the line, making tangible play and cutting-edge accessible tech easily digestible for children.
VR MasterChef Junior ($64.99) is available for purchase at www.Abacusbrands.com, Amazon and other retailers.