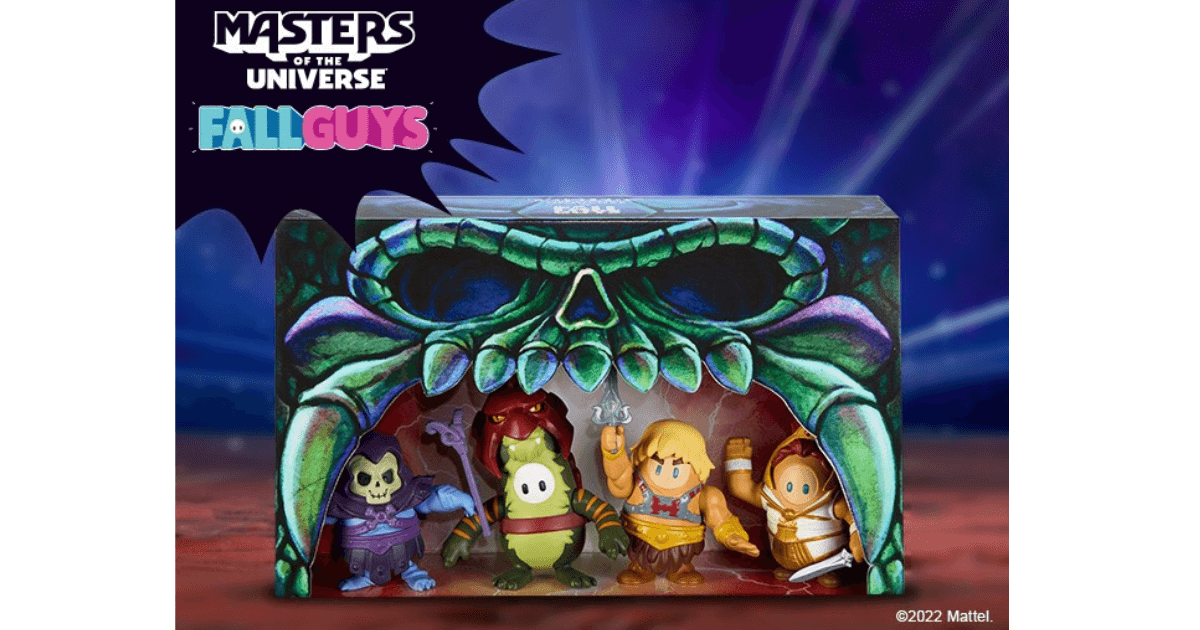 Mattel and Devolver Announce Presale for Masters of the Universe x Fall Guys Toys
Timed with in-game event, preorder for toy multipacks featuring He-Man, Skeletor, Teela, and Battle Cat to open Thursday
El Segundo, CA – Mattel, Inc. (NASDAQ: MAT) and Devolver Digital (LON: DEVO) will launch pre-sale orders for a special release of Masters of the Universe x Fall Guys toys. The limited-edition action figure multipack features Fall Guys Beans as He-Man, Skeletor, Teela, and Battle Cat in a chunky 3.5" scale, bringing the four pop culture staples together in unique packaging that pays homage to the worlds of both Eternia and Fall Guys. Each figure comes with four points of articulation and a unique accessory: He-Man with Power Sword, Skeletor with Havoc Staff, Teela with Sword of the Captain of the Guard, and Battle Cat with Armored Helm. For a limited time, the $50 action figure multipack will be available to preorder on Mattel Creations, Mattel's collaboration and direct-to-consumer platform. Product will ship in Summer 2023.
"Having just celebrated its 40th anniversary, we are continuously inspired by the Masters of the Universe franchise's ability to remain at the forefront of pop culture and entertainment," said PJ Lewis, Vice President and Global Head of Action Figures at Mattel. "Partnering with Devolver to create Fall Guys toys is a fantastic way for us to put an all-new spin on fan-favorite MOTU characters."
In addition to toys, The Masters of the Universe are joining Fall Guys in-game November 3-7, bringing its millions of fans a playable event called 'The Power of Beanskull' during which players must collect He-Man's Sword of Power and Skeletor's Havoc Staff to gain points, complete challenges, and unlock the most muscular of rewards. Players can also get their hands on costumes and other cosmetics starring five of the most iconic characters from the world of Eternia: He-Man, Skeletor, Teela, Battle Cat, and Orko.
"It's been a joy working with PJ and his team at Mattel to unite the two iconic worlds of Masters of the Universe and Fall Guys to create these brilliant, limited-edition toys. Fans were showing them a lot of love when they were unveiled at San Diego Comic Con and we can't wait to see them on sale and in fans' hands," said Fée Heyer, Head of Global Licensing, Devolver Digital.
Assets for the Masters of the Universe x Fall Guys in-game and toy collaborations can be found here. Toy preorders can be made at https://creations.mattel.com/products/fall-guys-x-masters-of-the-universe-4-pack-hpg39 beginning  Nov. 3 
About Mattel
Mattel is a leading global toy company and owner of one of the strongest catalogs of children's and family entertainment franchises in the world. We create innovative products and experiences that inspire, entertain, and develop children through play. We engage consumers through our portfolio of iconic brands, including Barbie®, Hot Wheels®, Fisher-Price®, American Girl®, Thomas & Friends®, UNO®, Masters of the Universe®, Monster High® and MEGA®, as well as other popular intellectual properties that we own or license in partnership with global entertainment companies. Our offerings include film and television content, gaming and digital experiences, music, and live events. We operate in 35 locations and our products are available in more than 150 countries in collaboration with the world's leading retail and ecommerce companies. Since its founding in 1945, Mattel is proud to be a trusted partner in empowering children to explore the wonder of childhood and reach their full potential. Visit us online at mattel.com. 
About Devolver Digital
Purveyors of fine digital entertainment wares from independent artists worldwide. Owned and operated by a team that replies to internal email threads with a non-stop deluge of hilarious gifs and passive aggressive shots at one another. A collection of individuals who work with independent developers from all over the world to produce and promote some of the most original, eccentric, and beloved games of the past decade. https://devolverdigital.com/