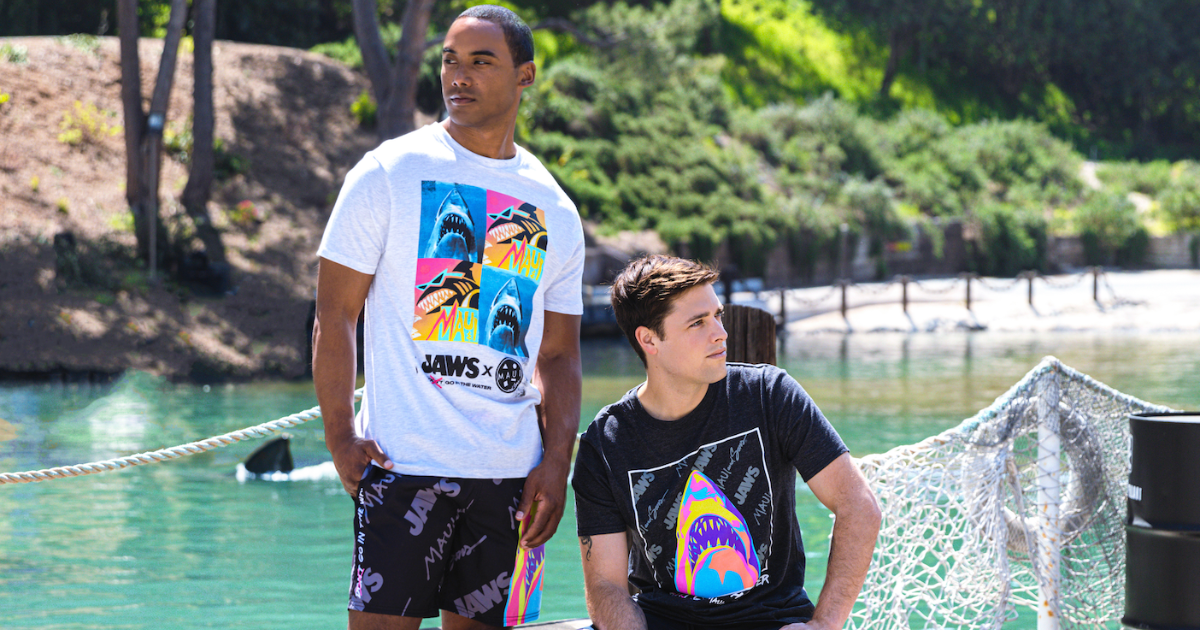 Maui and Sons Launches a Killer Collaboration with JAWS For Summer 2023
Just when you thought it was safe to go in the water… surf and lifestyle brand Maui and Sons® makes a splash by collaborating with the iconic summer blockbuster, JAWS this summer for a Walmart.com exclusive Two signature brands both born from water, come together and cast a line of JAWS-inspired apparel and swim with Maui and Sons' signature neon pops of color.
The Don't Go in The Water capsule is inspired by the 1975 summer thriller film from Universal Pictures and Amblin Entertainment, where a great white shark wreaks havoc on the town of Amityville, while one of the most recognizable theme songs of all time electrifies the screen. Dun-a-dun-a.. In this exclusive capsule, JAWS meets his match with Maui and Sons' legendary Sharkman, the protector of the deep. The dynamic duo of JAWS vs. the iconic Sharkman make waves across an assortment of graphic tees, tanks, pool shorts and compression hybrid shorts.
Each piece within this collection pays homage to the vintage aesthetic of this classic film, with an exciting modern take on an 80s twist. The 'Big Mouth' graphic features the Jaws cover image, painted with neon waves. The 'Double Vision' graphic faces off 
JAWS
 x Sharkman with a checkerboard style print on the graphic tee and a graphic on each leg of the pool shorts. 'In The Water' displays the classic shot of 
JAWS
 amongst the boat wreckage, framed with a Maui and Sons original cookie logo emblem. 'Eat 'Um Up' makes a splash with a cartoon style 
JAWS
 taking a bite of the Maui and Sons logo.
JAWS x Maui and Sons Product Collection:
Big Mouth T-Shirt ($14.98)
Double Vision T-Shirt ($14.98)
In The Water Tank ($12.98)
Eat 'Em Up Tank ($12.98)
Big Mouth Pool Short ($23.00)
Double Vision Pool Short ($23.00)
Stealth Compression Hybrid Pool Short ($25.00)
In The Water Compression Hybrid Pool Short ($25.00)
JAWS© Universal City Studios LLC and Amblin Entertainment, Inc. All Rights Reserved.
About Maui and Sons brand
Maui and Sons is a surf and lifestyle brand founded in Maui, Hawaii in 1980. Soon after, the Maui and Sons brand ventured out to Southern Califoria— blending the spirit of Aloha with retro Californian style. As the 80's rolled into the 90's and beyond, it continued to grow through innovative designs, impactful graphics, memorable artwork-based advertisements, and an exciting color palette; now the mold for activewear brands worldwide. The brand was furthered strengthened by it's iconic riders, stacking up a team of some of the most legendary surfers of all time. 40+ years later, you'll find the Maui and Sons cookie logo on beaches, skateparks, lakes and mountains all over the world— worn by people who cultivate harmony in their lives by pairing an active lifestyle with gratitude for the joys provided by mother nature.
About JAWS
Directed by Academy Award® winner Steven Spielberg, 
JAWS
 set the standard for edge-of-your-seat suspense, quickly becoming a cultural phenomenon and forever changing the movie industry. When the seaside community of Amity finds itself under attack by a dangerous great white shark, the town's chief of police (Roy Scheider), a young marine biologist (Richard Dreyfuss) and a grizzled shark hunter (Robert Shaw) embark on a desperate quest to destroy the beast before it strikes again. Featuring an unforgettable score that evokes pure terror, 
JAWS
 remains one of the most influential and gripping adventures in motion picture history.