Medialink launches its first online shop Ani-Mall on August 28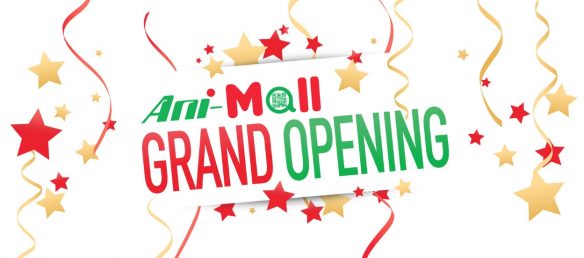 Leading distributor of third-party owned media content headquartered in Hong Kong with presence in China, Japan and South East Asia, Medialink ("the Group") officially launched its first e-commerce site, Ani-Mall in Hong Kong on August 28, 2020. Anime fans will surely love the amazing merchandise available on Ani-Mall. Products range from anime accessories, collectible items, stationery and plush toys from the most popular anime series, including My Hero Academia, Haikyu!!, Dr.Stone, Gintama and The Promised Neverland.
Customers and viewers can visit Ani-Mall by just clicking on https://www.ani-mall.asia/ or simply scanning the QR code on Ani-Mall logo which directly links to the website. The Group will keep adding new products and different promotion campaigns to Ani-Mall.
"This is only the first step in our e-commerce business development and the roll out in Hong Kong is just the beginning. Our team at Ani-Mall is passionate about the project and we are striving to make progress. We look forward to having a successful debut in Hong Kong while also seeking the opportunity to roll out Ani-Mall in other Asian regions," said Noletta Chiu, Executive Director of Medialink.
Medialink also owns Ani-One, an anime content platform showcasing various anime titles including Haikyu!!, The Millionaire Detective and many more. Viewers can stream telecast episodes close to Japan's airing time through Ani-One YouTube channel. The number of subscribers reached more than 700k in September 2020.
Visit Ani-One YouTube channel on: https://bit.ly/3hzeFxP
About Medialink Group Limited
Medialink Group Limited (2230.hk) is a leading distributor of third-party owned media content headquartered in Hong Kong with presence in China, Japan and South East Asia. The Group has been engaging in the business of media content distribution for over 19 years, and also operates the brand licensing business.
Under the media content distribution business, the Group cooperates closely with media content licensors through entering content distribution arrangements and distributes media content relating to animation series, variety shows, drama series and animated and live-action feature films.
Under the brand licensing business, the Group is involved in the licensing of various rights in relation to brands owned by brand licensors including 'merchandising rights' for the use in toys, apparels and footwear, health and beauty products, food and beverage; 'location-based entertainment rights' for events, theme parks, shopping malls, cafes and restaurants; and 'promotion rights' in the Asia Pacific region.
Contact: licensing@medialink.com.hk