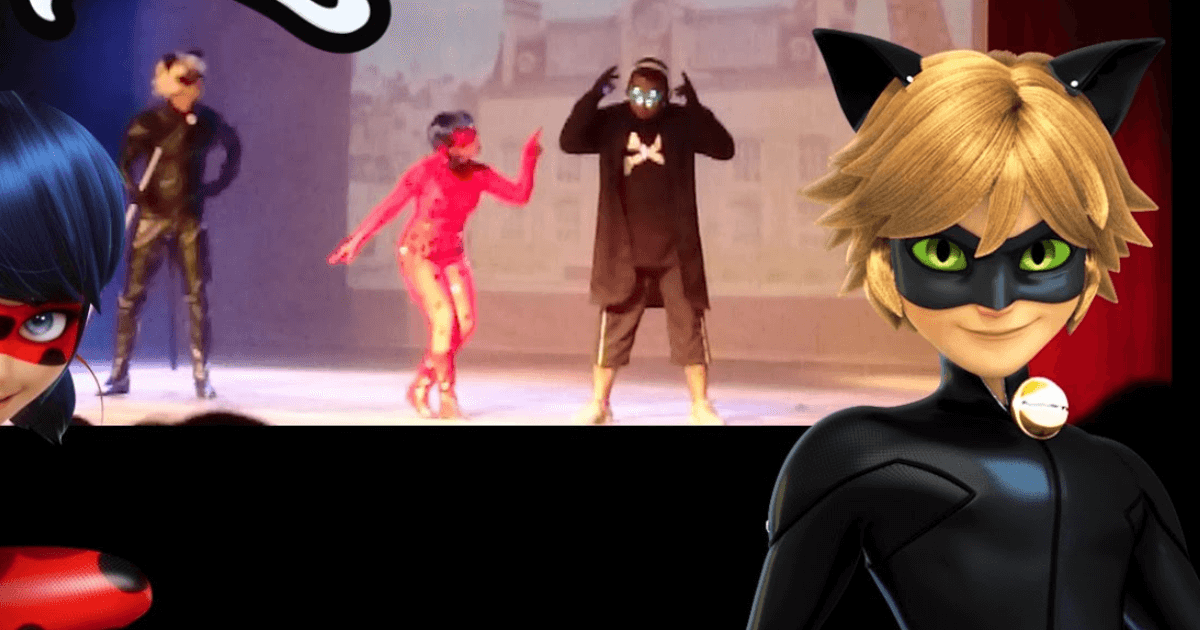 Miraculous Ladybug – The Musical Show to Launch in France and Brazil Following Successful Latin America Launch in Argentina in July 2022
Miraculous™ Ladybug – The Musical Show is based on the global phenomenon Miraculous™ – The Adventures of Ladybug and Cat Noir, created by ZAG and co-produced with ON kids and family
Santa Monica, CA – Miraculous™ Ladybug – The Musical Show is set for its French premiere in October 2022, followed by the Brazilian premiere in June 2023. Based on the globally renowned TV series Miraculous™ – The Adventures of Ladybug and Cat Noir, created by ZAG and co-produced with ON kids and family, the live-action show transports audiences from the TV screen to the stage to enjoy their favorite characters live.
Miraculous Ladybug – The Musical Show had its world premiere in Spain in 2019 prior to the pandemic, receiving the Broadway World Spain Award for Best Theatrical Event. Newly relaunched, the show premiered in Argentina at the Movistar Arena in Buenos Aires on July 23, and at Broadway Theater in Rosario on July 31st. Audiences at the sold-out events enjoyed a show full of magic, spectacular stories, unique choreography, and songs created especially for the musical show in collaboration with Jeremy Zag.   Iconic background scenes from the TV show are replicated including Marinette's room, her parents' Boulangerie, and the Palace Bourgeois.  Fans felt closer than ever to their favorite characters thanks to the "meet and greets" that were organized with the talent.
Ladybug, Cat Noir and friends will travel to Europe to continue their international tour in France with the show coming to 29 French cities including Courbevoie, Toulouse, Lyon, Marseille, Nice, and Paris starting October 10. The next confirmed stop will be São Paulo, Brazil, on June 17 and 18, 2023, at the Bradesco Theater.
The international production companies Proactiv Entertainment and DeAPlaneta Entertainment are working to close new dates in 2023. 
About Miraculous™ – Tales of Ladybug & Cat Noir
The 3D-CGI animated action-comedy series Miraculous™ – Tales of Ladybug & Cat Noir, created by ZAG and co-produced with ON kids & family, remains everyone's favorite superhero story. The series is ranked by IMDB among the top 10 animated shows of the last 20 years. The fifth season of the series will premiere in the fall of 2022 in more than 120 countries around the world. With a massive fanbase of young adult "Miraculers" (ages 15-25), Miraculous has become a universal digital craze with over 32 billion views on YouTube (licensed and user-generated content); 200 million official app downloads; and over 440 million gameplays on Roblox. Over 220 million products have been sold and retail sales have exceeded $1 billion worldwide to date. Miraculous has won 29 awards.
Miraculous follows the adventures of two seemingly typical teenagers with secret identities, Marinette and Adrien, who are magically transformed into superheroes, Ladybug and Cat Noir. As secret superheroes, Ladybug and Cat Noir are partners in action. But during the day, Marinette is a normal girl, living a normal life. Cat Noir will do anything to support and impress Ladybug, but he doesn't know that it is Marinette, from her class. Marinette, the normal girl, in turn dreams of Adrien and just doesn't get an answer. When evil threatens Paris, their beloved City of Lights, can they defeat unexpected villains? 
About ZAG
ZAG is a global independent entertainment studio specializing in world-class storytelling across TV, film, and digital platforms. ZAG's foundation is rooted in compelling characters, limitless imagination, and masterful storytelling infused with original musical scores. The company is home to world-class entertainment properties under the ZAG HEROEZ label, including Miraculous™ – Tales of Ladybug & Cat Noir as well as new titles Power Players (2019) and Ghostforce (2021). ZAG is also currently in production on Melody, an animated feature to star Katy Perry; and recently signed a 10-movie deal with Cross Creek Pictures.  Visionary director and composer Jeremy Zag founded the ZAG Kids and Family Entertainment Group in France in 2009, further expanding the company to the USA in 2012 with the Global Brand Franchise office in Santa Monica, California. ZAG now has offices in Paris, London, Montreal, Santa Monica, Miami, Mexico, Frankfurt, Tel Aviv, Frankfurt, Dubai, and Shenzhen.   Under the company's ZAG Play moniker, ZAG focuses on developing engaging stories beyond the screen into brands that inspire the new generation to discover their true character. 
ABOUT PROACTIV ENTERTAINMENT
Proactiv is the leading promoter in Spain in the production and organisation of large-scale shows, national and international exhibitions and music concerts. Headquartered in Barcelona, with offices in Madrid and Abu Dhabi, this independent company has over thirty five years' experience in the entertainment sector. Its projects include shows with major brands, recognised nationally and internationally, such as Disney On Ice, Disney Live!, Star Wars in Concert, Marvel Universe Live, Peppa Pig, Harlem Globetrotters, WWE, Monster Jam, Walking with Dinosaurs, and Cartoon Network. Similarly, its successful exhibitions include Meet Vincent van Gogh, The Art of the Brick, Barça the Exhibition and Ferrari Behind The Dream, the two latter created and produced entirely by Proactiv. In music, Proactiv not only produces concerts by major artists, but also offers booking and management services to other promoters and record labels.
Internationally, Proactiv has replicated the successful model implemented in Spain in other places such as the United Arab Emirates, Latin America and Europe, where it also organises and produces original shows for all audiences.
ABOUT DEAPLANETA ENTERTAINMENT
DeAPlaneta Entertainment is a leading international company. Part of Grupo Planeta and De Agostini, it offers a wide range of quality entertainment for all kinds of audiences, combining creativity and innovation.
DeAPlaneta Entertainment has been acquiring, producing and distributing unforgettable content and experiences for more than 20 years: from films, fiction and animation series and licensed product to live shows, NFTs, presence in the metaverse.
Over the course of its history, it has achieved numerous global successes in the various entertainment sectors. Highlights include the release in Spanish cinemas of the popular titles The Doctor, Saw and the Oscar-winning The King's Speech and The Pianist, and the creation of series such as Ana Tramel. El Juego and Los Pacientes del doctor García. For children and family audiences, it manages and produces well-known brands such as Miraculous Ladybug, Milo, Gormiti, Heidi and La Abeja Maya, developing powerful stories and content beyond the screen for a universal audience.