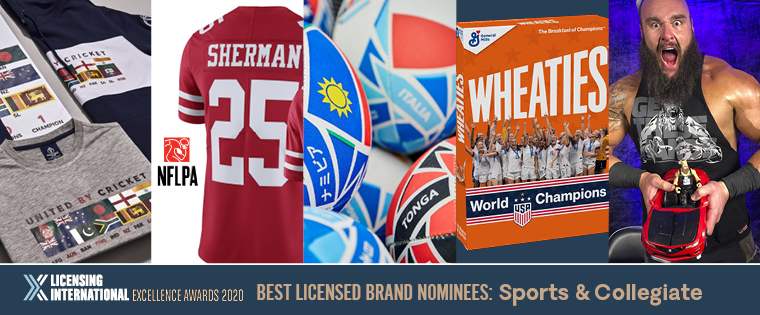 Nominees for Best Licensed Brand – Sports and Collegiate
It's all about the competition – a subject near and dear to the nominees in this category. A pair of group licensing efforts that play off the talents of world class athletes, a global sports-themed spectacular, and the merchandising built on major international competition are competing for recognition as Best Licensed Brand – Sports and Collegiate within the 2020 Licensing International Excellence Awards.
Overall, more than 600 entries were received this year from companies in 22 countries and were judged by a panel of 152 executives from 20 nations. The licensing industry will make its selections from a ballot that includes 175 nominees in 23 categories of brands, properties and companies.
For a full listing of the categories and the nominees please click here.
Here are the nominees for Best Licensed Brand — Sports and Collegiate:
Cricket World Cup – International Cricket Council & Velocity Brand Management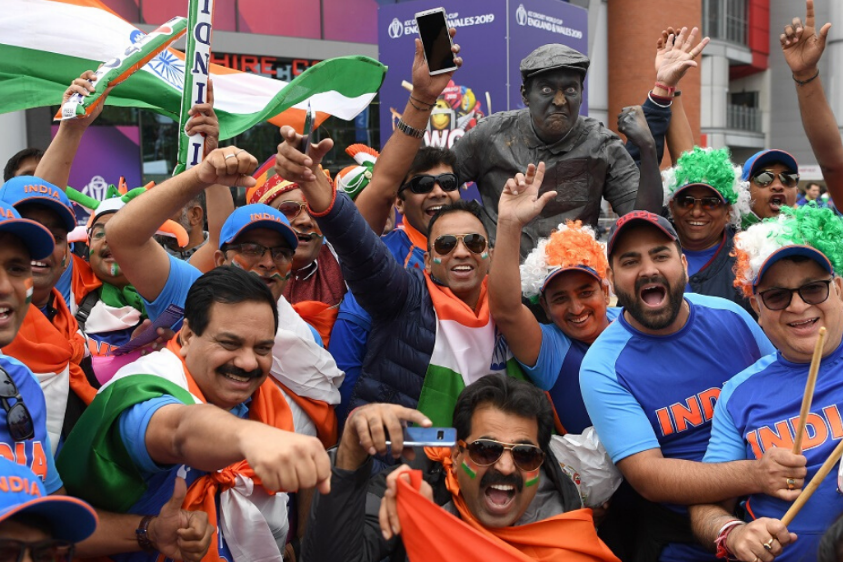 Cricket World Cup is the world's greatest cricket celebration, and saw fans from over 157 countries attend over 48 matches, 10 warm up matches, across 11 venues with cumulative dedicated TV audience of over 3.74 billion. During the eight-week tournament, 44 merchandise outlets were developed — 23 purpose-built — including the 40-metre merchandise marquee installed on the grounds of the historic Lord's Cricket Ground – a first for cricket. There were 1,574 SKU lines across 10 competing nations, 177,734 units sold to 103,118 customers. The CWC19 online store launch generated Fanatics' highest day single-day sales amount generated for an online store launch in the UK.
NFLPA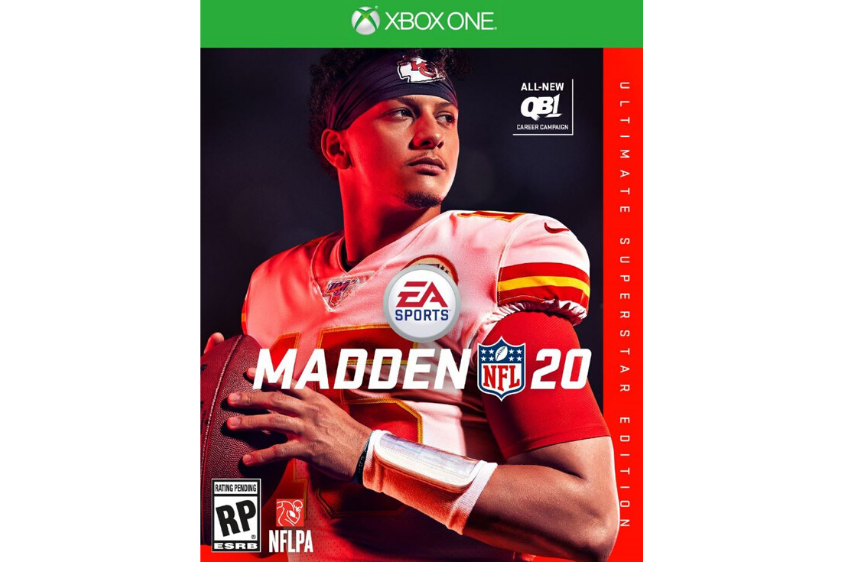 The NFLPA is driving innovation in ways unlike any other players association. Via its licensing and marketing arm NFL Players Inc., the NFLPA has generated its sixth successive year of record revenue, surpassing $193 million in 2019. Player-licensed merchandise surpassed $1.65 billion in retail sales across key licensing categories from 75+ licensees. Anchor licensees, EA SPORTS, Panini America and Fanatics all experienced record-breaking years fueled by NFL players. Multiyear licensing deals and groundbreaking partnerships enhanced the NFLPA as a globally renowned licensor and the most progressive, innovative, athlete-driven business in modern professional sports.
U.S. Women's National Team Players Assoc. – USWNTA & OneTeam Players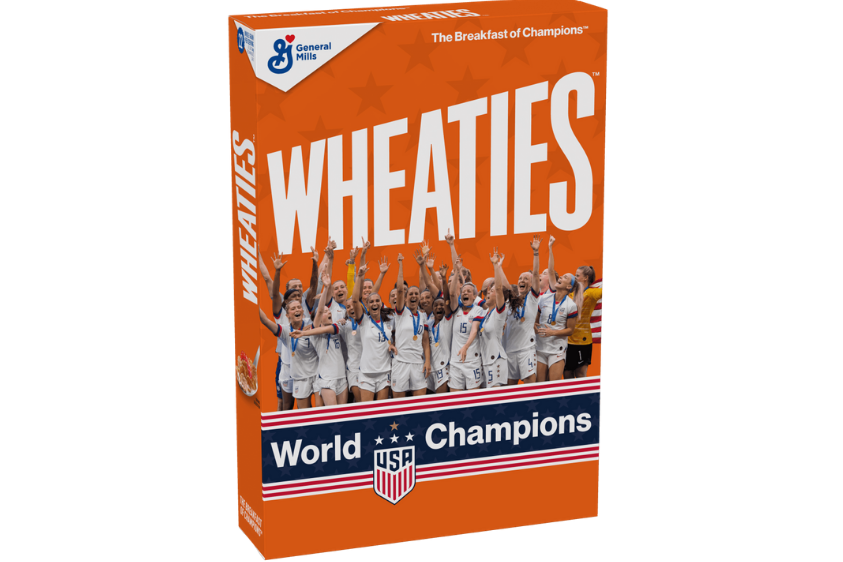 In 2015, after winning a third soccer World Cup and returning home to find no product in the market, the U.S. Women's National Team Players Association's collective licensing revenue was $0. Last year, however, in its first full year of operation, the USWNTPA's group licensing program earned $1 million in royalties, fueled by the team's 2019 World Cup. The program has 30+ licensees with first-of-its-kind USWNTPA products across all categories and sales through retailers including Target, Walmart and Fanatics. Global superstars such as Julie Ertz, Alex Morgan and Megan Rapinoe are captured on Wheaties boxes, EA video games and Panini trading cards.
WWE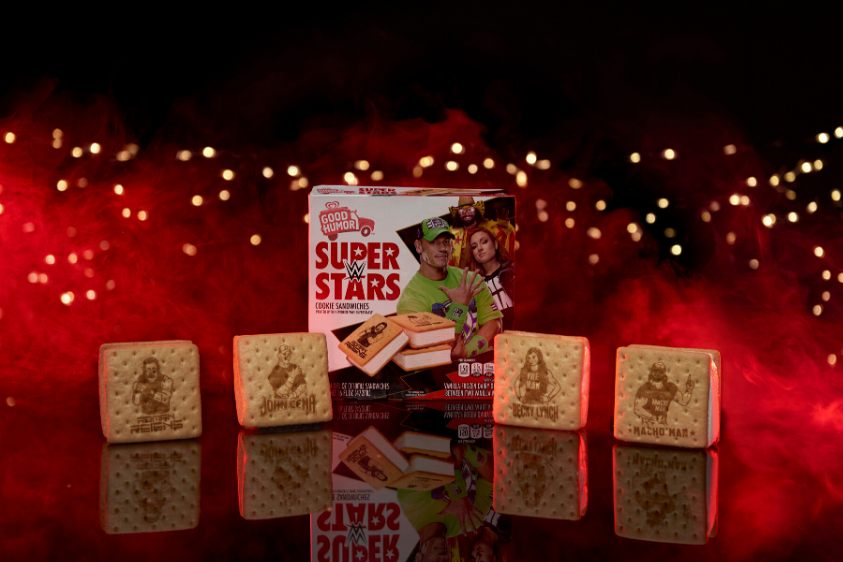 WWE parlayed success from years past into another record-breaking year with a first-ever partnership with Topps to add 50 high-end Transcendent collection boxes to their WWE portfolio. Retailing for $15,000, each box contained rare autographed trading cards from the biggest WWE Superstars and Legends including the first-ever autographed trading card from WWE Chairman Vince McMahon. The Transcendent set boasted an autographed replica WWE Championship, and an incredible WrestleMania 35 experience including tickets to the event and an invitation to a special pre-show VIP party at Met Life Stadium. Collectors were thrilled with the Transcendent product and amazing VIP experience!